First-time Representative Ana-Maria Ramos has big ideas for the next two years as a civil servant of Texas District 102. From her stance on immigration policies to her inspiring words of inclusion and hope, Representative Ramos brings a fresh face to her constituents. Ramos hopes to center her policy on inclusion and expresses her optimism for success in the state of Texas.
Career Timeline
Rep. Ramos received her Bachelor's Degree from University of Texas at Arlington.
She received her Graduate Degree from Texas Women's University.
She received her Law Degree at Southern Methodist University.
Prior to running for office, Rep. Ramos was an attorney at her own law firm and an associate professor at El Centro College.
In 2018, she was elected to the Texas House of Representatives.
Q&A with Powerful Woman Leader Ana-Maria Ramos:
Q: At College Magazine, we're working together with EMILY's List, Emerge America, Human Rights Campaign, Higher Heights, She Should Run, Running Start, Victory Fund and IGNITE on an initiative to fight for equal representation in Congress called "50 by 2050." What are your thoughts on the goal of achieving 50% of women in Congress by 2050?
A: I hope we would do it sooner… It's very important considering that the representation in our country, or rather the lack of representation that we've had in terms of leadership. I think setting a goal of 50 percent of women in Congress by 2050 is very doable. There are many of us out here working really hard to make sure that we make that happen.
Q: What inspired you to run for public office?
A: Many things inspired me to run for office. Specifically, it comes from being a woman and a nurturer. Of course, not every woman is like this, but for me, as someone who has always fought to protect people, when the President and the rhetoric here in Texas pushed laws that were very anti-immigrant and anti-LGBTQ, I felt that I needed to stand up and fight and be a voice for people that were being silenced or underserved.
The attack on the minority and the attack on different communities of color really inspired me to stand up and be a voice for them—for us, because I am included in that community.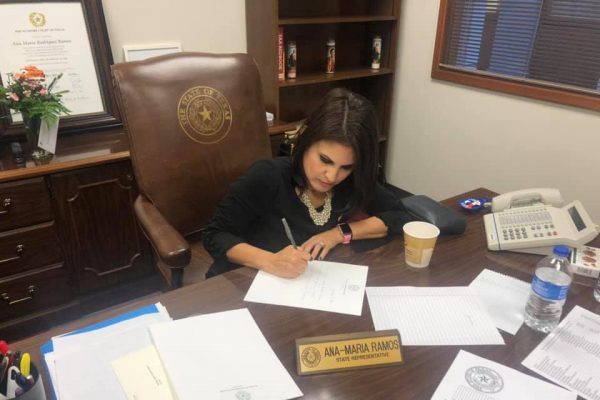 Q: Did you face specific challenges as a woman running for office?
A: Definitely. I had a teenage son when I was running for office. Not being able to be home with him after school or missing certain events was very difficult because as a mother you always want to do that, but running for office pulls you away from family. That was challenging for me.
Q: What tangible advice do you have for college women interested in getting involved in politics and public service?
A: Start serving now if you haven't already. I don't think the time to start serving your community, whether it's through volunteering on boards or helping other campaigns or picking up trash in your local park, is when you decide to start running for office. The time to do that is now.
My advice to college students would be to start becoming active in your local community and improve the community that you live in, whatever that looks like. The time to start was yesterday. So if young women want to run for office in the future, they would best serve their community if they start building upon that foundation now.
Q: What issues are you most passionate about?
A: I'm most passionate about equal rights and social justice issues. That includes the access to education and ensuring that all people have an equal opportunity to quality education. I'm also concerned with representation. Unfortunately, especially here in Texas, the voter suppression efforts are continuing and are very aggressive. States in the South, especially states like Texas, where we have an increased minority population, are continually trying to suppress that representation in both my own community and in our state.
The most challenging aspect of that is continuing to fight to convince communities of color that it is worth the effort to stand in those long lines and to continue to fight to be a voice. We will never have a seat at the table if we don't fight for this. We must continue to fight against those voter suppression and intimidation tactics.
Q: What was the most rewarding piece of legislation you helped pass? Or what legislation are you most excited to pass/work on?
A: [I'm] definitely [looking forward to working on] the social justice [legislation]. I'm really excited, for example, to partner with other representatives on expanding Medicaid bill. It's still very important to continue to work on that especially in Texas where we are the most uninsured state in the country. Unfortunately, it's effecting women and women of color disproportionately.
Expanding access to healthcare—quality healthcare—and access to education, all goes hand in hand; the more educated we are, the better prepared we are to not only improve our health but to access good healthcare which means we're able to better service our families and our communities. It's one big circle. I'm really excited to be a part of helping to advance legislation that melds the pieces in that whole puzzle.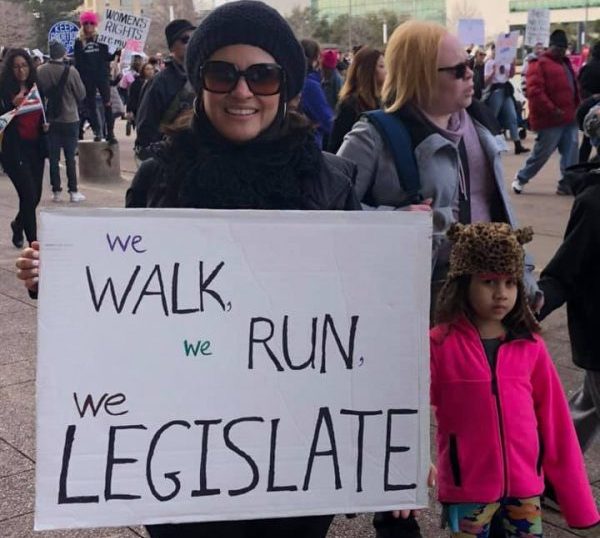 Q: You began your term in 2019. What would you hope to see in the two years that you hold this office?
A: My hope, in the two years I hold office, is to inspire. Through the influx of incoming freshman in the Texas Legislature, and in Congress on the federal level as well, that we inspire other women and individuals from communities of color to run for office and be the voice for their communities. Unfortunately, we have been disenfranchised on many different levels. But we have [made strides] at the federal level; for example, in our community we recently elected a new Congressperson who unseated an incumbent who was there for 20 years. The new person is a person of color—a black male—who has worked serving his community.
I unseated someone as well who was anti-immigrant. Now I'm serving as a voice for that community. So, for a Latina and an African American male to come back and run for office to fight against those anti-immigrant legislation they've been wanting to advance, I think [shows what our community wants]. What I would love to happen in the next two years is that when it's time for reelection, there are more people running for office to unseat the people who are on the wrong side of history.
https://www.facebook.com/ramos4texashd102/videos/468379200237827/
Q: Can you describe what it was like running against an incumbent during the midterm election?
A: Considering I've only worked in working class and low income communities, I didn't have access to resources. I didn't have a lot of money and I didn't have a lot of name recognition. I had a lot of nay-sayers telling me I wasn't going to win; things like "It's not going to happen", and "Hopefully you'll try next year," and "Don't give up." It was very defeating mentally, physically, emotionally and financially.
But when you see the little retired teacher who gives you 50 cents because she doesn't have a lot of money but she wants you to fight for her, or the veteran who needs access to better healthcare and doesn't have a lot of money but is making phone calls, or the little biracial child who wants to take a picture with you because you look like her, I would think of all of those people when I felt like I couldn't push further. I knew my opponent wouldn't be the voice for them. I had to keep fighting [for them]. That was my constant motivation throughout the whole race. It was one of the hardest things I could've done in my life, but when I think of those people I wouldn't trade it for the world.
Q: Given your state's relative proximity to the border, how did you feel about the break-up of families directed by the Trump administration?
A: What he has done, in reality, are crimes against humanity. It is inhuman and I am extremely concerned not only about the social, psychological and emotional impact that the children are experiencing now, but [also] the mental and psychological impact that we are going to have for years to come because of this separation. It is one of the darkest times in our history. We have to continue to fight to stop this. It's unfortunate that it's happening in our beautiful state here in Texas.
Q: Your website's "about" page welcomes visitors in both English and Spanish. What was your reason for including this? What do you hope it projects to your constituents?
A: My reason for including this is to encourage inclusivity and bringing people to the table. Texas has a very long history of voter suppression, voter intimidation, disenfranchising minorities and washing out the history of communities of color in our beautiful state. For me it was really important to bring people of different races and languages to the table.
I chose Spanish because I am Mexican and Latina. In knocking on doors and speaking to a lot of people, [I found out] they were scared because their neighbors voted for Trump and they didn't want to ruffle any feathers. They didn't want to talk about politics because they thought their neighbors were listening. It was part of my message, and will continue to be, to communities of color: to open the door and remind them that the legislature, the Texas Capital, is their house, it is their state and it is their constitution. I think we need to do that at not only the state level but also the federal level… The more inclusive we are in all different races and languages, the we will be as a state and as a country.
How to Be a Powerful Woman Leader
1. Fight for inclusive policies
Rep. Ramos has never been one to shy away from fighting for marginalized communities. "The attack on the minority and the attack on different communities of color really inspired me to stand up and be a voice for them," Ramos said.
2. Always believe in your potential for success:
Rep. Ramos noted her difficulties with her "nay-sayers," yet always possessed an optimism that helped her push through. "I would think of all of those people [I would represent] when I felt like I couldn't push further. I knew my opponent wouldn't be the voice for them. I had to keep fighting [for them]," Ramos said. Tenacity is an essential part of the journey towards success.
How to Contact Representative Ana-Maria Ramos:
Follow her on Twitter
Like her on Facebook
Visit her website