Last night's Oscar's were pretty damn good compared to what we've seen in recent years. Seth MacFarlane reminded all of us he could sing, dance and voice an animated bear looking for an after-Oscars orgy with the best of them. He even got in a
Chris Brown/Rihanna joke
that was somewhat fresh. Sad, but fresh.
But was anyone else curious where the Oscar trophy girls were?
No? Neither was I until I realized who had replaced the models who usual hand the gold statues to the winners. It was none other than a group of college students who had won the opportunity of a lifetime.
The Oscars decided to shake things up this year by holding the "
Oscar Experience: College Search
" contest that allowed six incredibly lucky
film students to become a part of the telecast
and present Oscars to winners. All they had to do was fill out an entry form and film a 30-second video of themselves answering the question, "How will you contribute to the future of movies?"
For a little perspective, one of those students was on stage mere feet from Meryl Streep as she presented an award to Daniel Day-Lewis.  Remind me why I didn't go to film school again?
"For a film student to be at the Oscars is huge,"
said Marine Corps veteran and University of Texas film student Jennifer Brofer to
silive.com
. "This is where we aspire to be one day."
The rest of the winners represented everywhere from UCLA to SUNY Potsdam. For them, last night must have been nothing short of nirvana.
"Hollywood has always been a dream that was so far away," Emerson College sophomore and Seoul, Korea native Hearin Ko told silve.com. "To finally be here and see everything,
it brings the dream closer to me.
This can really happen if I try hard. It's not as far as I thought it was."
These Oscar-worshipping students dreamed a dream, and they were rewarded even more than Anne Hathaway and her nipple dress. They got to see all the
best moments from last night
live, including Jennifer Lawrence tripping on her way to collect her Best Actress Oscar and somehow still maintaining her dignity. For the record, I would trade anything to have seen that live.
But I digress. Congrats kids! This must be how you're feeling right now: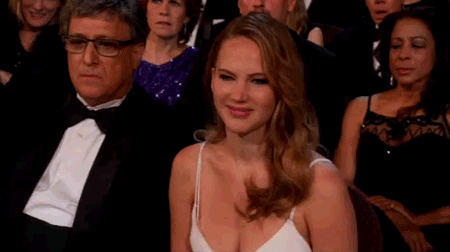 Photo: at The Gold Knight, by Richard Harbaugh of the Academy of Motion Picture Arts and Sciences