Wolf Trap, America's National Park for the Performing Arts, seeks fall interns for Communications and Marketing, Development (donor relations and special event) and Education positions. Internships are 12 weeks long, part-time (18 – 21 hours per week) and all positions are paid. For individual position descriptions please see web site at wolftrap.org/internships.
The perks?
Paid stipend
College credit (not required)
Career development workshops
Guest speaker seminars with Wolf Trap senior staff
Free tickets to select performances
Tours of Wolf Trap's performance venues
Discounts at Wolf Trap Concessions and Gift Shop
Free Master Class participation or observation
Field trips to other local performing arts venues
Networking events with other D.C.-area interns
Proximity to Washington, D.C. and its cultural, social, and entertainment venues

Applications must be in no later than July 1, 2014. Find out how to apply in our CM Internship section.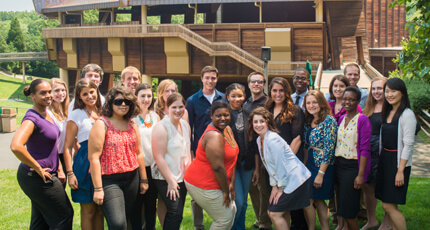 Photo of the 2012 Interns via Wolftrap.org.