New Year's Eve is practically Valentine'€™s Day number two, the second half of the annual one-two punch against single people. Because of that, many are torn when it comes down to their New Year's Eve kisses. Some people think that you should lock lips with someone special. Other people think putting too much meaning into a simple kiss is the wrong idea, that all you need is someone willing. But that's when you have to ask, is it really just another kiss?
The entire thing is superstition if you don't kiss someone at midnight, you are doomed€ to a year of loneliness. This is, of course, not true, but people still feel the pressure. Maybe that friend you always had feelings for found themselves with lowered inhibitions. Maybe the kiss meant more to you then it did to the other set of lips.
Personally, I kissed my German shepherd to ring in 2011. And to ring in 2012, I took a shot of tequila. I'm still bitter about both. But for those of you with a kiss already lined up to ring in 2013, who is it with? Same person as the year before?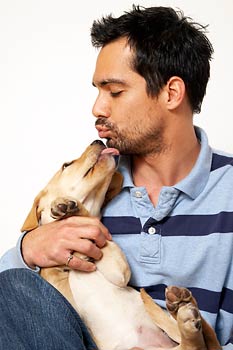 Do you make a big deal out of New Year'€™s Eve kisses to begin with?
The Friend You Wish Wanted You
As a rule, you should only kiss people who, in the morning, you won't regret kissing and who won't regret kissing you. The easiest way to slip up is by kissing that certain friend, the one that comes with unspoken sexual tension.
"€œI had known this girl Amanda forever and always thought she was pretty sexy," says a junior from the University of Texas at San Antonio. "It was New Year's and we ended up kissing for too long. It was hot and I was happy, but our friendship never felt the same."
"€œI don't think a lot about New Year's kisses, I think the tradition is stupid,"€ he added. "But I screwed up big time, so maybe I should shoot tequila too."€
So what was to blame, the kiss or the New Year? It'€™s hard to make a case for New Year's kisses because, no, they aren'€™t just kisses, just like dinner on Valentine's Day isn'€™t just another romantic meal. You pick a person for the moment; you literally count down to it.
The Boyfriend/Girlfriend Kiss
Kissing your significant other is a no-brainer, or at least it should be. And it's always a safe bet, kissing a main squeeze between sips and chugs of champagne.
"€œI don;€™t make a big deal about finding someone to kiss because this will be my fourth New Year'€™s Eve with [my boyfriend],"€ says Tina Diamond, a senior at the Savannah College of Art and Design. "As a couple I love bringing in the new year with a kiss at midnight, I believe it is a good way to start my year by kissing the man I love."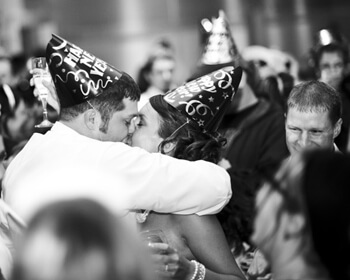 Good for Tina. But when it comes to love in the time of college, couples are more often than not separated during the holidays.
The Good Luck Kiss
Back in 2009, another Savannah College of Art and Design senior, Myra Hassaram, had a boyfriend that wasn'€™t available to be her midnight kiss. "€œWe celebrated New Year;€™s in different countries so I kissed a lady. And 2010 was a damn lucky year because of that. Maybe I'm just slutty."
"œI tell myself New Year's Eve kisses aren'€™t a big deal but I know I'm lying to myself,"€ Hassaram admitted. "I consider it good luck. My mom makes we wear polka dots and throw water out of a door for good luck, so I do all that plus make sure I got someone to kiss."
***
So maybe you'€™ll start the new year ecstatic that you kissed the hottie from your lit class. Or maybe you'€™ll begin with regret, guilt or something else nasty.
But whatever the case, it'€™s reassuring to know that a kiss can still mean something more than a moment and can have enough punch to slip in a little luck. That is, if you are lucky enough to get a kiss when the ball drops.
 If you drop the ball on the other hand, rest assured that the midnight kiss is just a superstition. You are not doomed to die alone. Besides, Valentine's Day is just around the corner.
Photos by pawnation.com, yousaytoo.com and the modernman.com