Some parents get divorced; it happens. You know what else happens? Newly single parents are back in the dating game; trying to make it work the second time around, meanwhile you're just trying to get the first time right. It's like we're one big happy family…. All of us dating to find other people to be family with; oh the irony. Apparently, things have changed and I'm not the only one coming home with bad dating stories, mom and dad are too. Here are a few wisps of advice I've gathered since this wonderful family dating game has commenced.
Technology meet the Baby Boomers, Baby Boomers meet Complications
Bianca, this texting thing, it's so weird. It's like we talk all day, having a friend in my pocket and then nothing. We just stopped. Do I text back? We didn't even go on a date. Ah, so the baby boomers starting over are also feeling the trickle down effect of the new (and improved?) dating culture: the cell phone. Welcome Dad, want to buy the first round?
Venting to your parents is not advised
The days of going to our parents to vent about relationships Example:
Me: I DO NOT GET IT, I didn't even ask for this kid to like me and then there I am giving him a chance and then he pushes me away?
Dad: Bianca, this seems to be a trend. This might be your problem.. what are you doing?
Um, excuse me? Hey there Father who raised me, care to take my side? His answer: This is probably something your learned from your mother, don't worry we can fix it. Just be more like me. I think not. Dating advice from Divorced Parents is not advised.
They Make Bad Wingmen
One time I was at a NYE party with my mom. There was a guy who I was speaking with a majority of the night, more to be polite rather than because I was interested. You'd think the woman who reared you would be able to read your uncomfortable body language or oh I don't know a text message… Ready to leave when you are …apparently not. What does mother darling do? Walks right over to my table and says, I'll leave you two to talk. I think I am going to go home, get a ride from your cousin would you? and then leaves. What? No? Worst Wingman ever. And ya know what, Father dearest isn't much better. Ever wanted to slip a bartender your number? It's hard to do if your dad is buying the drinks….
It's exhausting
Dad, put the phone down, you can't double text. Mom, no that bar is in fact for gay men. Dad, you know you can meet for coffee, you don't have to go out for dinner. Yes, Mom returning an e-mail would help this process move along. DAD- DO NOT WEAR THAT HAT.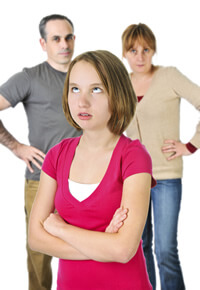 The Kids Become the Parents
You thought your parents messing with your dates was brutal? The tables have turned. Ha, your prom date had it easy compared to this. If you don't like the person mom or dad brings home, nothing is stopping you from telling them all your parents' pitfalls; which of course, are already outlined for you from their divorce papers…silver lining.
In the end there is this protective nature that occurs, when things don't work out with their dates. Dad, she didn't like ol' blue eyes, not a keeper. Mom, he wore sneakers to the date, don't sweat it. My date didn't go well either, let's go grab some dinner … And there it is, the camaraderie in the journey of dating. I endure the stories of bad dates because I want to be supportive; I want my parents to be happy, even if they couldn't find that happiness with each other. Maybe it isn't so bad that we're in this dating thing together. One day we'll remember the days we were all in that boat and we'll have more to laugh about over dinner and cry about when we eat ice cream on the couch. Maybe, one day e-harmony can give us a group rate? One can dream.
Photo taken from sozocopywriting.com