On May 11th, in Columbia, MD., the Sweetlife Music & Food Festival was held at Merriweather Post Pavillion. The fourth annual festival featured their biggest lineup yet, led by Phoenix as a headliner and followed by Passion Pit, Kendrick Lamar, Yeah Yeah Yeahs, Solange, Foxygen, Holy Ghost!, MS MR. For a one-day festival, that's a lot of big names! The festival not only featured exciting music but also organic, sustainability-friendly food. It was hosted by D.C.-based salad company, Sweetgreen. This year's Sweetlife Festival provided a good combination of live music and trustworthy, delicious food options that anyone would enjoy.
Here's what you missed, music-wise, at the festival: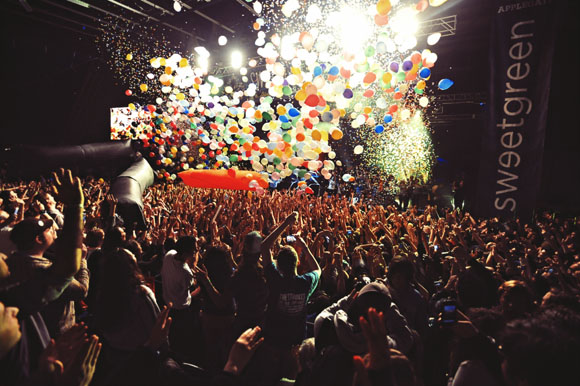 Solange
Solange, Beyonce's sister, has made a name for herself in the music world. Just like her big sis, Solange, along with her touring group that features Devonte Hynes, boasted a playful stage presence. The crowd-pleaser track of the set was her big 2012 hit "Losing You," which was released as a part of her acclaimed EP, True. Solange covered "I Could Fall In Love" by late Tejano singer Selena Quintanilla. Additionally, for the last song of the set, she covered "Stillness Is the Move" by Dirty Projectors, which was my favorite part. Her vocals, alongside her band, provided a nice, smooth R&B twist to the shrill female vocals of the original version.
Yeah Yeah Yeahs:
Karen O, the lead singer, has an incredible stage presence and really knows how to put on a show. Dressed eccentrically in her bright-yellow jacket and matching shorts definitely made her stand out on the stage, even before she sang her first words of "Sacrilege", off their 2013 album Mosquito. Yeah Yeah Yeahs' set was a good mix of their new songs and their older releases, including ubiquitously loved "Maps", which had the entire crowd singing (and a few crying). My personal pleaser was the third song of the set, "Mosquito," a high-energy track with exploding chorus vocals from Karen O.
Kendrick Lamar:
Kendrick Lamar emerged as "it" in the hip-hop world in 2012 with his phenomenal release Good Kid, M.A.A.D. City, an album that features some current hits such as "Swimming Pool (Drank)", "B****, Don't Kill My Vibe" and "Backseat Freestyle". With a simple stage set-up—a DJ and his laptop—the crowd anticipation was high. Kendrick definitely showed energy, running side-to-side on the stage and demanding noise from the crowd. He seemed aware that crowd resonated to his own energy. One surprise of the set was "F*****' Problems", a hit radio single by A$AP Rocky, another new big name in hip-hop world. The song features a closing verse by Kendrick Lamar and he performed the chorus and his own verse only. One major gripe that I had about the set was Lamar's voice sounded different than studio recordings, but this proved a minor setback, and by featuring acclaimed tracks like "Poetic Justice", he succeeded on electrifying the crowd.
Passion Pit:
Passion Pit is the definition of a great festival band. They play high-energy, sugary, "fun" music that livens up a mass group of people. The Cambridge, Massachusetts-based synth-pop group excited the crowd by showering them with favorites, from their debut EP Chunk of Change's "Sleepyhead" to their latest album Gossamer's "Carried Away." Michael Angelakos, the band's frontman, showed a great stage presence, enthusiastically addressing the crowd in between songs, moving around the stage energetically, and all the while showing no fade in the falsetto-rich vocals throughout the set. Ending with two of their most beloved tunes "Sleepyhead" and "Little Secrets," the band left the stage with a very satisfied crowd.
Phoenix:
This band from Paris, France electrified the crowd from the get-go by starting off with "Entertainment", which was the first single released to promote their new album Bankrupt! Phoenix played a good mix of their new material and some of their beloved from past albums Wolfgang Amadeus Phoenix and It's Never Been Like That. Lead singer Thomas Mars's vocal was impeccable and other members of the band—especially the drummer—showed lots of energy throughout the show, definitely living up to their headliner status. The highlight of the show was "1901," not because of the song, but because Mars approached to the crowd, standing right in front of the barricade, and was greeted by fans reaching their hands out to him. Yours truly had his hand held by Mars for the first ten-second portion of the song. He demonstrated his knack for crowd interaction again when he walked into the pavillion seats carrying the mic. It was fantastic to see a big time Grammy-winning band singer in swarm of his fans.