As I sat in my three-story townhouse apartment my sophomore year of college, I thought I could finally relax. I found a group of friends who felt like home. I changed my intended major from biology to journalism and loved my classes. On top of this, Madison didn't appear so foreign anymore; I could drive my car and walk around without the help of my GPS. However, the COVID-19 pandemic made my sophomore year of college virtual. I spent the majority of my time inside out of fear, watching my mental health decline in the process.
The days seemed to drag on, but one big decision I made early that year changed my life forever.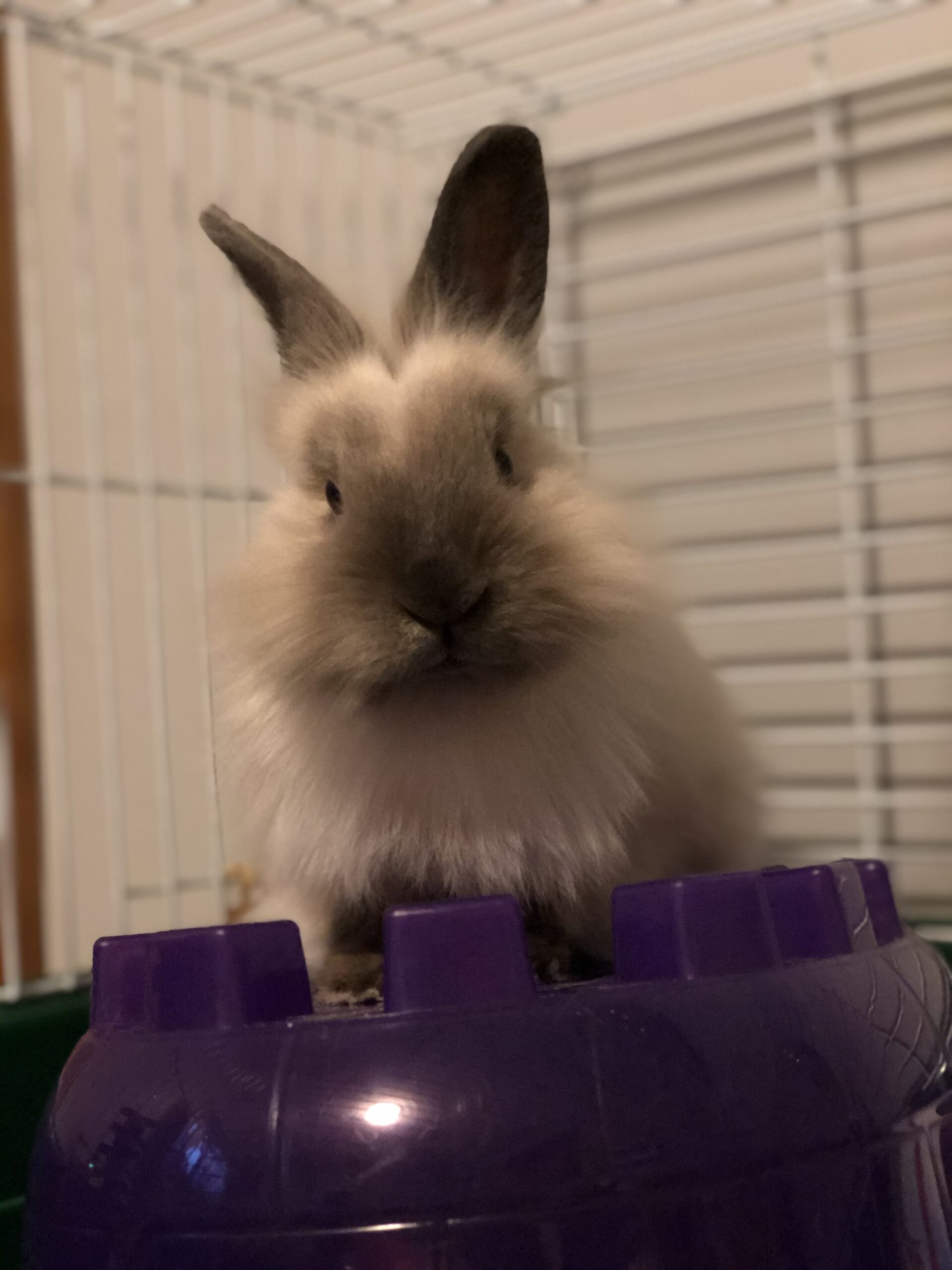 I still remember the moment so vividly. I sat on one of the black leather couches in the living room with my roommates. My brain ran a million miles an hour constantly. Despite growing up with bad anxiety, it never felt so intense. I desperately scrolled through my phone, looking for remedies for the thoughts that consumed my days and nights. Suddenly, I thought of my childhood dream of owning my own pet one day. With dorm life behind me, I could get a note from my therapist and bring an animal home to take care of. So, the next day, I went to a local pet store to look around.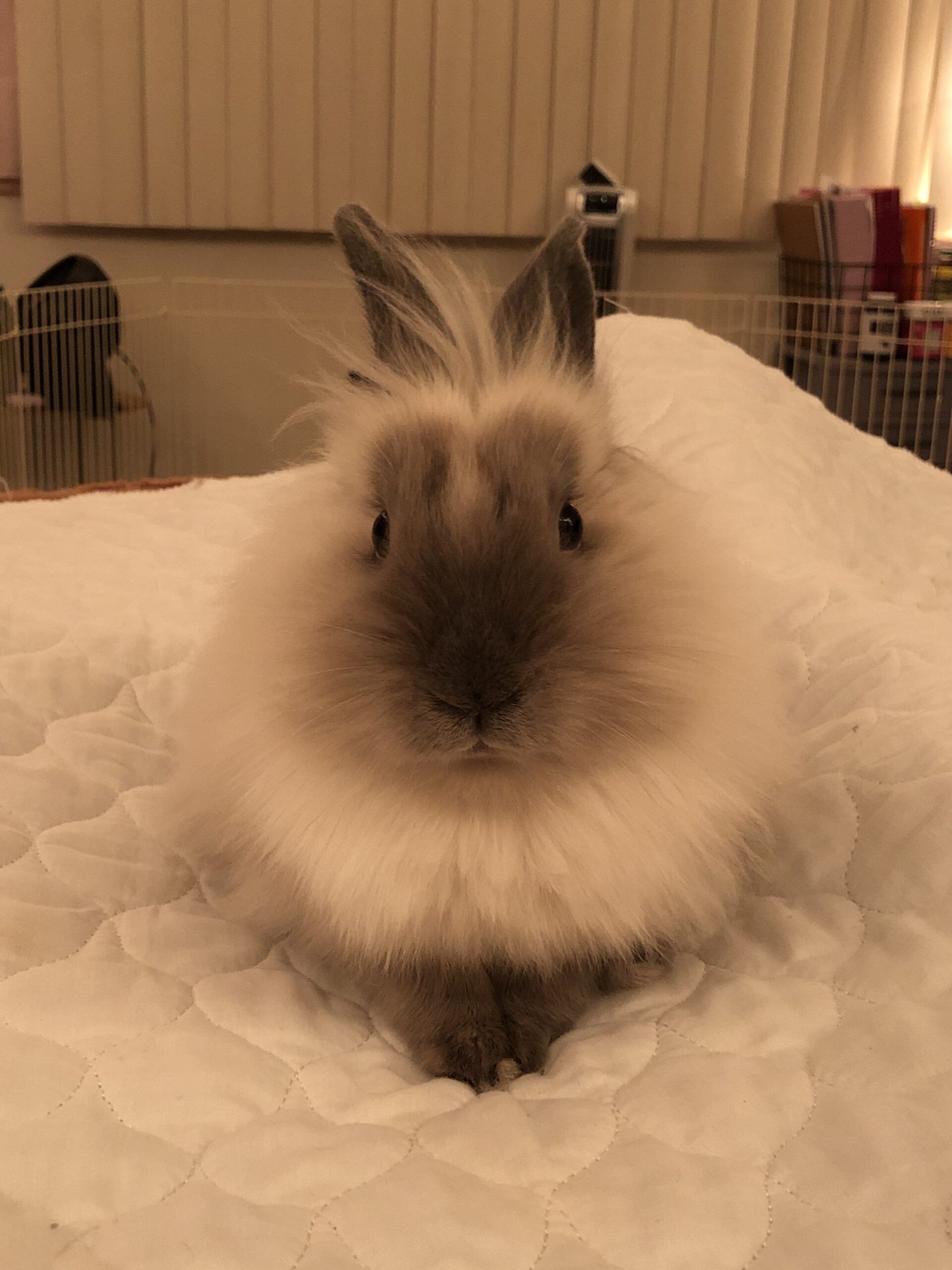 I always wanted a bunny growing up. After doing some research on what it takes to own one, I decided to make my childhood dream come true. I didn't plan on walking out of the pet store with a bunny that day; I just wanted to look around and see what animals they offered. However, the second I made my way into the small animal room at Pet World, I saw a little white and gray bunny with the fluffiest hair. From that moment, I knew I met my new best friend.
Meeting Maggie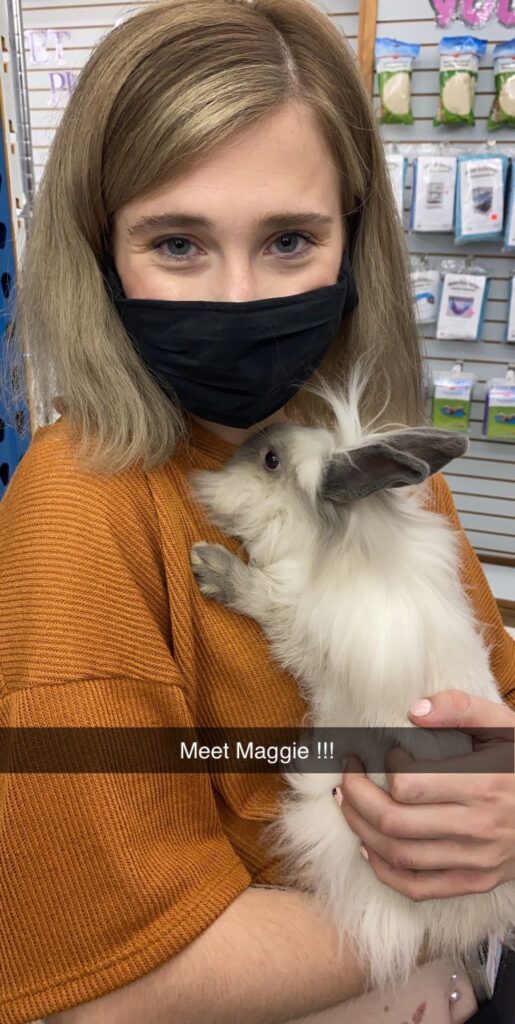 I made sure to check out all the rabbits at the store. The employees set up a small play pen so I could get to know their personalities more. They also informed me that the white rabbit I wanted, a lionhead, required a lot of maintenance. Their comments proved true. She loves constant attention and causes mischief without it. However, the second I held her in my arms that September day, I knew I couldn't leave without her. Before we left the store, I already knew what I wanted to name her: Maggie. I couldn't wait to spend the next ten years with my new friend.
Although I made a spur of the moment decision in leaving with an animal, I faced no regrets. Every morning I woke up eager to let Maggie out of her cage. It didn't take long for her to learn how to jump on top of the cage and join me on my bed. Whenever I felt anxious or sad, Maggie laid by my side for pets. I watched her dash around the room at full speed, twisting in the air out of excitement. She always finds a way to make me laugh, even in what seemed like the worst time.
Coming Across Coco
As time passed, I found myself thinking about the future when I would return to in-person classes and Maggie may not see me as often. When I brought her home with me for Christmas break, I told my dad how I was considering getting another bunny. Since COVID made the days feel repetitive, he gladly took me driving around to look for a friend for Maggie. We went nearly the whole day without any luck until he got a phone call from my cousin saying he knew someone with a bunny that they couldn't take care of anymore. An hour later, I brought Coco home. She stole my heart instantly. I soon discovered that I brought home the sweetest bunny who does anything for head scratches and treats.
Introducing Maggie and Coco turned out a lot harder than I planned. Although Coco appeared excited, Maggie did not seem thrilled to welcome another bunny into her space. Two days passed without any progress, making me worry that I made the wrong decision. Then, suddenly, Maggie broke the tension and laid directly on top of her new sister. Now they never leave each other's side.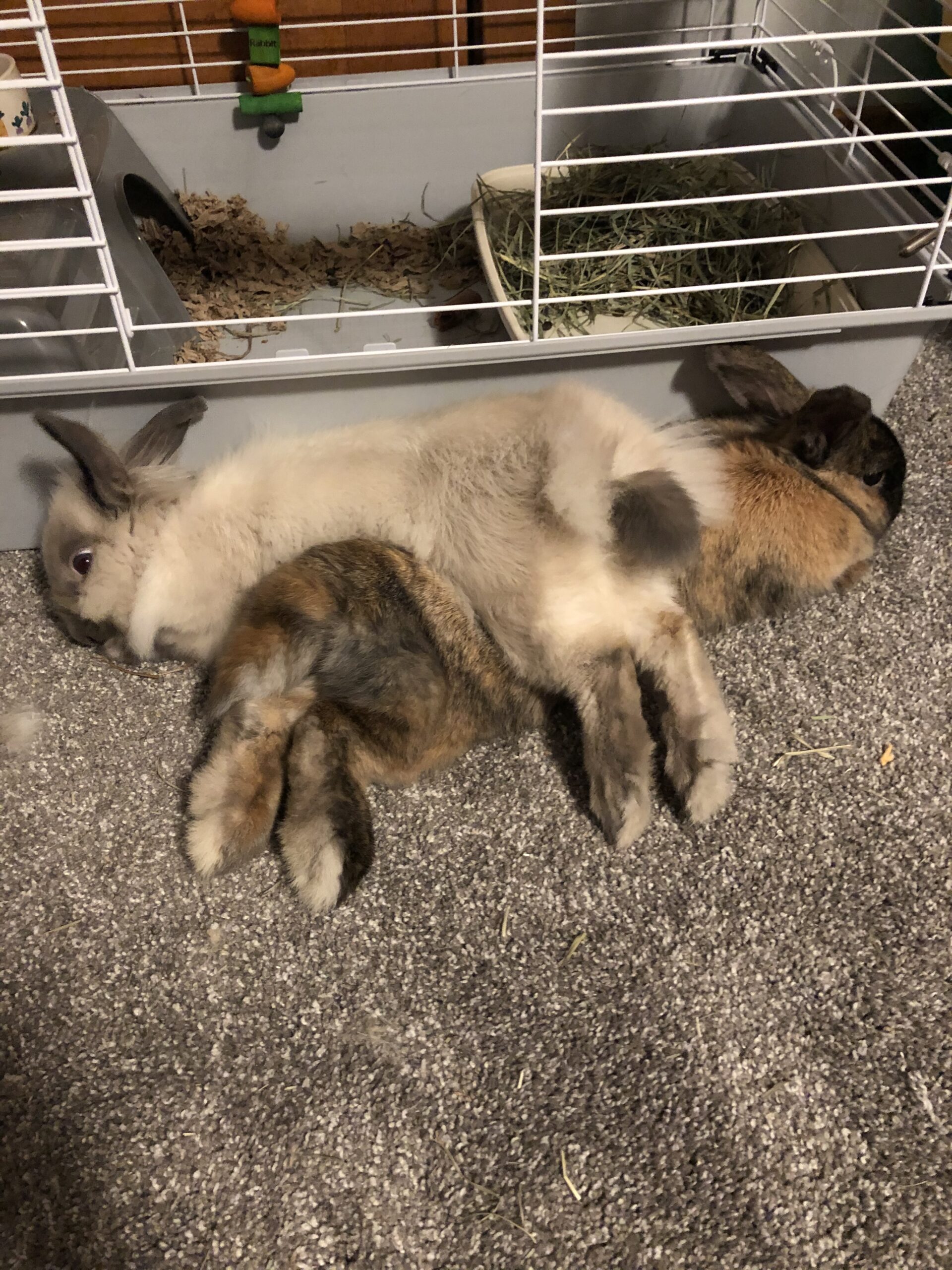 Ever since that day, Maggie and Coco huddle together whenever they want cuddles. If I pet Maggie for even a second, Coco makes her way over nudging my arm until she receives the same amount of attention. They both love to play, picking up toys and throwing them in my direction until I hand them back. Plus, they never say no to treats. The second they hear the word "apple," they both sprint over and stand on their back legs waiting patiently.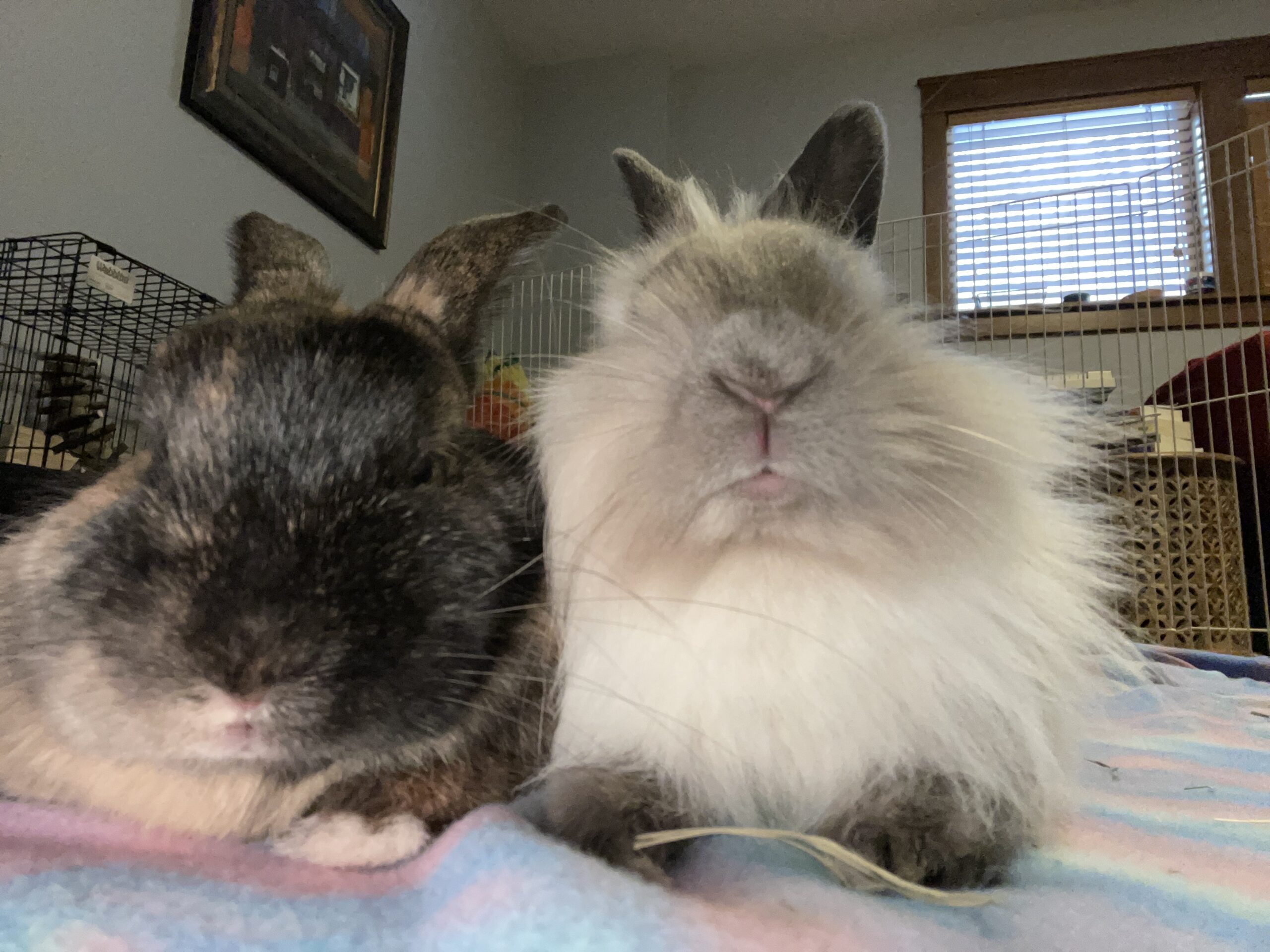 When I reflect on my college experience so far, I can't imagine it without my little furry companions. I found Maggie at one of the lowest points in my life, where my mental health got the best of me. Although I'm still learning to manage my anxiety, I never feel alone in the process. Whenever I'm sad or feeling stressed, the bunnies help me cope with lots of love and cuddles. The past three years included many ups and downs, but at the end of the day, I know Maggie and Coco can always make me smile.