The days between Selection Sunday and the kickoff of March Madness are pretty much the same thing as the night before a big ninth grade English test on a book that is way too long and difficult to understand. So you can fully appreciate what I'm talking about, let's call this book Great Expectations.
In order to excel on this Great Expectations test, common sense tells us that is we probably need to have read the book. Yet as everyone who has attended high school in the last decade or so knows, this simply isn't true. Doing well on the Great Expectations test generally means that you read some of the book, but mostly read the Sparknotes during your lunch period or got some of the answers from people who had the same class earlier in the day.
Translation: Watching college basketball all season usually just ends up making your bracket harder to fill out. Much like actually reading Great Expectations without referring to the Sparknotes could put you at a disadvantage for the test. Sparknotes are thus not only helpful, but oftentimes necessary.
I wouldn't quite call myself an expert, but knowing these few tidbits could possibly help you on your quest to ace your bracket. Remember, it's not as much about memorizing these Sparknotes as remembering the ones that will appear on the test:
Murray State lost one game, and is a 6-seed: Not gunna tell you to pick them to do well, but just saying.
Michigan State is coached by Tom Izzo: Tom Izzo and Michigan State have been to six of the last 13 Final Fours. They are also a 1-seed. According Google, 1-seeds make the final four more than 40 percent of the time.
I am a senior at Georgetown, and Georgetown has not won a tournament game since I've been here: This doesn't mean much of anything, though
Henry Sims has a dope twitter feed. He also is having a great season and is arguably the most improved player in college basketball, averaging 11.7 ppg and 6.7 ppg. Georgetown wasn't expected to do well this year, but did pretty well.This means that you should either pick them to go to the Elite 8 or beyond, or to lose in the first round.
John Calipari would kill it on Boardwalk Empire: I have never watched Boardwalk Empire, but the point here is that the guy is a mobster with questionable morals. If you pick Kentucky to win, don't be surprised to get your bracket winnings rescinded in three years time when it's discovered that Coach Cal bribed half his players with a lifetime supply of hair grease.
St. Bonaventure is in the tournament, and that is all you need to know about St. Bonaventure: I bring this up because the name St. Bonaventure sounds like an eigth grade CYO team who is really good fundamentally, has a coach who thinks he's Norman Dale and is much less talented than their record indicates. Also, my dad is probably going to pick them, which is a surefire way of knowing that a team isn't going to win.
12-seed Harvard is playing 5 seed Vanderbilt in the first round: Jeremy Lin and the Winklevosses vs. Jay Cutler, Skip Bayless and the guy who wrote Dead Poets Society. The 5 vs. 512 is far and away the most talked about first-round upset in terms of seeding. Vanderbilt just beat top-seeded Kentucky, and Skip Bayless went to Vanderbilt. All signs point to a first-round upset, which is exactly why I'm picking Vandy to go to the Final Four.
UNC, Kansas and Roy Williams: Roy Williams left Kansas to go to UNC after the 2003 season. The two teams have since combined for three national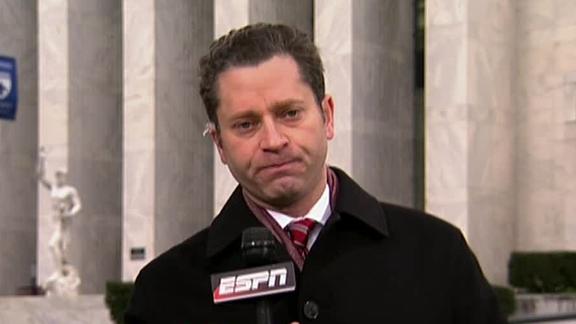 titles and seemingly make it pretty far every year. As the top two seeds in the Midwest region, there is a decent chance that they'll play each other in the Elite 8. ESPN will go crazy if this happens, so expect an obnoxiously drawn out interview with lot of shots of Williams walking on campus talking to Jeremy Schaap holding a clipboard. It would clearly make more sense for Schaap to have an iPad at this point, but I'd put money on the clipboard.
To make the Final Four, I am picking:
Duke (South Region): Kentucky seems to be more hyped up by the media than actually really good, and Duke won the title two years ago with a team much like this one — a very talented group of guys who could take over a game at any point, but collectively not as good as other Duke team's we've seen.
Michigan State (West): Draymond Green loves Michigan State, Draymond Green is really good and Tom Izzo is the coach of Michigan State.
Vanderbilt (East): They are a mid-seeded hot team, and mid-seeded hot teams usually lose in the first round. But sometimes they make it to the Final Four, especially when would probably play against teams that you have an irrational bias against if they make it to the Sweet 16 (Syracuse).
Kansas (Midwest): A toss-up between UNC and Kansas goes to Kansas because I already picked Duke. You usually have one, but never both.