Calvin Johnson narrowly edged out Cam Newton last Wednesday to claim the coveted honor of being on the cover of "Madden NFL 13." But this honor may also be a curse.
In the end, was the Detroit Lions' wide receiver lucky or unlucky to be chosen by the fans to be on the cover of a video game that is notorious for being a detriment to the players' health? Here's a brief history of the past winners and what we can expect from our "Madden" cover boy this season.
"Madden 99" – Garrison Hearst
Hearst, the San Francisco 49ers running back for five seasons, appeared on one of the "Madden" covers in 1999 after rushing for 1,570 yards in '98. He is known to have officially "started" the Madden Curse train, if you will, after breaking his ankle and having to sit out the subsequent two years. His stats would never be the same for the remainder of his career, which ended in '04.
"Madden 2000" – Dorsey Levens
The Green Bay running back ran for over 1,000 yards in his first season after appearing on the "Madden" cover. However, Levens played just five games the next year after getting injured, causing the Packers to cut him from the team in 2001.
"Madden 2001" – Eddie George
A four-time Pro Bowler, George never really declined in numbers or sustained an injury after being on the cover. However, he did bobble pass from his quarterback, Steve McNair, late in the fourth quarter of a playoff game against the Ravens in 2001, which was intercepted by Ray Lewis for a touchdown and sealed the win for Baltimore.
"Madden 2002" – Daunte Culpepper
In the season after appearing on the cover, the Minnesota Vikings quarterback threw 23 interceptions (against only 18 touchdowns) en route to a 6-10 record. It must be noted, however, that the mobile quarterback set an NFL record with 5,123 total yards in 2004.
"Madden 2003" – Marshall Faulk
Although he rushed for 1,300 yards in four straight seasons before appearing on the cover of Madden, the St. Louis Rams running back never broke the 1,000-yard mark again in his remaining three years in the league, and his yardage total declined every year after.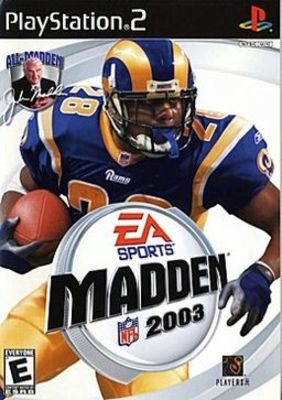 "Madden 2004" – Michael Vick
The day after "Madden 2004" was released, Vick broke his leg during a preseason game with the Atlanta Falcons, causing him to miss 11 games that season. Also, who can forget the infamous dog-fighting scandal in 2007 that landed Vick in jail for 23 months.
"Madden 2005" – Ray Lewis
The tough-guy mentality of Lewis may have won over the "Madden" curse more so than any other player that has appeared on the cover. The Ravens linebacker broke his wrist during 2005, which only caused him to miss one game. After missing most of the next season with a hamstring injury, Lewis appeared in six consecutive Pro Bowls in the subsequent seasons.
"Madden 2006" – Donovan McNabb
During his first post-"Madden" season, the Eagles quarterback publicly disagreed with his star receiver, Terrell Owens, on more than one occasion. That season, the Eagles finished with a 6-10 record after McNabb went down with a groin injury in November.
"Madden 2007" – Shaun Alexander
Alexander, the Seattle Seahawks star running back, missed six starts in '07 due to a foot injury. He also only lasted two years in the league after appearing on the "Madden" cover – one in which he totaled 24 rushing yards with the Washington Redskins.
"Madden 2008" – Vince Young
Young only played three games in 2008 for the Tennessee Titans due to an injured right knee. The next two years Young's attitude problems cost him his trust as a starter in the NFL and eventually his job.
"Madden 2009" – Brett Favre
After announcing his retirement before the season, Favre came back and signed with the New York Jets for the '08 season, leading the team to an 8-3 record before a torn tendon in his arm shelved him for the remainder of the season. The "Madden" cover season also saw Favre involved in a scandal in which he allegedly texted pictures of his man parts to a woman affiliated with the Jets.
"Madden 10" – Troy Polamalu and Larry Fitzgerald
Polamalu, the Steelers safety, sprained his MCL in the season-opener and missed the next four games. After playing in three games after his return, Polamalu injured his posterior cruciate ligament, forcing him to miss more games for the rest of the '10 season.
Fitzgerald, on the other hand, played in all 16 games that season and made the Pro Bowl, catching a career-high 13 touchdowns.
"Madden 11" – Drew Brees
Brees threw for more than 4,600 yards in '10 and an NFL-record 5,476 in 2011, although he also threw a career-high in interceptions with 22 in his "Madden" cover season. Also, recently, the Saints have been convicted of a bounty scandal – causing their head coach to be suspended for the entire '12 season.
"Madden 12" – Peyton Hillis
After a breakout year in 2011, the Cleveland Browns running back only rushed for 587 yards after appearing on the "Madden" cover – that coming in a season where he only played in 10 games due to multiple injuries.
Calvin Johnson is coming off of a season where he loaded up on receiving yards (1,681), receptions (96) and touchdowns (16). The only question that remains: Can he avoid the "Madden" curse? As history and this article have proven, everyone on the cover since 1999 has been affected by the curse in some way or another in their career. It may not be this season or next season, but it's likely to expect something to go wrong with Johnson, whether it's in statistics or in legacy.