I go to school in Savannah, Ga., home to one of the largest Saint Patrick's Day celebrations in the country. Just about everyone of the legal drinking age has some wild tale of shenanigans they got into after one too many pints of green beer. But no matter where you are, you can be sure that Saint Patty's is primetime to make memories you'll forget until the hangover passes.
If we are being honest with our young college selves, Saint Patty's is a drinking holiday and not much else. Sure you can celebrate Irish heritage and get drunk enough to start shouting "Kiss me, I'm Irish" at complete strangers. I personally have one-eighth Irish blood in me, although I'm not sure if that counts.
But if you are out on the town with a beer constantly in-hand, you can be fairly certain one of two things will happen: One, you will get drunk and start kissing someone. Two, someone else will get drunk faster and start kissing everyone.
"I accidentally arrived at the tail end of the biggest St. Patty's day celebration in Hoboken, NJ," said Troi Caple, a senior at the Savannah College of Art and Design. "After circling the streets for a parking space for about an hour, I found one right on the busiest street and as I was getting out a group of guys came up. They were extremely drunk and one gave us all a kiss, while his friend puked on the hood of my car. I think he was trying to say sorry."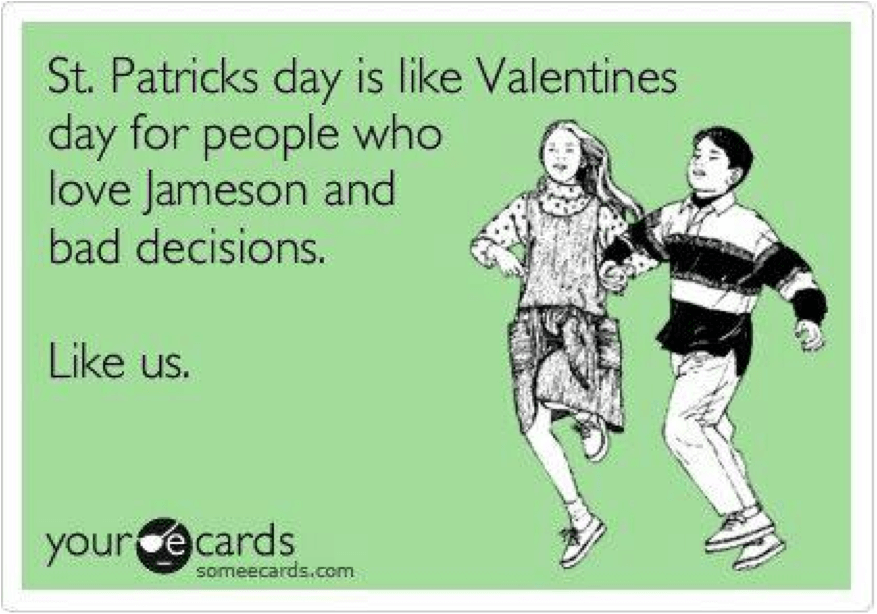 Drunk kisses are, of course, not anything exclusive to Saint Patrick's Day. Hell, I've had a drunk kiss on a normal, boring Tuesday. But this isn't like New Year's Eve where champagne makes you tipsy while you're trying to maintain your composure. Nope, Saint Patty's is a circus of booze and bad decisions, and for a lot of college students, that's the whole point. 
"I kissed my best friend's boyfriend's brother on Patty's Day by accident. That was a mistake," said Nicole Errico, another SCAD senior. "Obviously I was really drunk. I'm a drunk gaybo makin' out with a male. I actually kissed everyone in the car that day goodbye and ended up making out with him. Whoopsies!"
But this isn't just Saint Patrick's Day; For a lot of people our age this is the season premier for whatever nonsense they hope to get into during Spring Break. Finals are over, weather is getting warmer and the calendar is marked for an all day happy hour.
But something that is even more important to remember: no one in his or her right mind is going to want to kiss you once you've puked up that last Guinness. Which makes things even worse considering you'll be hard pressed to find someone still in their right mind. A sober person will be more rare than a leprechaun once the day is in full swing. But considering what goes down on Saint Patty's Day, that isn't saying much either…
 So have fun, be safe, and consider yourself warned.