Seventy-five percent of "Anchorman 2: The Legend Continues" is the uproarious sequel to "Anchorman: The Legend of Ron Burgundy" you want it to be. It comes so close to living up to the original's heart and 100 jokes-per-minute pace, but one chunk of the movie holds it back from true classic status.
The sequel finds Ron Burgundy (Will Ferrell) washed up, estranged from former flame and mother of his son Veronica Corningstone (Christina Applegate) and getting fired for drunken tirades while introducing a dolphin show. He has nowhere to go but up.
That is when he is approached for a job at the fledgling Global News Network, New York's first 24-hour news channel. Burgundy brings along his Channel 4 news team from San Diego (David Koechner, Paul Rudd and Steve Carell), and of course shenanigans ensue. By the end, it will be obvious that the smartest person on screen is Burgundy's beloved Spanish-speaking hound, Baxter.
Along the way, Burgundy manages to reconnect with his family and revolutionize the news industry. Of course he would. After all, Ron Burgundy was put on this earth to do two things: have salon-quality hair and read the news.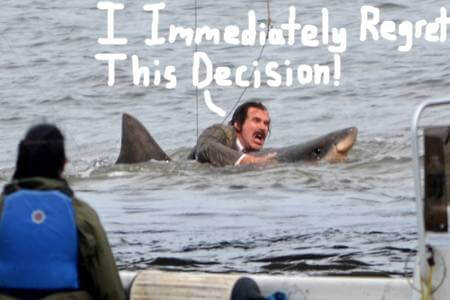 Before I discuss the jokes, this cannot be emphasized enough: "Anchorman 2" makes some surprisingly solid points about the state of the modern news business. The film takes smart jabs at broadcast news, including its overreliance on crowd-pleasing pieces over in-depth reporting, its knack for sensationalizing the mundane and the sheer number of news networks and shows that flood the market.
But no one goes to see "Anchorman" for its brains; they go for the dumb humor.
And on that front, the film delivers. Saying too much about the gags and set pieces would ruin the fun, but here are a few one-liner gems to hold you over:
"Who the hell is Julius Caesar? You know I don't follow the NBA!"
"By the hymen of Olivia Newton-John!" 
"I believe in two things: Chicken, and that the census is a way for the U.N. to make your children gay." Also, bats are totally just the "chicken of the cave." 
Moments like that are comedy gold, and they are bountiful. But then about halfway through the film, it veers off into a storyline I will not spoil. Suffice it to say, I sincerely did not find it funny or understand its purpose in the grand scheme of things. The film eventually regains its comedy form toward the end, but that middle quarter left a sour taste in my mouth that was never entirely extinguished.
Otherwise, "Anchorman 2" is just as funny as its predecessor, with just as many throwaway lines that are destined to be printed on T-shirts and mugs. Old jokes make brief but welcome appearances, there are some amazing cameos and nobody punts poor Baxter this time. Everybody wins!