By Morgan Davis > Political Science and Journalism > George Washington University
College Magazine takes an inside look at Paddy's Pub and gets more than a pint from Glenn Howerton, better known as Dennis Reynolds on It's Always Sunny in Philadelphia.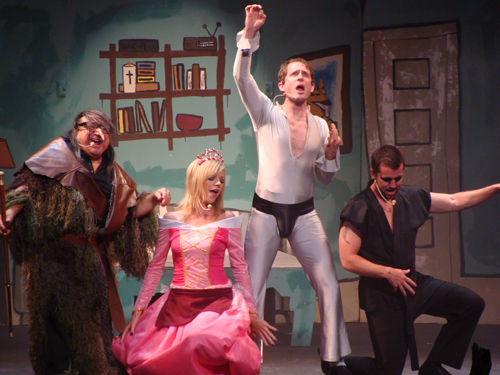 College Magazine: What was your inspiration when you first started writing and filming It's Always Sunny?
Glenn Howerton: I didn't know what the f–k I was doing at all. It was never that deliberate of a choice really. We were three actors living in LA, all in our mid- to late-20s and we had a lot of time on our hands when we weren't auditioning for sh-t…Me, Rob [McElhenney] and Charlie [Day] just started shooting this stuff together for fun with anything just kind of experimental just to keep us busy and keep ourselves creative and this is just one of the things that we shot.
CM: Where do the episode concepts come from?
GH: From everyday life and the kind of things that you just care about or read about in the news. Really it's all in the execution. Sometimes we obviously do smaller episodes that are really just relationship-based issues…Really our inspiration for our stories comes from the same places that probably anybody who writes stories. I think hopefully where we differ from other things though is in our style and delivery; you know, the execution of it. The only way you can break ground is in the way you decide to tell that story and maybe you have some original characters and that's hopefully what we have to offer.
CM: On the show, the gang really pushes the envelope. Have you ever thought that you've gone too far?
GH: I think that there is absolutely a line that you can cross. It's all in the execution. We always try to shy away from something where we're just being cruel or offensive. Our intention is never to upset anyone. We don't find things offensive in the way that other people find things offensive. I find a poorly executed joke offensive. When somebody makes a really, really bad television show or movie that's just not f–king funny or smart and panders to its audience, I find that offensive. 
CM: You're all clearly close on the show, but do you consider yourself a "gang" off the set?
GH: It depends. The truth is we spend a lot of time together when we're working. We tend to not hang out a lot outside the show, but when we do hang out it's great. We're all married now too, so we're not these crazy kids. As boring as that may be, we're not out at the bars getting hammered and sh-t, we're pretty chill. 
CM: So who is really "the Wildcard"?
GH: If anybody, probably Danny [DeVito]. He's always up to some crazy sh-t.
CM: What's been the most fun scene to film?
GH: It was definitely a lot of fun filming the "Nightman Cometh" just because it was something so incredibly wild and out there. They're all really, really fun. Often the most fun to shoot are the ones where we're just having a really f–king ridiculous conversation about something.
CM: What are your ambitions for the show and yourself over the next couple years?
GH: We're always ambitious where the show is concerned. We just want to keep making a good show. We're definitely doing one more year, but we'll see where it goes after that. As long as we're still having fun and we're still inspired we'll keep making the show.
Breakdown:
The Cast:
• Charlie (Charlie Day)
• Mac (Rob McElhenney)
• Dennis (Glenn Howerton)
• Sweet Dee (Kaitlin Olson)
• Frank (Danny DeVito)
The Place:
Paddy's Pub in Philadelphia
Genre: Comedy
Channel: FX
Time: Thursdays at 10 p.m. EST
Fall start up: September 16
Surprise Facts:
1. Glenn Howerton (Dennis), Rob McElhenney (Mac) and Charlie Day (Charlie) were all trained in traditional acting, not comedy.
2. Before starting It's Always Sunny, Howerton starred as Corey Howard in That 80's Show.
3. Howerton's wife, Jill Latiano, appeared as the pharmacist in the It's Always Sunny episode "The D.E.N.N.I.S. System."
4. The gang really keeps the show in the family. McElhenney is married to Kaitlin Olson, aka Sweet Dee, and Day is married to Mary Elizabeth Ellis, aka The Waitress.
5. As of yet, Mac's first name and the Waitress's name have not been revealed.