I have noticed a phenomenon in recent months that I have had trouble understanding, and in the wake of this year's Academy Awards, I think it's high time for me to voice my opinion: it is ludicrous to hate Anne Hathaway, and you should rethink it if you do. The now uber-successful actress has received so much flack for what seems like every single thing she does, from cutting her hair to get more into her role as Fantine to her Prada Oscar dress that suggested the shape of her nipples. I have some points of my own to add in response to all this.
Let's start from the top. Hathaway is a person who achieved her success the conventional way: by working hard. She was in plays growing up, started school at Vassar College as an English major and Women's studies minor. Then, she transferred to NYU and went on to graduate and study at the America Academy of Dramatic Arts. Homegirl wanted to be an actress, so she did all the right things that would help her become a great, and now she is. This fact alone is enough to warrant respect. Hathaway is living the dream of any aspiring actor, or even artist; her success should be reassuring and inspiring. She was cast in small roles on stage and screen before landing her first big role as Mia Thermopolis Renaldi, Princess of Genovia.
Which leads me to my next point: everybody loved The Princess Diaries, and if you claim otherwise, I think you are either a liar or lack a soul. The movies are charming and sweet, and Hathaway is to thank in large part for that. Another objectively amazing movie starring Hathaway is The Devil Wears Prada. On top of the great clothes, it has a great message and its protagonist, Andi, is a relatable woman who breaks the mold. Hathaway owns these roles and makes them great. Sure, they're not the most serious movies ever, but…
Have you seen Rachel Getting Married? That is some seriously heavy emotion, and Hathaway, yet again, slays it. Her role as drug-addicted and emotionally distressed Kym is powerful and moving, and almost earned her an Oscar for best actress. But that golden statue would have to wait five more years to sit on her mantel. In those five years between Kym and Hathaway's award-winning role as Fantine, she would steal our hearts as Maggie with early onset Parkinson's disease in Love and Other Drugs, win an Emmy for voice-over work on The Simpsons and look smoking hot in her catwoman jumpsuit in The Dark Knight Rises.
Are Hathaway's exceptional choice of roles and professional successes not enough to stop the social media rants? Her classic beauty not enough to make you love her? Maybe the fact that she is a good person working to change the world for the better will have an impact. She works with The Lollipop Theater Network, an organization dedicated to making it possible for children who are hospitalized due to chronic or life-threatening illnesses to see movies that are currently in theaters. Since her brother came out when she was 15, Hathaway has been a strong LGBT activist and donates to the cause regularly. When she married in 2012, Hathaway donated the money she made by selling her wedding photos in equal parts to St. Jude Children's Research Hospital, The American Cancer Society, Freedom to Marry (an organization which campaigns for equal marriage rights), and The Girl Effect (an organization which helps impoverished young women better their lives, and in turn, the lives of those around them.
In short: she's a saint.
Lena Dunham tweeted it right, writing: "Ladies: Anne Hathaway is a feminist and she has amazing teeth. Let's save our bad attitudes for the ones who aren't advancing the cause."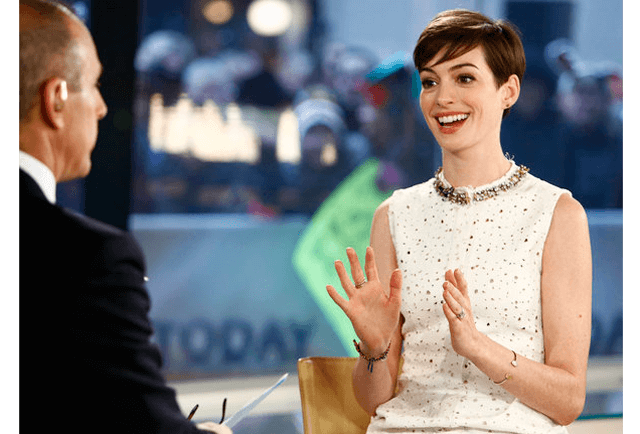 Not only is Anne Hathaway an amazing actress, a philanthropic citizen and a strong and inspirational woman, she is also graceful in the face of unbelievable and unwarranted criticism and negativity. In response to all the press lately, she says: "It does get to me. But you have to remember in life that there's a positive to every negative and a negative to every positive. The miracle of the universe is that, as far as they know, there's 51 percent matter versus 49 percent anti-matter — things tip in the scale of the positive, so that is what I focus on. I live my life with love. I live my life with compassion. I live my life hoping the best for absolutely everyone, no matter how they feel about me."
You go, Anne. I love you.