Former Cosmopolitan Editor-in-Chief and New York Times best- selling author Kate White didn't hesitate to take her own advice when CM interviewed her on her newest book and career guide, I Shouldn't Be Telling You This. Using her experience in the magazine industry, White clued CM readers in on what really makes a successful person, successful.
And she certainly spilled the beans when we asked her how she managed to become a part of Glamour's Top 10 College Women competition prior to the kick-off of her magazine career.
The Competition
Currently, Glamour allows self-submissions for the competition, but prior to that, White, among others had to be recommended by the school they attended.
During White's involvement with her college literary magazine, her dean as well as other staff members recommended and encouraged her. "[The contest] asked you to list all campus activities, and I also had to write an essay about my goals in life," White said. "To stand out, I wrote an essay about not having goals, but of course I have goals," White laughed. Her ironic essay transformed itself into a surprise phone call directly to her dorm room. "We had payphones, and someone yelled 'Hey Kate, it's for you!' and I picked up the phone and heard, 'This is Glamour, and you are a finalist.'
Gutsy Appreciations
Although White wasn't as "gutsy" when she was younger, she quickly began to learn the importance of making bold moves. In I Shouldn't Be Telling You This, she encourages readers to ask mentors for advice and sponsors for a hand in networking.
White also reminded readers of the absolute importance of a 'Thank You' in any industry. "What's really tough is when some people just ask, and others get sick of it," White said. "They ask, and they ask and they don't thank. When someone does a big favor for you, I think you should bring out the bottle of wine."
Over the years, many college students have become more interested in White's work, emailing her with requests for interviews, "Unfortunately, I was too busy most of the time, so I'd send a couple of things I've written," White said. "I think everyone has some of those moments when they didn't think to send a thank you note, but only five percent of those women would send me one. It's like, 'You were kissing my ass because you want something, but at least be a little appreciative.'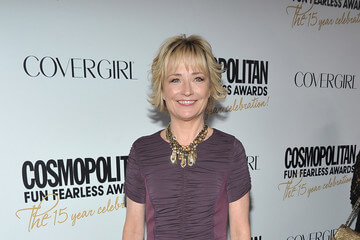 Me, Me, Me
In her book, White quotes the cofounder of Paperless Post with a reminder to "consider what the world wants from you and not what you want from the world." Although companies are fine with employees achieving their own goals, it's important to remember to achieve theirs first and foremost, White noted.
"I had an assistant who started at the magazine, but before long she started talking about writing pieces on food," White said. "Cosmopolitan doesn't do much food, and she wanted to take a course in food writing. But why would we reimburse that course if we don't do food here?" When finding yourself in this big dreamer's state-of-mind, White recommended to "make them think their goals are your goals. Those goals will be simultaneously filled as the organization's is."
But of course, White reminds readers to be meeting their own needs in life more than anything. "If your gut tells you when you aren't giving your all to one area, it's important to step back and ask, 'Am I all in across the board here?"
The Perfect Balance
As a wife and mother, White uses this strategy to set a perfect balance between family and work time. "When you have kids, like me, I would basically ask, 'Am I all there for my kids too?' My husband told me before, 'Kate, we never felt short-changed because of your career.' And I'll never forget that."
During White's development of her newest book, she had a moment to ask herself if she was all in as an author. "And because of social media and Internet, authors are expected to do even more than before," White said. "Part of why I left Cosmo is because I had to write. It would have been a wasted effort if it wasn't done well."
Taking Her Own Advice
And after 14 years of dedication, White's decision to leave Cosmopolitan was finalized. "I made a point where I could choose [my next step]," White said. "Sometimes you shift around a bit and find something you could let go of that you didn't have to do anymore."
For those still on the search for their niche, White reminds readers they can be "serial achievers" by keeping notes of what peaks their interest. "Embrace those interests," White said, "And don't ever lose sight of them."
Photo courtesy of Zimbio.com