It's hard to believe that it's already October, right? The weeks seem to fly by, all leading up to the first major break of school…and sadly, the tests that come with it. Midterms week is described as hellish, daunting and greatly overwhelming, but most pull through and survive. The combination of tests, papers and oral exams is a whirlwind of insanity, but there are a lot of ways to manage your time and energy to keep you afloat.
One of the hardest things during midterms week is staying healthy while pumping yourself full of facts, junk food and coffee. The overload of caffeine and processed food can leave you jittery, so when you plan out your studying for the week, be sure to pencil in some physical activity every day.
You can go for a run to clear your head or do a quick workout video, but get moving so you don't go into hibernation mode, which can inhibit your memory retention. It also goes without saying that staying hydrated is a huge key to success; not allowing coffee to run through your veins can help keep your brain fresh and alert.
After you've worked out, packed your bags and head to the nearest study spot, it's time to divvy up your workload. Studying for tests should not consist of a frantic cram session, but rather small chunks of studying time spread out over a few days. Devoting an hour or two per subject each day will ease you into the material gently rather than pounding your brain with facts and figures. Also, making your own study guides, note cards and other study tools will help boost your memory and improve information recall.
If being a lone wolf and camping out by yourself in a corner of a room isn't your style, working in groups can be an effective way to study. Teaching the subject to another person has proven to be the most effective way to improve memory, but staying focused and not allowing group mates to distract you can be a tough task. Let you and your study buddies goof off for a while then focus for a straight hour on the subject at hand.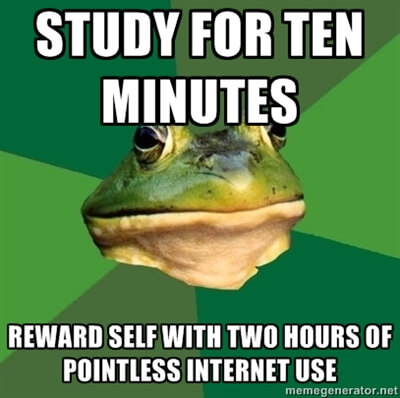 Midterms can really put the "dying" in studying, but everyone goes through them and they can be survived. Making them seem as painless as possible without wallowing in guilt and frustration can be tough, but by portioning out your work and not drowning your sorrows in energy drinks and coffee, the week can be a breeze.
Image: Spark Minute