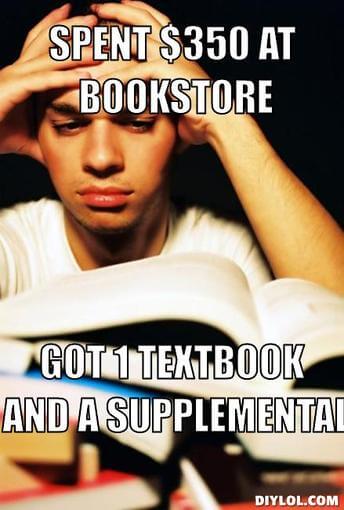 The end of summer means tuition payments and the rent for
your first real apartment
. Unfortunately, the ritual in which you sacrifice your
summer earnings
to your your landlord and the bursar's office fails to end the bank account barrage. Your financial death sentence arrives with your courses' list of required materials.
The days of free textbook distribution on the first day of class now only exist as a distant memory. Fortunately, with the right planning you can obtain all those required texts without emptying your wallet or shattering your piggy bank. Nowadays, saving a few bucks requires a little more effort than buying used and renting. Here are six tips to buy books without draining your beer fund.
1. Patience is a Virtue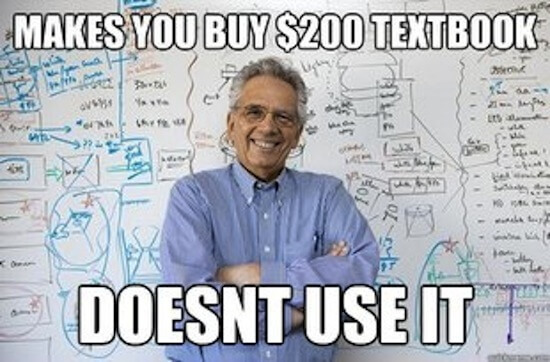 Just because a book made it on your bookstore website doesn't mean you actually need it. Wait for a syllabus before you sell your soul for a copy of "Fantastic Beasts and Where to Find Them" (I wish). For all you know, your professor will tell you on the first day that all exams are lecture-based. The term "requirement" often means recommendation. Selling books back can be a Herculean task. Don't drop $200 when it can be avoided.
2. Avoid Bookstores like the Plague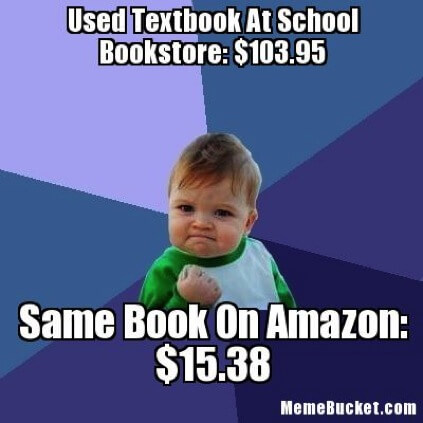 Every upperclassman tells you to skip the campus bookstore and they couldn't be more right. Those racks of pristine collegiate hoodies and rows of crisp books can easily seduce away your savings. What they don't tell you may surprise you. That rebel bookstore three blocks off campus charges almost if not the same. Having discount in the name or "for the students" in the motto doesn't guarantee lower prices. To my surprise a new edition of The 2014 Associated Press Stylebook cost the same $22.35 at both of my available stores. While other books may vary, a trend is clear. Unless you waited until the night before an exam, avoid the lines and use another
option
.
3. Voyage into Cyberspace
Your Kindle is good for more than your guilty binge reading of Fifty Shades of Grey. Textbooks now often exist in both print and digital format. The weight in your wallet distinguishes the difference between an eBook and traditional 4-pound printed book. If you get lucky, you can sometimes find an online copy free of charge. University-ran resources such as
Project Muse
provide free PDF editions of books ranging a wide degree of fields of study. If your school is affiliated with the database, obtaining full-access simply requires the help of your librarian. Though you might miss that musty book smell, you can't deny the convenience of a finger swipe or a mouse click.
4. Use That Library Card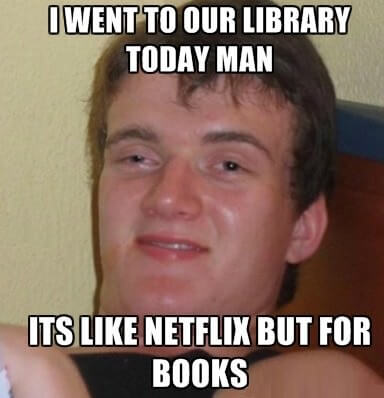 You know that pretty brick building where the type A's assemble? You can do more at your campus library than sneak in a nap after your 8 a.m. If the stars align, you can find a copy of your assigned textbook among the 37 musty tomes that comprise the complete work of William Shakespeare.  You could have a printed textbook for no cost at all (cue singing cherubs descending from heaven). Just be aware of your library's recall policy. Many universities require students to return books within two weeks if another student submits a request.
5. Utilize your Social Network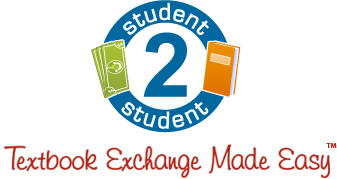 There's a good chance your second-cousin's friend Johnny took the same class and his book collects dust in his garage. Post a Facebook or Twitter plea before you hit the online stores. A friend trying to get rid of an old book will cut you a better deal than Amazon. Don't despair if your friends can't help you in your time of need. Students at many universities have created exchange services such as
Student2Student
that allow you to cut out the middleman and buy books directly from other students. 10 minutes online could save you hundreds of dollars.
6. Shop Around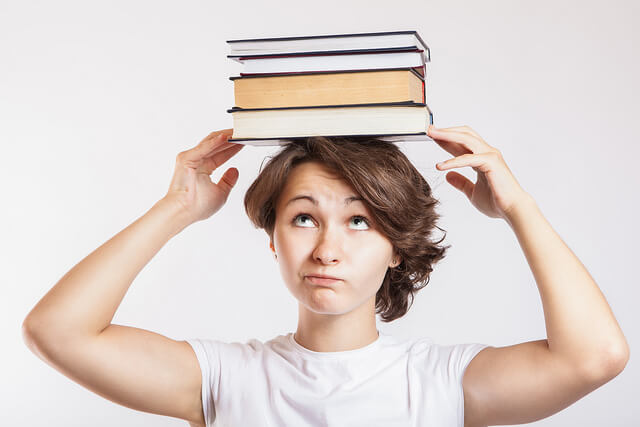 Make sure you got the best deal before you type in your credit card number. Every site or store claims to have the best offer, but the cheapest option for one book may be the most expensive for another. Rather than letting options dwindle by waiting until the last minute, set aside the time to find your books early in the semester. Don't be that guy crying over an empty shelf when your professor decides to make your final open-book.
Although you will probably drop money on books you won't read regardless, a little research could save some of your summer paycheck. Even five extra bucks make a difference. That last drink at the bar won't pay for itself.
(Main image via diylol.com)