Just the word 'threesome' already points to one flaw of the act. A relationship is typically considered to be between two people, so when another person is introduced into the mix, things can get really complicated really quickly. There has been story after story about how a good friend's friend knows someone who had a threesome and the couple not only enjoyed it, but also thought it strengthened their relationship. But what many people considering a threesome try to ignore are the countless stories that suggest the opposite—that a threesome can destroy a relationship.
Threesomes will almost always summon the green giant named Jealousy, who will rampage through whatever is left in a relationship. Even at the conception of the idea, questions will loom around your head: Is he unsatisfied with me? Does she not find me attractive? Is he bored of our sex life? Pushing those questions out of your immediate thoughts only opens up room for more questions and more jealousy. When you get involved in a threesome, you have to anticipate worrying about if he or she is paying more attention to the other girl or guy, if he wants more time with her, or if she finds him more appealing. It could be fun if everyone is equally participating, but that rarely happens, according to a student at University of Virginia who wishes to remain anonymous.
"I've had a few threesomes and they always end the same way: with me being super jealous of the other girl. I've always been the one who seems to get left out and am left watching the two of them have sex," she said. "At that point, it's not fun for me and it hurts my feelings."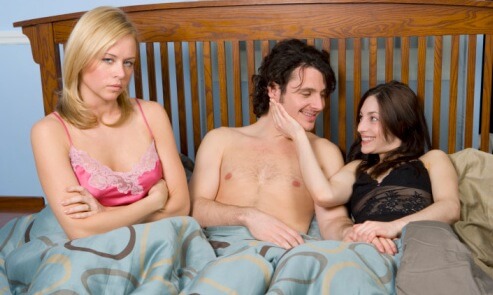 What about if you want a threesome with another man? Dr. Gail Saltz, a psychiatrist with New York Presbyterian Hospital and a contributor for "Today," said that both types of threesomes could be equally destructive.
"Suppose you are surprised to find you crave another man…" Saltz said. "Also, people have the potential to be attracted to both sexes, even though attraction to a member of the same sex doesn't make you gay. You may find yourself attracted to an added female, something that is threatening to your [partner] and confusing for you."
The possibility of these consequences will be hard to anticipate, especially when contemplating future "what if" situations. But there are just threesomes that go horribly wrong right away. A student from the University of Central Florida had a threesome that ended in a break up.
"My girlfriend begged me to have a threesome with one of her best guy friends. She claimed it was just because she felt bad for her friend for not getting laid and also just wanted to try out this fantasy of hers. But after we did it, she realized she really liked him and broke up with me to date him."
 Before and during a threesome problems can arise, but you might decide to go through with it anyway. There is the possibility that both you and your partner enjoy the threesome after you carefully select your third person and both equally and actively participate. Jealousy can still creep up after the act, if your partner keeps asking for another threesome with the same or a different person. You might wonder why he or she still wants a threesome and question the dedication and enjoyment in your exclusive relationship. Your best bet: keep sex within the relationship and let your partner fantasize all he or she wants.
Photos taken from peopleinsight.com and dailyupdate.ie