With the summer season comes a huge spike in breakups. The truth is that many people just want to be free and enjoy their vacation and adventures. But if you've got someone to hold onto, check out my tips for some sexy, sporty and sweet hobbies you could pick up together to keep your fire burning like the summer sun.
The sexy:
Ever looked at one of those cliché movie scenes and thought you wanted to live it out? You and your sweetie could try throwing pots together. It'll give you a way to get a little messy and be super close in proximity. Also, creating something together is always fun. It'll be like your little baby. But not really.
Becoming a good photographer is a smart investment, but you don't have to be a pro to have fun taking pictures with your partner. Find a place with a beautiful scenery or a wall painted a vibrant color. Use your honey as a model. If you've got a tripod, capture some shots of you two together in motion. Keep 'em classy or keep 'em private.
Watch things get hot in the kitchen by trying new recipes or taking a cooking class together.  Experiment with the sensation of different tastes and textures by blindfolding your partner and feeding him or her different foods. If your partner guesses incorrectly, give a kiss. If he or she is wrong, kiss anyway.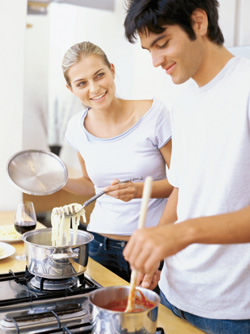 Put on your best duds and your dancing shoes, then enroll in a ballroom dancing course. Not only will it be a good time, but you'll get to hold each other close. Guys, there are few things sexier than a man who can dance, and your girl will look great a pair of heels and a flowing skirt. Get on the floor and let the groove get in.
The sweet:
Make a summer reading list together and then get to turning pages. Read to each other or individually, then come together for an intellectual discussion. Remember when I said few things are sexier than a guy who can dance? A guy with a brain is one of those things.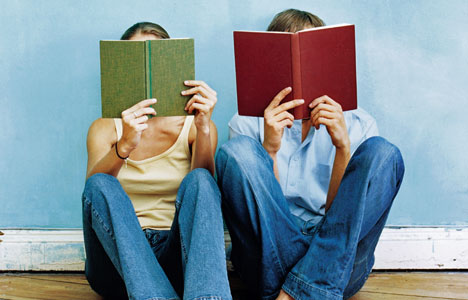 This one is seriously my favorite hobby on the list. Head to your attic and whip out your old VHS player. Invite your partner over for a movie marathon – a viewing of movies you won't find on DVD. Pop some popcorn and grab your favorite carbonated beverages. Snag a blanket, kick back and snuggle.
Grab a legal pad and pen and compose a song together. You don't have to sing it or perform it, but you'll feel so proud of what you've created together. If you're a pair of brave souls, give singing a shot to see how your voices mesh together. Who knows – you might become the next amazing singing duo? If you become really good at it, head downtown and perform for tips!
Discovering new places together is always a good idea and can make for some really funny stories. Check out museums, city landmarks, mountaintops and riversides. Find somewhere to sit quietly and observe the beauty of the scenery and your partner. Bring your camera and awesome photography skills and maybe even some treats that the two of you baked for an afternoon picnic.
The sporty:
Rock climbing is a great way to be active and to encourage each other. Don't be pushy but be sweet if your partner is afraid of heights or falling. If you're supportive, you'll see your relationship reach new heights, too after your partners' sense of accomplishment. Plus, the view of your partner will be great as you wait from the ground cheering him or her on.
Running together may be something you'll want to fit into your summer routine. Unless you're both hardcore runners, take things slow. It isn't about getting "skinny." Simply push each other to do your best, but don't take things too far. Just focus on becoming healthier (i.e. slimmer, having a better stamina, etc.) and enjoying each other's company.
Photos by o5.com and WordPress.com