When viewers see the beautiful Allison Williams bring Marnie to life on HBO's hit show Girls, it's hard to believe that just a few years ago, Williams was a high school senior, holding her breath as she waited to hear back from colleges, especially her dream school—Yale.
"There's about a week during which you hear from all the colleges you apply to, and I had heard from all my colleges except Yale. Finally, when I logged into the Yale website and found out that I got in, I jumped up and down with joy. It was pretty obvious that that's where I wanted to go. I just never imagined I would get in!" Williams says.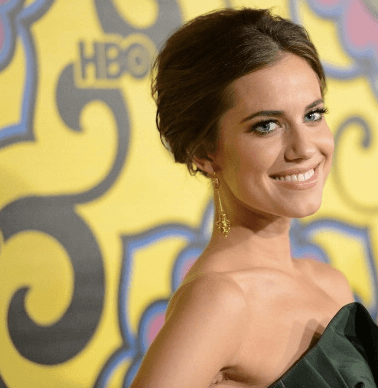 At Yale, Williams had what she calls a very colorful, wonderful collegiate experience, complete with mistakes and lessons, triumphs and failures, parties and all-nighters in the library. "Maybe more all-nighters in the library than parties, but still," she says.
After being turned down for a role in her school's rendition of Urinetown, Williams attended a comedy show put on by the improv group Just Add Water to cheer herself up. She fell in love instantly, auditioned, and joined.
"I'm so happy I was accepted into the group, because […] it made me the actor I am today," she says.
Shortly after she graduated in 2010, Williams moved to Los Angeles and tutored for a living. "It can actually be quite a good source of income, and it's a perfect job for an actor because you can have flexible hours," she says.
While in LA, Williams released a little video called "The Mad Men Theme Song…With a Twist." The just-over two-minute parody gained momentum and was seen by over 700,000 viewers—among them was Judd Apatow, the executive producer and comedy genius extraordinaire behind Girls.
Apatow contacted Williams, and offered her an audition for The Untitled Lena Dunham Project. "I auditioned for the show just three weeks after moving my life out to Los Angeles, and like a boomerang, I shot right back to New York to shoot the pilot. The rest is, as they say, history!" she says.
Williams was immediately drawn to Dunham's writing, which she calls almost voyeuristic in its reality. "[Dunham] has this innate but uncanny ability to understand humans and the complex ways in which they relate to each other," she says. When reading the pilot, she was particularly intrigued by the unique relationship her character, Marnie, would have with her boyfriend Charlie.
"I say unique because it's unique in television and film, not because it's unique in real life. In fact, you'd be hard-pressed to find someone who hasn't been on one side of that dilemma: (s)he's so nice to me that (s)he is unattractive to me. It doesn't make sense, yet it happens all the time," Williams explains.
Marnie is a fascinating, nuanced character and can be difficult to portray, Williams says.
"The biggest challenge is that Marnie doesn't often have fun, smile or show kindness to other people. She isn't usually in harmony with those around her. I find myself yearning for her happiness, begging to be allowed to be sweet and nice. She has tiny moments where she is comfortable enough to let her guard down, but it can be exhausting to play someone with that much tension in her shoulders," she says.
Because of Marnie's uptightness and difficult attitude—though, of course, Dunham's character Hannah is no angel either—the two had a falling out at the end of season one. But that doesn't mean the two are done for good.
"I love the idea of Marnie and Hannah being so close in college and then trying to translate that relationship into the real world of New York…that's a very complicated dynamic. As you all know, the fishbowl world of a college campus is very different from the world of a major city. So that transition can be difficult, as you see on our show," she says.
Though Girls doesn't returns to HBO for season two until January 13 (that's your cue to start a countdown), Williams isn't taking a break.
"When I'm not shooting Girls, I'm working at finding the next thing. I have yet to be cast in a movie, and right now that is my goal," she says. "This business is a lot of "no," and an occasional "yes." If I tallied up my "no" to "yes" ratio, it would probably be somewhere near 250:1. That 1 just happened to come at the perfect moment."