The Georgia House of Representatives has voted to pass a bill that would allow guns on college campuses and let school administrators be armed. It would also allow guns in churches and in public buildings, according to the Huffington Post.
Although opposed by many college presidents in the state as well as by the head of Georgia's university system, the bill passed and will now move on to consideration by the state Senate.
"I am worried that the mix of alcohol, drugs, sex and immaturity on college campuses could be fatal," said state representative Scott Holcomb (D-Atlanta).
Supporters of the bill counter that it will actually increase safety. "[Gun control] laws just make people sitting ducks, and it is incomprehensible to me that we would try and use the government to try and strip somebody of their right to self-defense," said state representative Charlie Gregory (R-Kenneshaw).
In the bill, guns would still be banned in dorms and greek houses, as well as at athletic events. They would, however, be allowed in classrooms and dining halls, and in general in all public buildings without security guards or metal detectors, the Huffington Post reports.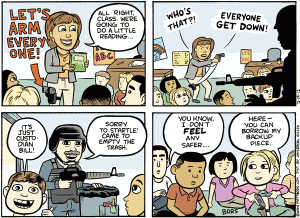 "I think it's a bit preposterous that the government would allow weapons of that caliber on college campuses," said Josh Orson, a senior at Lesley University studying history and counseling. "Some colleges ban alcohol on campus, and most ban any students from having pets. I think that guns are way more dangerous than either of those things," he said.
A big supporter behind this legislation is GeorgiaCarry.org, an organization that calls itself "Georgia's no-compromise voice for gun owners." The bill still needs to be approved by the Senate, and state lawmakers need to make a decision by March 28th, according to the Examiner.
"I understand people wanting to prevent more tragedies happening in schools and colleges. But I don't think this is the right way to go about it," said Orson. "I think about my campus and who I go to school with … a Friday night with better access to guns could lead to a really ugly accident."
Five states already allow guns on campus: Colorado, Mississippi, Oregon, Utah, and Wisconsin. In the months following the December Newtown, Conn. shootings, many states have tried to pass various bills on gun control, or the lack thereof.
"It's not that I think banning guns on campus will eradicate any future problems. But it could be a step in the right direction, and it could help people realize where it is and isn't appropriate to carry such a weapon," Orson said.
Photos from deathandtaxesmag.com and mattbors.com