Is it just me or does foreplay seem to have gradually become less important in our sex lives? Whether I'm talking to friends, reading magazines like Cosmopolitan and Women's Health, or watching movies like The Holiday (Cameron Diaz tells a very horny Jude Law that foreplay is "significantly overrated"), the answer is an obvious one: foreplay is not as essential as it used to be. How could something that was once so crucial in our sex lives just lose relevance? I wanted answers, so I turned to my peers. I know—it's hard to believe that the people I talked to would rather stay anonymous when talking about their juicy sex lives, but here's a taste of what different people had to say about foreplay.
"Yes, I still undoubtedly need and want foreplay! It's just exciting. Why would you rush right into sex if you have time to go slowly and pleasure each other a little first? I climax better and more quickly when there's foreplay involved, and so do my partners." – Sophomore at New York University
"I would rather go without [foreplay]. For me, foreplay means helping the girl out and getting her ready for sex but I don't get much in return. I can give myself a hand job a lot better than she can. It's nice to get head though, but I'd rather do it in between rounds of sex." – Sophomore guy at University of Connecticut
"I started having sex later in my college career and never found much benefit in foreplay. It's definitely fun and exciting, but when you are in an appropriate place to have sex, I'd rather just go right into that. Kissing gets me in the mood; I don't need anything else beforehand." – Junior girl at Rollins College
"I still need foreplay to get in the mood. Before I have sex, I need to make sure I'm wet enough for penetration and foreplay is the only way to ensure that." – Senior girl at University of Michigan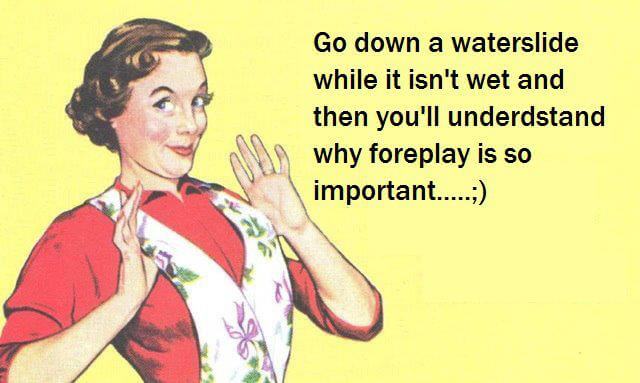 There was a good mix of yays and nays on the foreplay question, but it still surprised me that foreplay seems to be on the backburner. So I dug a little further. In a 2008 study, Professor Stuart Brody of the University of the West of Scotland and Professor Peter Weiss of Charles University found intercourse is more important than foreplay. They told The Telegraph, "In contrast to the assumptions of many sex therapists and educators, more attention should be given to improve the quality and duration of intercourse rather than foreplay."
Although college students have fallen into their own grooves and habits when it comes to incorporating foreplay into the sexual experience, my research mostly led to one conclusion: minimize the foreplay. We still need a little pre-lovin' before we get to the actual sex. Foreplay helps us get into the mood and ready our bodies for penetration. However, don't spend too much time on pleasuring your partner beforehand. Focus more on getting the sex part right so it can last longer and feel better for everyone involved.