Cue 80,000 music-lovers dancing under treetops—or floating above them in a hot air balloon— to an eclectic soundtrack of hip hop powerhouses and unsigned indie pop rockers, and camping under the stars. Firefly festival is about to begin.
Compared to most music festivals nationwide, Firefly is simply a precocious child. Blossoming into its third year, it already ranks among of some of the country's biggest festivals, many of which were inaugurated more than a decade ago. This year, from June 19th to the 22nd, more than 100 music acts will perform across Firefly's seven stages, spanning 154 acres of lush landscape in the heart of Dover, Delaware.
Beginning in 2012, Firefly Festival hit the ground running. Described as "the East Coast's Premier Music Experience," Firefly attempted to redefine the festival scene. It focused on the authenticity of music and a peaceful atmosphere, concepts that have been seemingly misplaced in the modern festival milieu: an era marked by beer gardens, celebrity sightings and #GratuitousFestivalHashtags.
Past headliners include The Killers, The Black Keys, Red Hot Chili Peppers and Tom Petty and the Heartbreakers. This year, Outkast, Foo Fighters and Jack Johnson take the main stage. With a diverse array of past performers like Kendrick Lamar, Ellie Goulding, Japandroids, and Zedd, Firefly covers a range of music tastes.
When the ears need a break, festivalgoers can nap in a hammock, customize a pair of Toms shoes or ride in a hot air balloon.
How does Firefly break the festival mold in all the right ways?
Though Firefly has the potential to be one of the country's biggest festivals, it's still working on its street cred. It doesn't share quite the same prominence or prestige as festivals like Coachella or Bonnaroo, but it also hasn't fallen victim to festival stereotypes. The Firefly experience lies in the details:
"Hammock Hangouts"
If being surrounded by trees wasn't enough, you can nap in them too.
"Big Break Stage" & "Treehouse Sessions"
Firefly's Big Break Stage gives unsigned artists a platform to play for an audience and garner a wider fan base. The artists are chosen through an online contest where fans are given the opportunity to vote for their favorite musicians. This year, South Carolina electro-rockers Stop Light Observations won the coveted headlining spot.
Treehouse Sessions, an acoustic stage decked out to look like a real treehouse,provides an intimate setting for up-and-coming artists. Not to mention bragging rights: "I saw them before they got big." ZZ Ward played here last year, and look where she is now.
Free arcade games and the Toms tent
When you're not rocking out to your favorite bands, you can pay a visit to the arcade tent and fulfill your childhood dreams with a free game of pinball. Or get crafty in the Style your Toms tent, (because a souvenir T-shirt is just too cliché).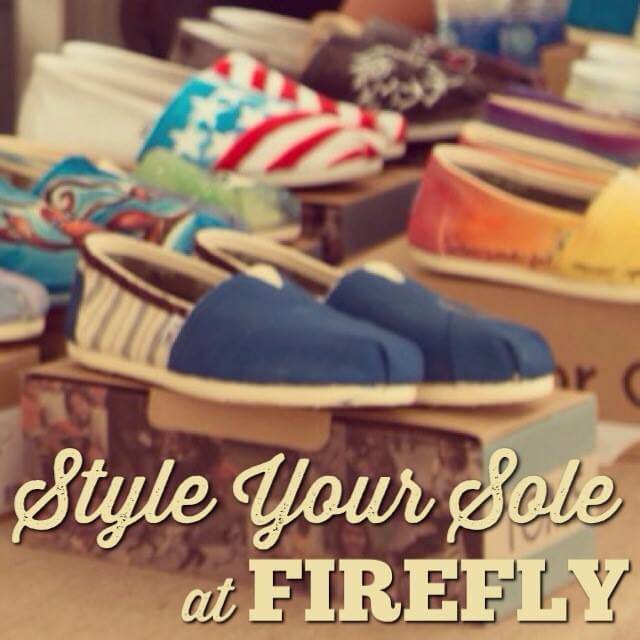 The Specialty Food
Firefly hosts dozens of food and drink vendors, from microbrew and tacos to crab cakes and gourmet burgers. This year's festival has 55 vendors lined up, favorites include I Don't Give a Fork food truck and Greenman Juice Bar and Bistro. Firefly also offers an on-site brewery, several bars, a coffee house and even a farmer's market. If you plan on drinking throughout the weekend, you might end up paying more than you did for your camping pass (prices range from $6-$9 a cup).
Silent Disco
Firefly's Silent Disco houses a large crowd of people wearing headphones and swaying in silence. As you throw on the headphones to join, the forest transforms into a secret dance party. Two DJs simultaneously (and silently) spin music, allowing the audience to alternate as they please. Last year's noiseless rave featured a surprise guest appearance by actor-cum-DJ Elijah Wood.
Tent, RV and "Glamping" Options
As many a hardcore festivalgoer can attest, you don't get the full experience unless you camp at the festival—even if that means skipping a shower for a few days. Firefly has several camping options for those who love nature and those who love air conditioning. Attendees can pay $149 for a tent spot, or up to $999 for the ultimate "glamping" experience.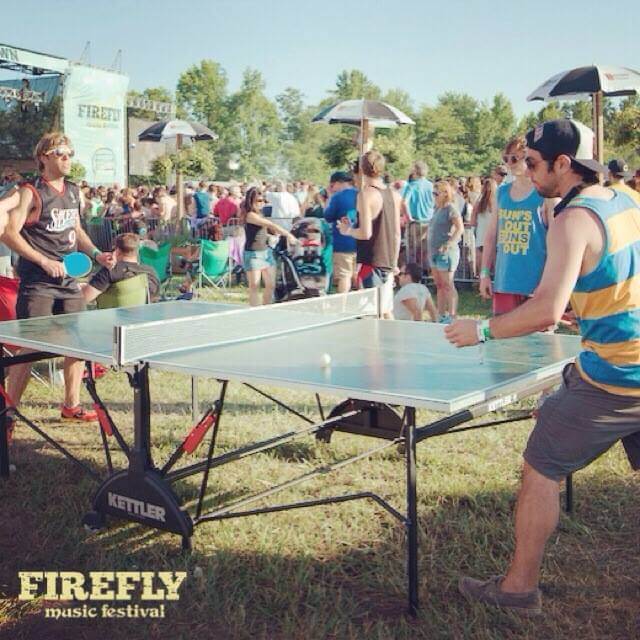 Hot air balloon rides
While Coachella's trademark Ferris wheel allows festivalgoers to soak in the vibes from above, Firefly takes it to a new extreme with hot air balloon rides over the festival grounds. Take in a moment of serenity from the hectic atmosphere of the festival (or play Where's Waldo if you get separated from your friends).
Who's Playing?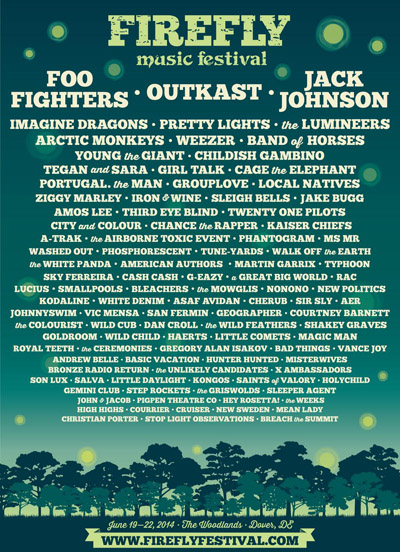 This year's lineup coalesces high-energy DJs, dynamic hip-hoppers, a dose of alt-rock and all things indie in between. While the lineup is consistently strong throughout the weekend—the following acts are an absolute must-see:
Chance the Rapper
Reminiscent of fellow rapper Kendrick Lamar and early Kanye West, 21-year-old Chance the Rapper entered the spotlight last year after the release of his debut album Acid Rap. The young rapper's earnest lyrics, punchy vocals and lullaby-esque beats and samples make his music expansive, nostalgic and incredibly down-to-earth.
It's rare that an album comes together like a good book—cohesive, strong characters, interesting themes and is full of captivating language—but Acid Rap has all of the above. And then some. If the album is any indication of Chance's live performance skills, his set at Firefly should not be missed.
Band of Horses
Band of Horses is no stranger to the music industry or the festival scene. With four full-length albums since 2006, this alt-rock quintet masters harmonious, ethereal tunes. Though their uplifting, introspective anthems are soothing, Band of Horses delivers a high-energy show. However, frontman Ben Bridewell's dulcet vocals are sure to evoke a few tears from the audience, especially during sentimental favorites like "The Funeral" and "No One's Gonna Love You.
This folk rock foursome released their sophomore album Hummingbird last year, taking the indie scene by storm. Their genre-defying sound—a cadence of bluesy guitar riffs, heavy percussion, melodic vocals and distinct folk influences—is nothing less than captivating.
"Who Knows Who Cares" from their debut album, Gorilla Manor, is perfectly evocative of what it's like to grow up and let go, and will undoubtedly induce a loose, carefree atmosphere among the crowd. Catchy, soulful tracks like "Airplanes," "Sun Hands" and "Colombia" will likely render a copious amount of hand clapping and foot-stomping.
A Girl Talk performance can only be described as the biggest and best dance party you ever have (and probably ever will) attend. Gregg Gillis, better known as mashup DJ, Girl Talk, gets every person in the crowd moving. If you're not in the audience shaking your groove thing, you're part of the mob Gillis invites on stage to dance with him.
I imagine him starting out each track like a blank canvas and layering each sample deliberately and craftily, much like an artist would with paint. Though his method of making music seems pedantic and tedious, his live shows are anything but.
Mashing up nearly 20 songs in any given track, Girl Talk seamlessly stitches together songs by artists like Missy Elliott, Radiohead, and Daft Punk.
Though many of his samples are influenced by hip-hop and dance music, he also includes the occasional rock sample (the Pixies, Yeah, Yeah, Yeahs, Blue Oyster Cult), surpassing the role of your average DJ. Girl Talk is nothing less than a musical wizard.
Want in?
Named after an insect that is equally as magical, ephemeral and vibrant as the festival promises to embody, Firefly Festival undoubtedly lives up to its name. Much like witnessing the radiance of a real firefly, you might just have to see to believe. You can grab single-day passes for $49 (Thursday) and $109 (Friday through Sunday).
For more festivals check out our list of Top 10 University Festivals to Crash.