Albert Pujols or Ryan Howard? Jose Reyes or Jimmy Rollins? Justin Verlander or Roy Halladay?
When drafting fantasy baseball teams, people are faced with the difficult decision of keeping their rooting interests out of the way in order to grab the best player available. This technique can cause a disagreement between your heart and well, your heart.
As any dedicated sports fan will tell you – your heart and soul lie with your team. Your moods and attitudes depend on the success and failure of the players. Heartbreak is common among many fans all over the country, considering only one franchise wins a championship each year in a given league.
On the other hand, when choosing players to be on your fantasy team, you have to be critical and aware of the pros and cons of each player. You must trust your heart. For example, take a look at this situation: Ryan Howard could smack 48 homeruns in a season, but if he also hits for a .251 batting average. Is he worth it?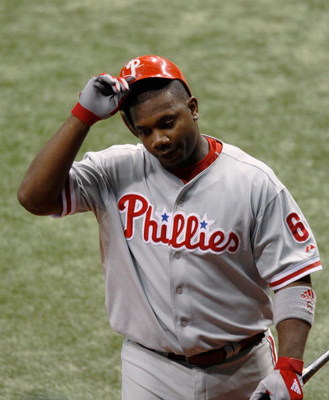 For me, personally, the task of leaving my allegiance out of a drafting decision is rarely accomplished successfully every spring when I draft my fantasy team online. As an avid Philadelphia Phillies fan, I always lean towards choosing a hometown player over a better option. It's a problem that I have come to live with and have recognized as fact.
Of course most of the time the better player can be found on a different team other than your own. Although in some cases, one can get lucky enough to have their favorite team also containing the best players. The 2012 Phillies starting lineup contains players that combine for 16 All-Star appearances and two MVP awards. In turn, their pitching rotation and closer boast 18 All-Star appearances and three Cy Young awards. Even if you aren't a Philadelphia fan, don't tell me you wouldn't want these players on your team.
Talent level aside, there is a certain pride that fans want to show when drafting their players. Whether it is out of laziness or pure loyalty, people draft their own team's players so that they can still get the joy out of running a fantasy team while following their own team as well. It's the "kill two birds with one stone approach."
Another problem fans face whilst owning a fantasy team is the fact they find themselves rooting for individual players to do well, in addition to their own personal favorite team. This approach isn't too harmful until those players inevitably and eventually face your team. Then fire meets fire, and something has to give.
It is for this reason why I tend to draft the red-pinstriped players for my fantasy team. For one, I can root for them to do well on an individual level, as well as a team level. Secondly, I don't have to worry (too much) about my other players facing the Phillies and being caught in between. Lastly, I have the great fortune of being a fan of a team that has great players on it, players that are worth drafting in the first place.
I urge you to learn from my mistakes people. I have paid the price in the past, and will probably continue to do so for the pure love of my Phils.