State College is nestled right in the center of rural, conservative Pennsylvania — not exactly a region known for its progressive queer ideals.
We were the last state in the Northeast region to legalize same-sex marriage (not until May of this year), and boorish Republican Gov. Tom Corbett once compared same-sex couples to "the marriage between a brother and a sister" on a morning news segment. But despite the conservatism of the surrounding townships, as an institution Penn State strives to set itself apart, growing steadily over recent years into a haven for LGBT students.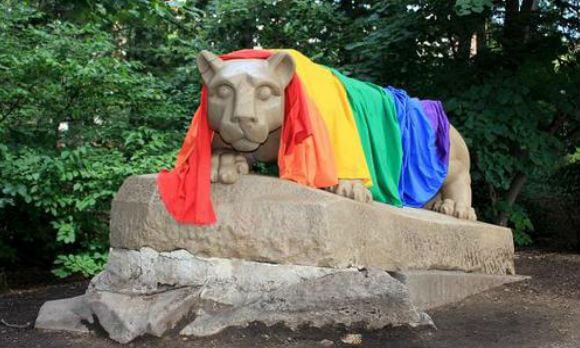 One night about five years ago, Penn State student Tom Bierly was walking hand-in-hand with his boyfriend in downtown State College. Wanting to manifest their intolerance, a group of drunken students across the street flung a barrage of beer bottles in the couple's direction.
This was the same year that the Centers for Disease Control and Prevention released heartbreaking statistics about the young queer community: that among LGBT students aged 13 to 21, eight in ten experienced verbal harassment in school that year, while one in five were victims of physical assault.
On a national scale, one in five is a staggering percentage. The numbers provided a sobering perspective on the maligned status of gay youth across the nation.
At the time, Tom Bierly's experience wasn't an isolated incident at University Park. Stories of homophobic aggression (albeit mostly minor incidents) would pop up and circulate campus gossip. And religious extremists sometimes take advantage of College Avenue's heavy foot traffic to spew their ideals to as wide an audience as possible. Most are genteel enough, passing out New Testaments in suits on the corner — but this past spring, one coalition escalated to a full-blown hate speech.
One morning near the end of last April, volunteers from the American Society for the Defense of Tradition, Family and Property gathered downtown to protest same-sex marriage. They hoisted up a sign in front of campus which stated "God's Marriage = 1 man & 1 woman" (I surmise the banner wasn't wide enough to fit their mouthful of a name), all the while chanting, hollering, and for some odd reason, playing bagpipes. What happened next is a stunning illustration of the student body's communal pride.
Shortly after the society's arrival, a mass of Penn State LGBT students and their allies spontaneously formed their own counter-protest, encircling the Society on that same sidewalk. With tact, shameless confidence and a few cans of Silly String, they pulled the ultimate heckler's veto — overwhelming the society's derogatory barking with their own messages of support, love and acceptance. It wasn't long before the volunteers packed their things and left.
That sort of boundless enthusiasm pervades the Penn State community. Rainbow flags hang in every window of the Boucke Building on campus, a seminar hall that doubles as the Lesbian, Gay, Bisexual, Transgender, and Ally (LGBTA) Student Resource Center. Headed by staff and students alike, the Center works to maintain a safe, respectful and open environment for all students. They offer workshops like Straight Talks, where guest lecturers speak on sexual orientation and gender identity. They also organize events for occasions like National Coming Out Week. — this year Laverne Cox from Orange Is The New Black visited to chat and spend time with students.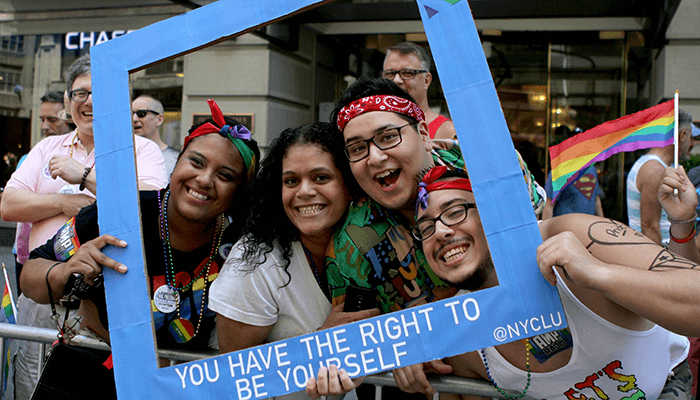 Every Valentine's Day in the HUB-Robeson Center LGTBA Student Alliance celebrates the annual "Kiss Out," when same-sex student couples, and occasionally friends, gather to display their affections,. If you're the prudish anti-PDA type, don't fret — they keep it PG. Their main objective is to crush heteronormativity.
Allison Subasic, director of the LGBTA Student Resource Center, has worked at the university for about 15 years, and notes that the school has come far in just the last few decades. "Penn State currently has almost all the policies and procedures necessary for LGBT students… We've got a lot of really knowledgeable staff, and you don't have to be LGBT to come into the center. Anyone is welcome to come and take a tour."
In sum, it's a much different environment from the one back in 1971, when two students sued the university for suspending the first queer club on campus, HOPS (Homophiles of Penn State). Although HOPS disbanded a decade later due to low membership turnouts, the students' lawsuit set a positive precedent for larger and more substantial endeavors to come.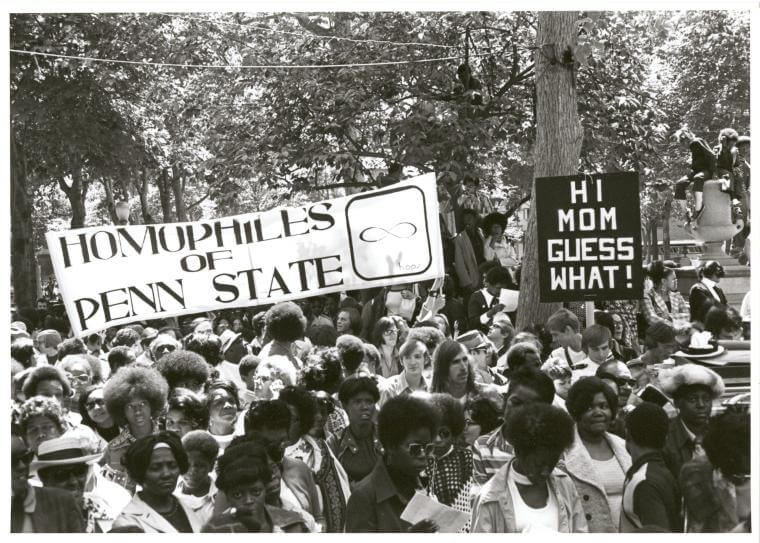 Among the other nine LGBT student organizations, the OUTrider Newsletter, campus' gender-neutral restrooms and thirty-ish LGBT-related courses, it's clear Penn State works hard to make their students feel comfortable and included. Transgender students covered under the university's health insurance plan are now eligible for hormone treatment and transition surgeries as well, a benefit that's difficult to find anywhere else.
University Park isn't some idyllic paradise where intolerance doesn't exist, but we can still appreciate the school's huge progressive strides over the past few years. Whether we identify as straight, gay, bi or asexual, our individual quirks are transcended by our collective status as Nittany Lions.