Peter Shinkoda could've done anything. He could've had a stable career as a civil engineer; a technical one in the world of film and television post production; a creative one as a concert pianist; or a physical one as an Olympic hockey player. Of course, Shinkoda always knew what his endgame would be: acting.
Since making that decision, Shinkoda has found a niche in Hollywood, appearing in high profile projects such as Paycheck, I, Robot and War. His current gig finds him fending off an alien invasion as Dai on Falling Skies, TNT's surprisingly entertaining alien apocalypse series. Shinkoda talked to CM about season two of Falling Skies, being good at everything and life as an Asian actor:
Means To An End
Shinkoda grew up in Montreal as, in his words, an "Asian kid with Asian parents." He said they were tough on him, and high expectations led to him fostering a variety of talents.
"I thought I was going to play for the Canadian Olympic hockey team," said Shinkoda. "I only stopped because I wanted to be an actor and hockey was becoming physically punishing because of my stature. I had to give it up." 
He also had to give up the piano, which he played until he was 17. Shinkoda was "quite good," as in good enough to be considered one of the top young pianists in Canada by the team he was 13. Again, though, acting was a priority.
"I had a world of more chances becoming an actor than becoming a traveling pianist," said Shinkoda.
He admitted that his parents weren't thrilled about his acting dreams, so he pursued engineering at the University of Western Ontario and film and television post production at UCLA to appease them.
"It was never a comparison," he said of his chances of being an engineer. "I knew in my head I was going to be an actor. All the other stuff was a means to an end."
Shinkoda certainly wasn't lacking any confidence when he made the leap from Canada to the states.
"I realized that California is full of Asians," he said. "There isn't an Asian in sight for miles in French Canada. I thought if I'm doing well here, imagine me when I get there."
Race And Hollywood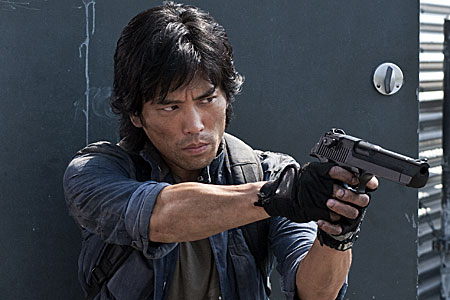 After college and amassing a few editing credits on films like Rat Race, Saving Silverman, and Romeo Must Die, Shinkoda dove head first into Hollywood. Since then, he has worked with some huge names like John Woo, Will Smith, Jason Statham and Steven Spielberg (who produces Falling Skies). 
One of Shinkoda's most memorable moments was having lunch with a post-Titanic James Cameron while he was working on his short-lived television show Dark Angel. He was in full costume – including makeup, prosthetics and red contacts – and could barely talk. He spent the entire lunch sucking back protein shakes while Cameron and the show's producers scrutinized his makeup. It was a magical afternoon.
Opportunities like this were a product of Shinkoda accepting just about every offer that came his way. It turned out that he was suited for a particular kind of role.
"Being a contemporary Asian American actor only leads toward two roles: sci-fi and cop," he said.
"When you're an Asian guy you get cast in a movie as a fighter. In my category I will always be in those movies."
Shinkoda seemed very accepting of his lot in life, and at this point is just trying to make a name for more than himself.
"I'll never be the most brilliant actor but I know I won't be the worst," he said without a trace of melancholy. "I just want to bring relevance to Asian American actors."
Playing Cowboys And Aliens
Falling Skies is now three episodes into season two and so far we know that there might be something up with freed abductees Tom Mason (Noah Wyle) and his son Ben (Connor Jessup), the Second Mass. might find some much-needed sanctuary in the deep south and Moon Bloodgood is still as stunning as ever. What else can we expect this season?
"We're nomadic, constantly on the move," revealed Shinkoda.
"The Second Mass. and the aliens are way more on the offensive. The first season had a lot of exposition. The second is more about character relationships.
The action will also be ramped up. We delve more into the alien mythology and see their relationships with each other."
Shinkoda's Dai is the resident badass of the Second Mass., always ready to lend some muscle or firepower at a moment's notice. We know literally nothing about his past or personality beyond that. How much longer can Dai stay so mysterious?
"Dai is very mysterious design," said Shinkoda, crushing the dream of that one Daihard out there. "He will continue to be that way. He's almost an instrument of war. He also has a lot of resolve. He's not a complainer but a fighter."
You can tell how enthusiastic Shinkoda is about the show by how much thought he has put into his character's motives and purpose.
"Nothing could be more comfortable," he said of his time on
Falling Skies.
"When I wake up I snap up and go to work. We're basically running around playing cowboys and aliens. It's a fun place.
I can't even imagine going to a cubicle and a stack of papers. I'd kill myself."
No need for that Mr. Shinkoda. Thanks to his determination and passion, he'll never have to worry about a soul-crushing Office Space scenario. If you want to avoid that fate by getting into acting, pay attention:
"Listen to nobody," he said. "Only you know what you want and can push yourself. Listen to your heart and follow your dreams." 
Photo: at https://www.collegemagazine.com/wp-content/uploads/2012/06/peter-shinkoda-falling-skies.jpg