Carnivore, vegetarian, pescetarian — whatever your diet, Penn State sates your hunger. Six dining halls sprawl across the length of campus, and they all offer a surprisingly wide variety of grub. The students who work behind the counters don't serve you gray prison slop either: each of the halls has a different rotating menu inspired by various regions of the world, and they try to cater to students' special dietary needs.
I Don't Eat Meat
On campus, the West Food District offers the best vegetarian eats, with a specific section of the dining hall dedicated entirely to vegan and vegetarian options. Students gobble up freshly made veggie paninis and pasta with tomato or alfredo sauce made in-house — but the real kicker is the DIY salad bar.

Off campus, the Aardvark Kafe provides a green menu, where every item is vegan and usually locally grown.
For stir-fry, Green Bowl labels its vegetarian sauces, and the restaurant cooks food in a separate area from where non-vegetarian foods are prepared.
Just a few blocks down the street, Mad Mex, a bar/restaurant, is happy to prepare any menu item as a vegan or vegetarian option.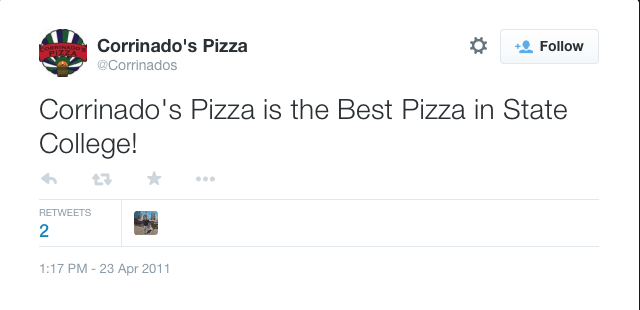 And you can even get vegan pizza at Corrinado's Pizza.
Caffeine Fix
It feels like a Starbucks trumps every corner at Penn State, but the best places to get coffee are Webster's Bookstore & Café and Saints Café. At Webster's you can get fair-trade, organic coffee (ten different flavors) while browsing their expansive book collection, enjoying live performances or sifting through their records. They've also got the largest tea selection in the area with over 90 mixtures, as well as best hot apple cider in town.
Saint's Café, just a block away from Webster's, provides a great atmosphere to finish homework or socialize while supporting a local business. Styled like a traditional European gourmet cafe, Saint's coffee is bested only by their delicious locally baked goods.
If you're just looking for a quick boost in between classes, MacKinnon's Café in the Pattee library sells coffee, tea, snacks and sandwiches…but only if you're willing to wait in line, which tends to snake out the door even in the dead of winter.
Goodbye Freshman 15
Penn State offers three gyms to students: one near East campus, and the other two near South and West. For $60 a semester you gain access to weight rooms, indoor pools and all the aerobics, Zumba and yoga classes you want. Though the gym tends to be crowded during the day, the equipment is all fairly clean and new, and you shouldn't have too much trouble finding a machine to use. The gyms all offer different classes, ranging from spin to abs workouts to Zumba, but most students simply go to the gym closest to them. And if a semester pass doesn't suit your style, you can buy a daily pass if you just want to go to a specific gym one day.
Dining hall menus are based around healthy, nutritious eating, and they offer detailed nutritional facts for every dish served. Each hall also offers fresh fruit to grab on your way to class.
It's Not Always Sunny at Penn State…
Updated on November 14, 2014.
Contributors: Daniel Kuhn & Amanda Dash