Broadway is full of drama. Madison Square Garden shouldn't be.
The New York Knicks franchise has been an emotional rollercoaster full of lofty expectations and 40 years of futility. Last month, Linsanity helped the ride reach its peak. Yesterday, it hit its lull.
Head coach Mike D'Antoni "resigned" midday after reports surfaced that superstar forward Carmelo Anthony couldn't carry on in New York with D'Antoni coaching the team. Melo denied the report and then shrugged off the rumors that he wants to be traded. But there's definitely some truth to the report if you take a look at the evidence.
A season removed from the signing of Amare Stoudemire, the acquisition of Anthony from Denver, and weeks after the emergence of point guard Jeremy Lin, the Knicks were supposed to be playoff contenders. Instead, after a rout of Portland Wednesday night they sat 19-24. And in the playoff picture they were on the outside looking up at less talented teams like Philadelphia and Indiana, an elder Boston squad and the depleted rosters of Milwaukee and Atlanta.
In 2008, the D'Antoni hire represented exactly what you would expect from a team located in Midtown Manhattan – a big splash with little value. D'Anonti finished up his four-year tenure in New York with a 121-167 record and four playoff games – a four-game sweep to the hands of the Celtics.
Trust me, I blame the coach. D'Antoni doesn't coach a lick of defense. His run-and-gun-type of offense is not conducive to this collection of talent, and it's never translated into NBA championships before. And after their second set of six-game losing streaks, it appeared D'Antoni had lost the trust of his players.
But he's certainly not the only one at fault.
Stoudemire is on his last legs. His knees are as stable as an arthritic old grandmother. He's a shell of his former self. He's scoring nearly eight points per game fewer this year than last, and he's on pace to score his lowest point total since his sophomore season.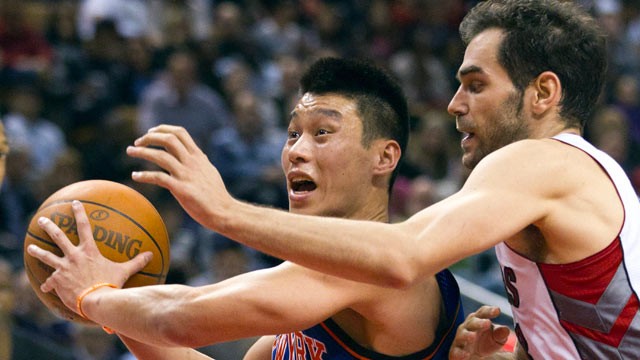 Knicks fans elevated their expectations for Lin, the Cinderella story of a point guard who emerged from the D-League to finally pilot D'Antoni's offense. That same system, however, made Raymond Felton play at an All-Star level. Lin was obviously an upgrade over Toney Douglas, so everybody put their "earmuffs" on when his propensity to turn the rock over was mentioned.
Then there's Melo. Superstar, right?
He's considered to be an elite player, ranked among the likes of LeBron, Dwyane Wade and Kobe Bryant. Melo shouldn't even be mentioned in the same sentence as them.
Melo is an exceptional shooter, a phenomenal scorer. But he's a lousy teammate. He's selfish. He shoots too much. And his unwillingness to adapt to a system cost D'Antoni a job.
A year ago at the trade deadline, he forced a trade from the Nuggets to the Knicks. New York was the place he wanted to play his ball, win championships and put the team back on the map. And now he's backtracking.
He hasn't won a ring yet. He hasn't even made it to the Finals. But if Melo wants to be a superstar, here's his golden opportunity.
I challenge him to lift the Knicks to the playoffs and to win a series. That likely means he'll have to make sure they're not the No. 7 or 8 seeds to avoid a first-round clash with the Bulls or Heat. Can a self-proclaimed All-Star in Melo, declining Stoudemire and Cinderella in Lin overcome the Bucks and Celtics?
Last night, under interim coach Mike Woodson, they played Melo's style of ball and tough defense. The Knicks trampled the Trailblazers. They recorded a season-high 35 assists, forced 23 turnovers and held the Blazers to 79 points – the second-fewest of the season – in a 42-point blowout.
That, of course, came against the Blazers, who have just six wins on the road this season and have won just two of their six games in the month of March.
Will the Knicks get back on their rollercoaster and surge under Woodson – who knows. But with a change of schemes, an emphasis on defense and 23 games remaining in the regular season, there's time to develop an identity. And it all falls into the hands of the superstar, Carmelo Anthony.