It takes a special kind of woman to be Dwight K. Schrute's girlfriend, but Nora Kirkpatrick is up to the challenge. Appearing in five episode's of NBC's hit comedy, The Office, Kirkpatrick plays Esther, Dwight's love interest. Kirkpatrick first appears in the episode called "The Farm," when Dwight gets news that his Aunt Shirley has died, willing her farm to Dwight and his siblings. Neighboring farm girl Esther comes to the funeral, and it seems a romance is blossoming. By the next episode, the relationship is in full bloom, as Esther's father wants to co-lease a tractor with Dwight after only three dates.
Kirkpatrick is originally from Iowa, where acting as a career didn't really seem like an option. Still, Kirkpatrick seized every opportunity to flex her acting muscles and participated in her community theater as much as she could. The devotion paid off, and she was accepted to UCLA's theater program–one of the most prestigious theater programs in the country. "I just couldn't believe it. I couldn't believe I would get to go to school for acting and doing what I love," she says.
A long time fan of The Office, Kirkpatrick says her role is a dream come true. "I've always watched the show and it's so incredible to actually be on it," Kirkpatrick says. Though the entire experience has been a great one, working with Rainn Wilson (who plays Dwight), has been a highlight. "He's so talented and interesting. He's really intelligent and an unbelievable good actor," she says. The show is currently in its last season, with only four episodes left, and Esther will appear in three out of the four.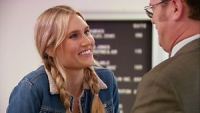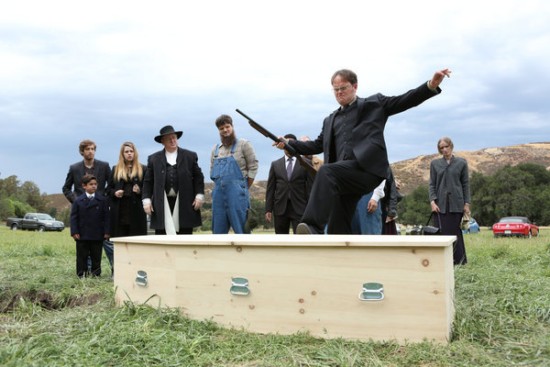 Kirkpatrick has also been dabbling in film, and has an exciting project in the works. She has appeared in the Sundance hit Big Sur, and can be seen in the upcoming film Sexy Evil Genius–a psychological thriller starring Seth Green, Michelle Trachtenberg, Harold Perrineau and William Baldwin. "I'm sort of the comedic relief in the film," Kirkpatrick says.
The actress has also been busy working on a third album with her band, Edward Sharpe and the Magnetic Zeroes. The folk band is releasing their new album in June. They'll be on a massive nationwide tour throughout May, performing at some of the summer's biggest music festivals including the Governer's Ball Music Festival in NY, Summerfest in Milwaukee, WI and Bonnaroo in Manchester, TN. "The tour will be amazing. I'm really excited to perform and debut some of our new songs," she said.
For tour dates, check out the band's website, but hurry–tickets are selling out fast!
The first of the four last episodes of The Office airs tonight on NBC at 9pm eastern. Tune in!