What's the most important part of decorating a dorm room? Your bed set. You will come to find that your dorm centers around your bed, so the design needs to scream you. The vast array of bedding collections out there makes it difficult for a girl to choose. Luckily, we've found the coziest, cutest and most creative designs.
1. If you're the ARTISTIC DREAMER: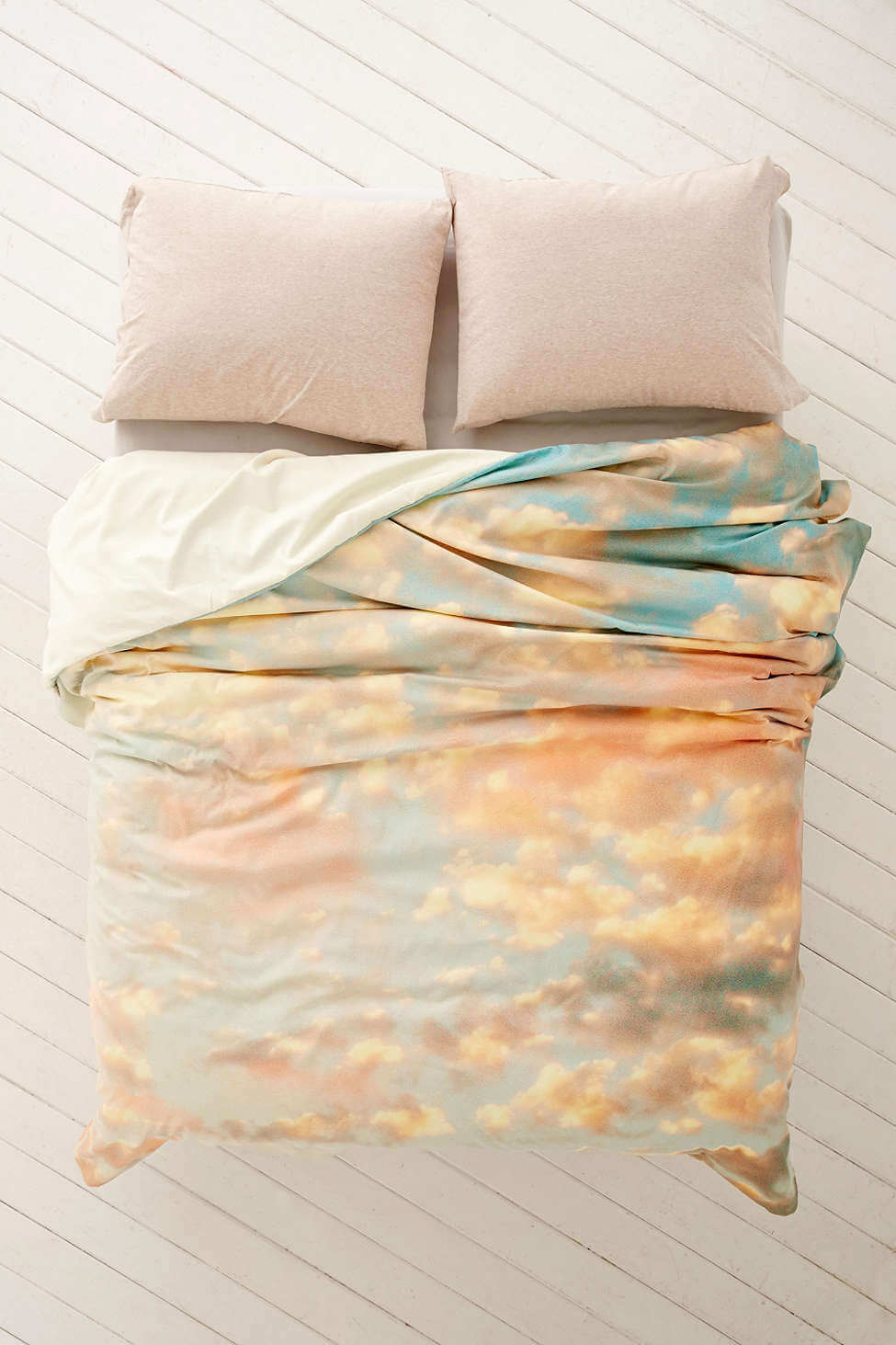 Urban Outfitters sells bed set patterns that you won't find anywhere else. This divine sunset image brings a bit of the great outdoors to the ugly fluorescence of your dorm room. Your head will always rest in super soft clouds.
2. If you're the TRENDY CITY GIRL: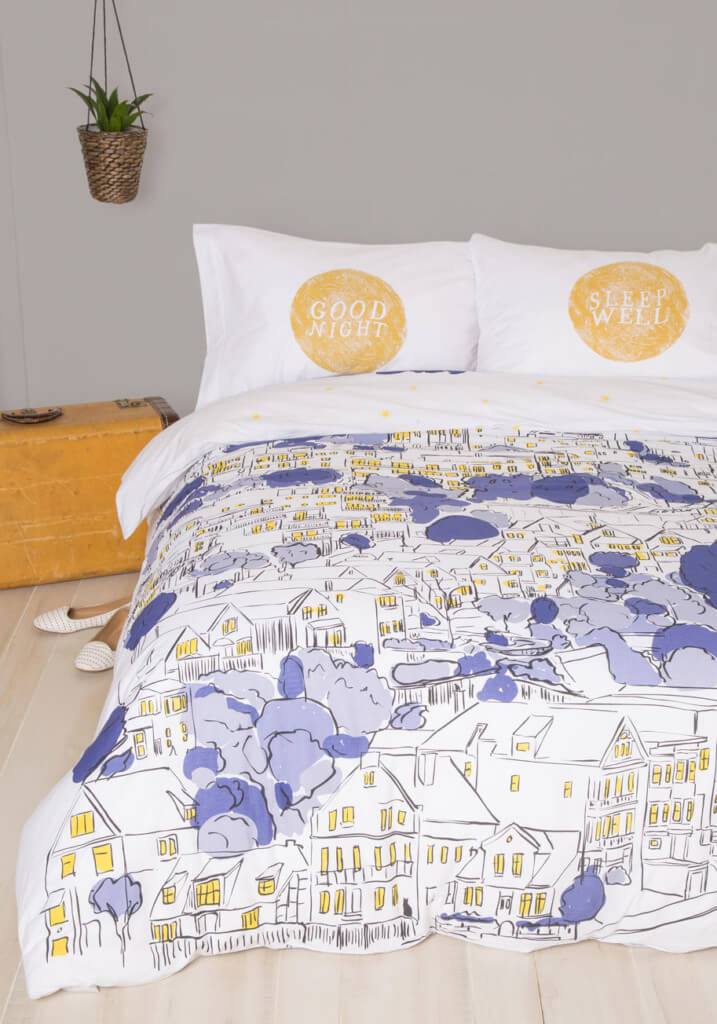 Good luck finding anything quirkier than the bed patterns offered by ModCloth. The purple and yellow hues of this eye-catching nighttime scene will easily match other dorm décor (and keep you cozy all night long).
3. If you're the IRONIC JOURNALISM MAJOR: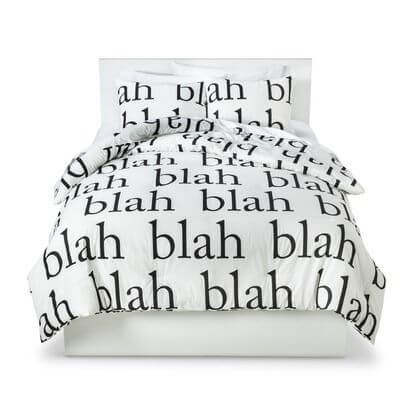 My bed set at home is a Target purchase and I love it. The reviews of this comforter as cozy, snug and warm convince me that comfort must be a Target tradition. The simple but snarky black and white type will coordinate with any color scheme.
4. If you're the GIRLY FLOWER PICKER: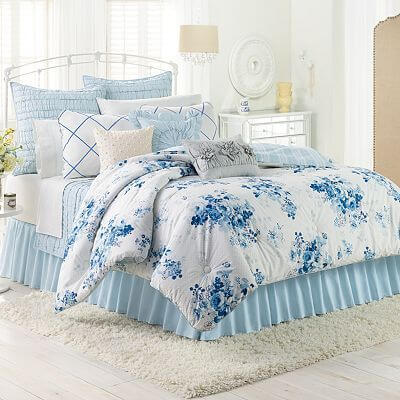 Girly girls rejoice: Lauren Conrad's line at Kohl's abounds with ruffles, flowers and bows. This floral set in blue feels feminine and vintage without looking like immature pink overkill.
5. If you're the HAPPY-GO-LUCKY ANIMAL LOVER: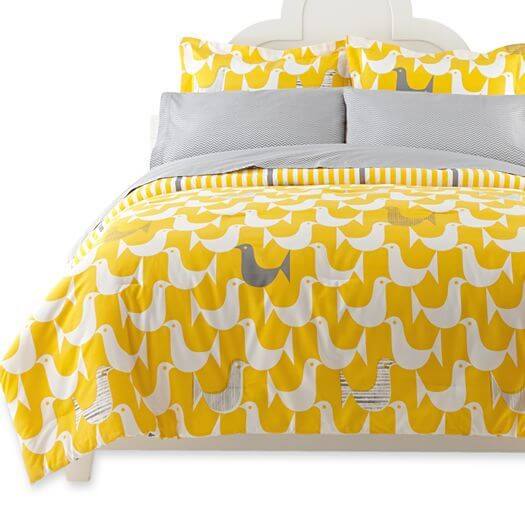 Mixing patterns is a dangerous but rewarding art. Stripes and floral can either look genius or heinous. Jonathan Adler's Happy Chic line at JCPenney lives up to its name: the vibrant yellow will brighten up your entire room without looking clownish. Plus, check out that brilliant chevron-bird-stripe combination that somehow looks awesome together.
6. If you're the MODERN MINIMALIST: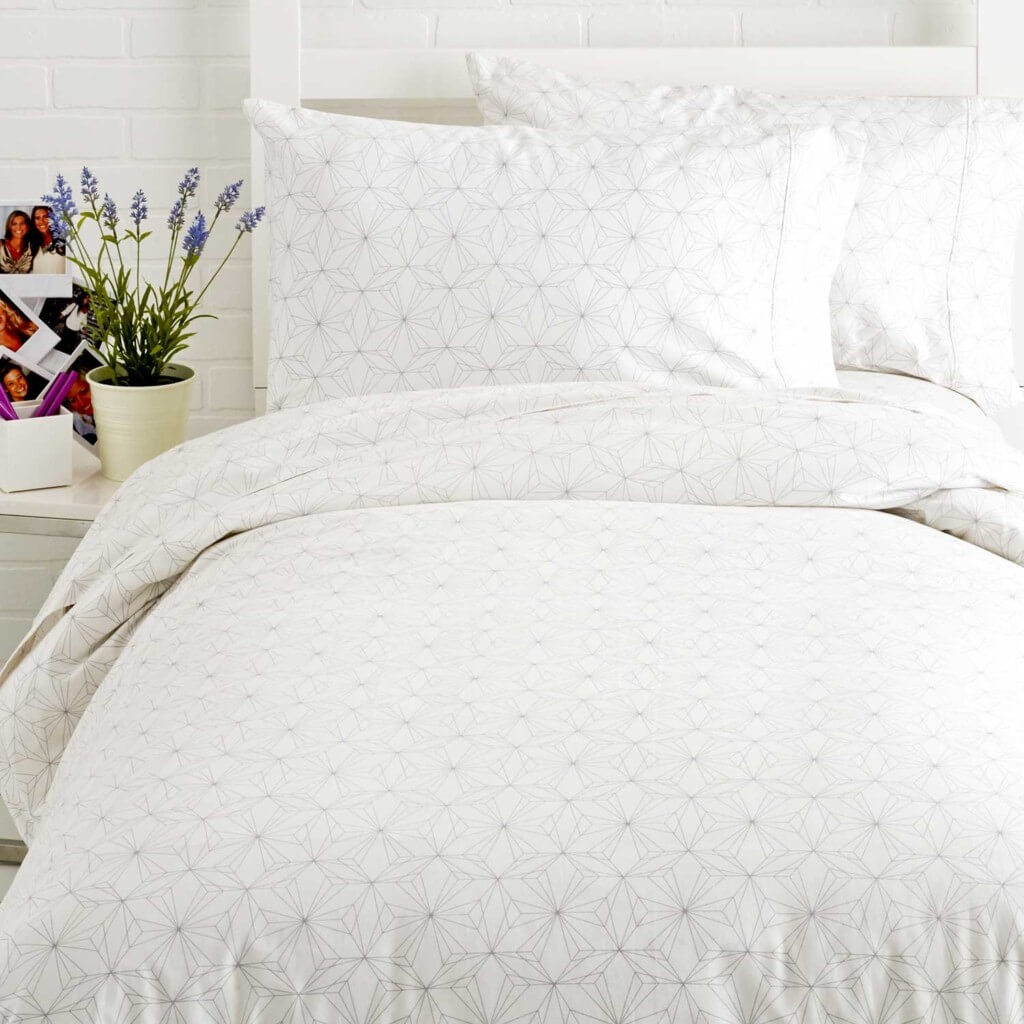 Dormify sells simple but stylish and fun pieces that will transform any dorm room. This set fits the bill: a subtle grey on white design for the mature, modern girl, or perhaps the Minimalist. Like the simplicity of the Blah Blah comforter, this design will match any color scheme. Check out some of Dormify's cute throw pillows for decoration ideas.
7. If you're the UP-FOR-ANYTHING ADVENTURER: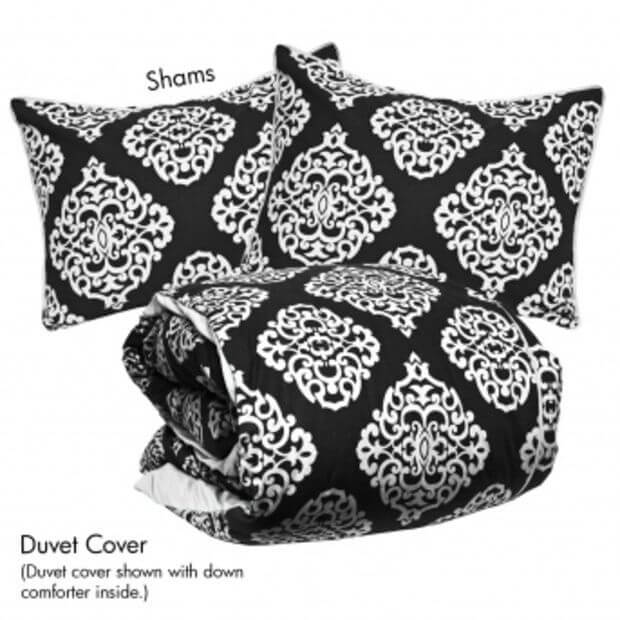 If "bold" describes you, visit Wake Up Frankie. Over the top (in a good way) doesn't even begin to cover the bed patterns this site sells. This navy and jade damask pattern looks subtle when compared to the rest of the site, but will still suit the audacious type. You can also reverse it (just in case your roommate's pen explodes on one side, or you just feel like something new) to reveal a shiny, bright green.
8. If you're the CREATIVE PREP: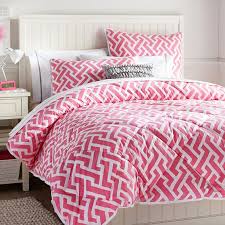 Let's be honest: sometimes the simplicity of preppy style can get boring. The eye-catching link pattern of this PB Teen comforter takes prep to another unique level. The pink and white reminds me of sorority style (think Legally Blonde), but an equally lovely green hue might suit you better. Both are reversible in case you want to change it up.
9. If you're the NO FRILLS NEAT FREAK: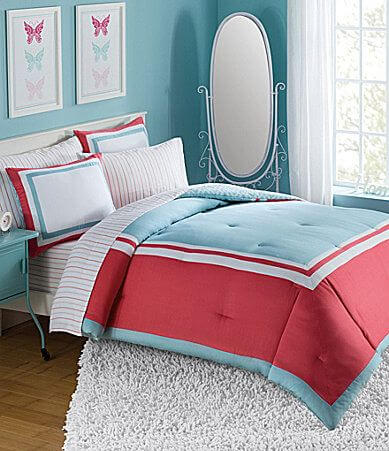 My mind has permanently deemed stripes as a must-have, timeless pattern. The color scheme of this bed set makes classic stripes interesting and adorable with coral, peach, beige and light blue. The frame-style comforter, which might look somewhat boring or masculine, dresses up the stripes for a mature and simple look.
10. If you're the FUN-LOVING ENERGIZER BUNNY: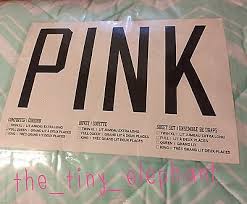 Who knew Victoria's Secret sold dorm stuff? The styles are fairly limited, but each style has its own set of coordinated dorm goodies such as towels, under-bed bags and closet organizers. The builder tool allows you to select different products and put them together to see your dorm look. This minty chevron may look bright in the pictures, but that brightness is necessary in a dingy dorm.
Need More Bedding?
Reversible Bohemian Duvet Cover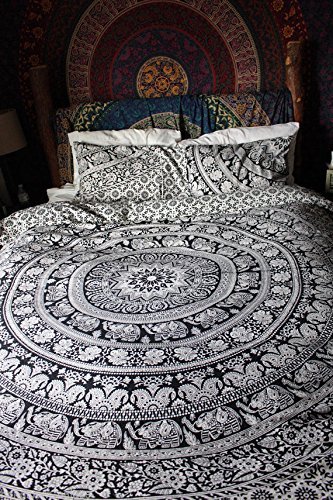 Word of Dream Floral Print Duvet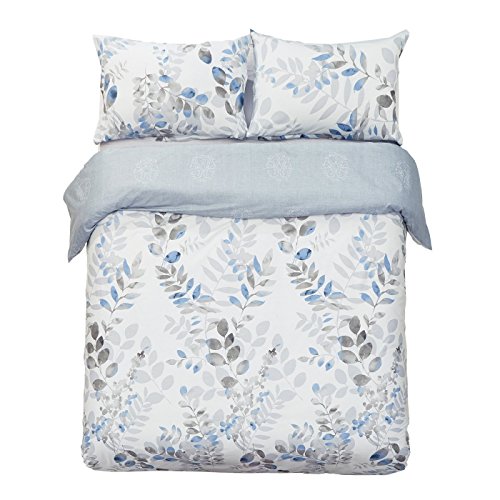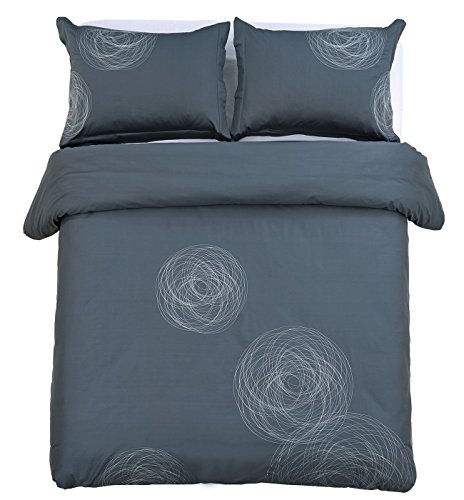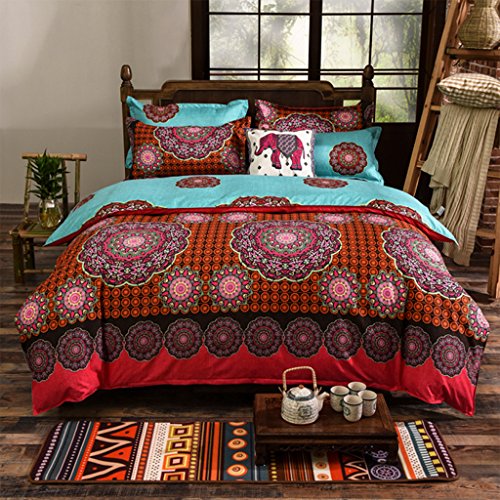 Yellow Elephant Boho Duvet Cover
Red Sugar Plum Boho Duvet Cover