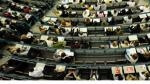 Do College Professors Really Earn Their Paychecks?
|
By Amanda M. Fairbanks > Huffington Post Staff, Photo by Huffington Post Staff
Frank Ashley, vice chancellor of academic affairs for the Texas A&M University system, has been put under pressure as to whether or not their professors deserve such generous paychecks. Check out the Huffington Post for more.