It started as a two week road trip with a handheld camera bought on eBay, a borrowed purple RV named Penelope and an outrageous 100-item To-Do List. They set out not only to check items off their own list, but to help others accomplish their goals as well. That two week road trip didn't end in two weeks, and what four friends hoped would be a catchy homemade documentary blew up into a YouTube sensation, and later, a show on MTV called The Buried Life, which aired two seasons in 2010 and 2011.
For Lingwood, Ben Nemtin, Duncan Penn, and Jonnie Penn, their list quickly became a way of life. "After the two weeks on the road, we had helped some great people along the way and they really left a lasting impression on us," Lingwood says. "We thought it would be such a shame if we stopped. We decided we had to keep going."
After two seasons, the show was canceled; but for boys with such vibrant ambition, setbacks aren't really setbacks. "It was kind of just like whatever," Lingwood says. "That chapter closed, and we're happy it happened. We went on 18 epic adventures, and we were happy with where it was when it ended."
Burying the list with the show wasn't an option for them. "The project is very much alive," Lingwood says. "It started three years before the show and it will go after as well. It's still a full-time job, so we are constantly shooting new content and trying to find new people to help with their goals. We are still traveling all the time."  
The guys are on the fast track to getting every last oozing drop out of life, already having crossed 85 items off their list–some far-fetched (play ball with Obama, ask Taylor Swift on a date ), some inspiring (give a stranger a $100 bill, take a kid on a toy shopping spree) and some just plain bizarre (become a Knight for a day, steal a lock of Robert Pattinson's hair). Lingwood still contends that the scariest list item is to finish your college degree. "It's definitely terrifying for me," Lingwood says. "[Penn] is actually in England right now at Cambridge finishing his degree. He will be the most educated brother in The Buried Life."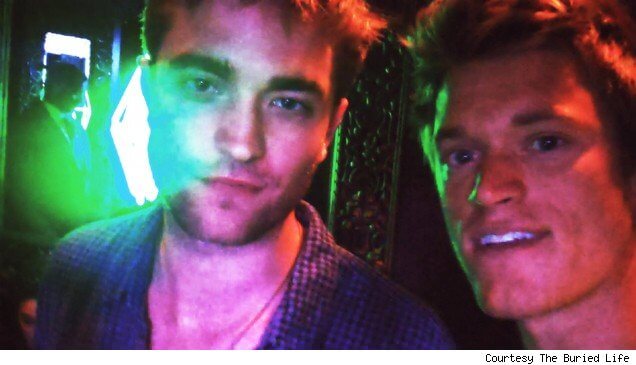 If you're looking for spontaneity, then look no further than these guys. With a list like theirs, it's seriously hard to have a dull moment. While we're working 9-5s and eating Fruit Loops in front of our TVs, The Buried Life boys are out riding bulls and delivering babies (yes, they really went there). Once, Lingwood even married a stranger in Vegas. They become boyfriend and girlfriend after the marriage was annulled (things get a little backward when you go around marrying strangers). 
Google searches reveal that many Buried Life fans (let me guess, they're all girls?) are obsessively curious about the state of that relationship. Lucky for our lady readers, it's been confirmed that Lingwood is a single chap. "I am not dating Michelle anymore," he says. "She and I had a wonderful courtship and it was a great six months that we dated for … I haven't talked to her in ages." Have at it, ladies!
For those of you wishing they hadn't been kicked off of MTV so soon, we have good news: they're back! Look for Jonnie, Duncan, Ben, and David (and maybe even their newest teammate Brian McKnight, a fainting goat) on MTV around the end of September. "We have some stuff exciting stuff coming up," Lingwood promises. "The original show The Buried Life is not on MTV anymore, but there is new stuff coming out. You'll see everything from Duncan escaping from Alcatraz to us battling on water jetpaks." And if you just can't wait until then, pick up a copy of their New York Times best-selling book What Do You Want To Do Before You Die? (they're authors, too?!)