Check out the 22 Personalities You'll Meet at Every Music Festival
Before you spring clean out your high school friends on Facebook, draft a couple of messages to the ones worth the effort. Those people could be the connections that bail you out of boredom.
With spring break and lazy weekends right around the corner. It's time to pound the Miller Lite and take off half the clothes you have on. But the speakers at the frat house are never going to do Don't You Worry, Child€ justice. So put on your fanny pack, you'€™re going to a music festival.
These are some of the biggest college music festivals around. So you'€™re going to want to hit up that guy who sat behind you for three years in high school chemistry who ended up at one of these schools. He'€™s your ticket to an on-campus music festival experience that you'€™ll be bragging about till your next one on the list. Believe us, you'€™ll want to go to all of them.
1. Extravaganza at Univesity of California, Santa Barbara
Consistently one of the top 10 party schools in the nation, UCSB couldn'€™t hold that title without throwing one of the best parties around. You'll need an access card, so hopefully your friends there can work this out. Previous line-ups have headliners like Run DMC, E-40, Nas, T.I. and last year's Snoop Dogg.
2. Slope Day at Cornell University
On its Wikipedia Page, it says Slope Day is "notorious for the heavy drinking€. That already sounds great. Previous live performances include Drake, Pussycat Dolls, Nelly and last year's Taio Cruz. Guest tickets are available.
3. Ivies Weekend at Bowdoin College
Last year, the Dean sent out an email to faculty asking them to help make sure €œthis annual weekend celebration doesn't turn into another full week of spring break." But nothing has ever stopped the Bowdoin students from going all out for the Ivies weekend to let loose before finals. Recent acts include Passion Pit, Reel Big Fish, Mac Miller and The Cool Kids. Student IDs are checked at the entrance, so you better secure an escort.
4. Lawnparties at Princeton University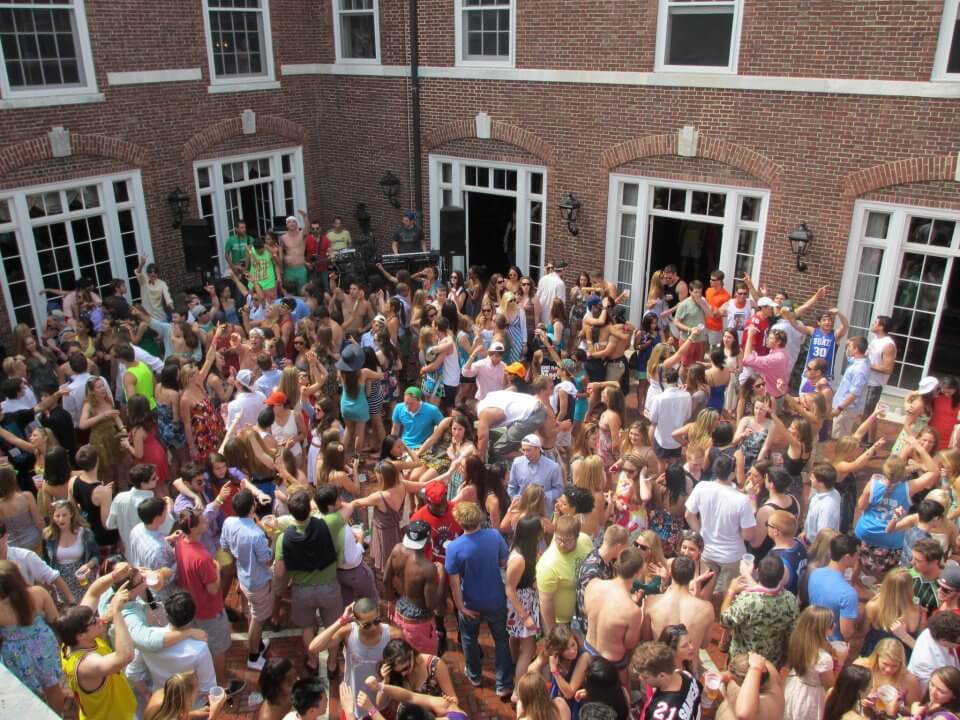 Each student can bring one guest and have him or her approved. It's a little more work, but looking at the record turnouts every year€" it's worth it! It also happens twice a year so if you can't make it to spring, you always have fall. They'€™ve had Childish Gambino, Far East Movement, Wiz Khalifa and B.o.B. perform.
5. Tigerfest at Towson University
If you have no friends, non-students can pay just 35 dollars for attendance. Maryland's Towson University claims boredom is a foreign concept.They know how to have a good time, bringing Kid Cudi to the stage last year. 10,000 students roll out for the high-energy weekend every year.
6. Spring Fling at Binghamton University
BU starts the weekend off with the tradition of €œStepping on the Coat." No explanation needed. There are different stages for alumni performances and DJ tents, but the main stage usually has a solid lineup. Past headlining acts include Passion Pit, Third Eye Blind and Taking Back Sunday. If you can't make it to Spring Fling, there is always Frost Fest in the winter!
7. Rites of Spring at Vanderbilt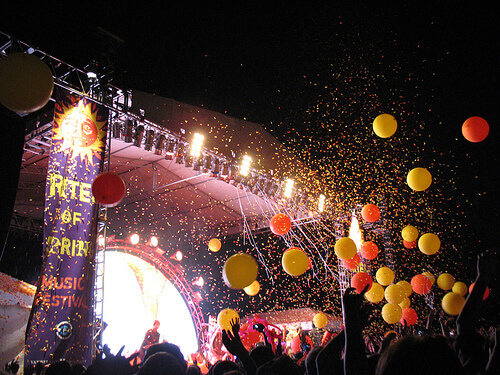 The music turnout last year was an even mix with something for everyone with performances from Kid Cudi, The National, Edward Sharpe & The Magnetic Zeros, Sara Bareilles, Matt & Kim and Young Jesus to name a few. Tickets are in the 40-60 dollar range for guests to enjoy the two day music festival in sunny Nashville.
8. VEISHEA at Iowa State University
The celebration features an annual parade and many open-house demonstrations of the university facilities and departments, with many speakers and lecturers brought to further enrich the educational experience. But enough of that, because you're not taking a road trip to Iowa unless you can see a lineup that can match last year'€™s, made up of Hot Chelle Rae, Jay Sean, Iyaz, Hunter Hayes and New Boyz.
9. Sun God at University of California, San Diego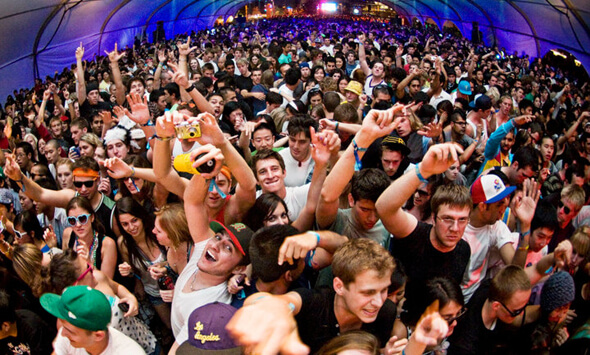 The 17,000 student wristbands are usually handed out within a day. Students can pick up guest wristbands too, but will likely have to camp out. It has been at max capacity for the last couple of years, due to great lineups. Last year'€™s was made up of Silversun Pickups, Chiddy Bang, Ra Ra Riot, Macklemore & Ryan Lewis, Murs and Dia Frampton.
10. Jazz Reggae Festival at University of California, Los Angeles
It seems all college music festivals recycle rap artists, so if you'€™re less than mainstream with your iTunes, park yourself at UCLA for the Jazz Reggae Festival. Headliners for last year'€™s Jam Day included Booker T. Jones and The Roots. Reggae Day was headlined by Collie Buddz, Shaggy and Don Carlos. Guests can get their tickets on Ticketmaster for the Memorial Day weekend tradition.
For more on music festivals, check out:
Top 10 Music Festival Essentials

Meet the New Festival on the Block: The Hudson Project

Image: Binghamton University