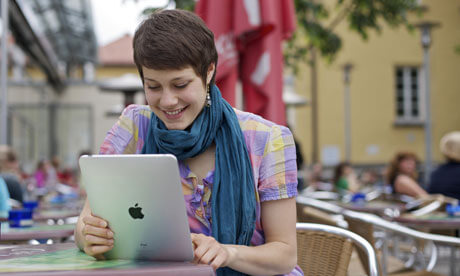 Needless to say, we college students are a busy bunch. Make some lists, see a doctor, relieve stress with a workout or play the latest jam with these apps, discounts and resources. With a few swipes, they'll keep you organized so that you can spend your time improving your intramural frisbee skills.
Study, Study, Study Apps
This planner app syncs your class schedule, assignments and grades to all your devices. I use the Mac version to see my weekly assignment overview, but use the iPhone version to check off assignments between classes.
(Source)
You've likely used EasyBib.com since your first high school research papers. The popular tool's app make citation creation even easier with a bar code scanner that identifies the book and makes the citation for you. You receive the citation in an email and BAM—your bibliography is done before the clock hits all-nighter.
3. SelfControl (Mac)
Any excuse tempts when you're avoiding a difficult paper. SelfControl allows you to create a blacklist of websites to avoid for a set amount of time. Restrict yourself for an hour, check Facebook for five minutes (yes, FIVE) and repeat.
4. MyEdu.com
It's famed Rate My Professors on steroids. The website has a database of courses for your university, so you can enter the name of any course to see its offerings for the semester and build your own schedule. Create a profile—like a LinkedIn, only way more fun—and let your skills and experience match you to the database's internship and job opportunities.
Stay Safe & Healthy Apps
5. CampusMD (Android, iOS, online)
Never have to see a doctor IRL again. Log into CampusMD straight from your bed and video chat with a doctor 24/7. Their qualified team can diagnose your illness and prescribe medications. They can also provide that doctor's note you'll need for missing class when your pink eye got out of control. It saves you the trouble of walking across campus in a snowstorm only to find out that what you thought was an STI was really just an ingrown hair. Students get 50% off with promocode: collmag99.
6. Circle of 6 (Android, iOS)
(Source)
Gather your roomies in the common room and download Circle of 6 before any night out. The app has icons that automatically send texts to those in your circle so that if you're in danger, getting their attention is quicker than writing and sending a text. Signify that you need to be picked up, receive a call (providing an interruption and/or getaway) or just talk. Circle of 6 also provides preprogrammed hotlines and emergency numbers.
7. Nike Training Club (Android, iOS)
(Source)
Release some stress with Nike Training Club's workouts or get fit with three-week-long training plans involving mixes of strength training, running and yoga. Many workouts don't even require equipment; they're dorm-friendly when you don't want to make the trek to the gym.
Get Stuff Done Apps
(Source)
It gets old buying groceries for you and your roommates every single week. AnyList is a simple list-sharing app, meaning you can collaborate on grocery or to-do lists with friends. The app includes a recipe creator so your roommates can build a database of the very few successful meals you've made.
9. Any.do (Android, iOS, online)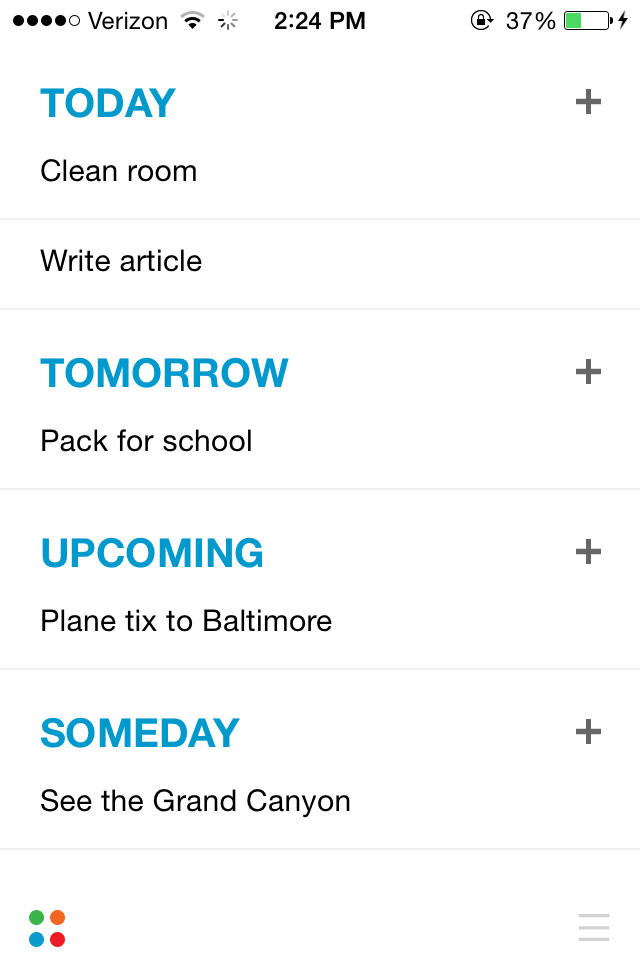 Cleaner and simpler than your scattered lists on Notes, Any.do is a modern-looking to-do list. Whether you're thinking about tasks for today, tomorrow, upcoming or someday, Any.do organizes any task by deadline and priority. It works seamlessly with Cal, which is an equally beautiful calendar app for your tasks and events.
Music All Day Long Apps
10. Remote (iOS)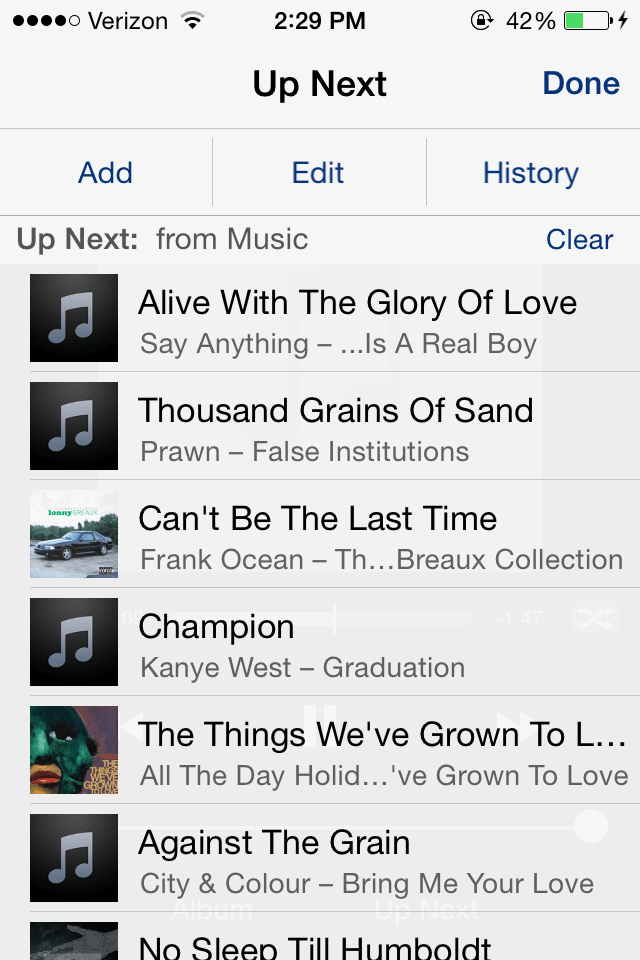 Remote syncs with iTunes so that you can control your music with your phone—make playlists, play iTunes Radio or just see what's in the queue. The Up Next view ensures that your guilty love for Hanson doesn't accidentally become known.
11. Spotify (Android, iOS, Mac, PC)
The Spotify trend seems to have died down, but the app's music selection still can't be beat. Students get half-off a premium Spotify account, which is ad-free and allows you to download your entire music library for offline use.
12. Amazon Student
(Source)
For students, Amazon Prime is half-off. If you still aren't interested in spending the money, you can at least use the service for six months free, which gets you access to two-day shipping and special student promotions. If you choose to stick with Prime after your six free months, you can enjoy a selection of songs, movies and books to keep your multimedia-loving self entertained forever.
13. Songza (Android, iOS, online)
Enter your mood, an activity, a genre, an artist, a time period or even the time of day and Songza recommends playlists to keep you listening for hours. I particularly like the selection when I tell Songza that I'm studying.
Unclutter Your Life Apps
14. Dropbox (Android, iOS, Mac, PC, online)
Simply drag and drop your PPTs and papers to the Dropbox folder on your computer, and it automatically syncs across your account. From there you can store your stuff or send to friends, family, professors, whomever.
15. Google Docs and Drive (Android, iOS, Mac, PC, online)
Google Drive works in conjunction with Google Docs (and its other programs, such as Sheets). Docs makes it easy to work on assignments (and articles!) on the go, without giving up the quality of a real word processor. Google Docs is the easiest way I know to create documents on any device, sync and share.
16. Notebooks (iOS, Mac, PC)
Notebooks is by far my favorite app and basically my lifesaver. You can make quick lists or full-on documents and they automatically store in folders, much like actual notebooks. Your notebooks automatically sync to all devices, so that everything is accessible anywhere. It makes coffee shop studying simple and organized and keeps absolutely everything you need in the same place.
Financially-Savvy Apps
17. Mint (Android, iOS, online)
(Source)
I think of my expenses in terms of my earnings at the campus mini mart. That concert ticket for tomorrow night? 3 hours of mini mart time. Mint is somewhat more efficient; you can create a budget, track your spending and earnings and set financial goals to stay on track for that spring break trip to Panama City.
(Source)
We rarely have cash on hand, so it's always an ordeal to pay friends back. It makes group birthday dinners much less frustrating because you can split the check with a couple cards and then instantly pay those friends back. Connect Venmo to a debit card, bank account or Venmo balance and instantly share money with anyone.
19. Free for Students
(Source)
Google search free resources specific to your school. My school, Boston College, offers free access to the Museum of Fine Arts, Institute for Contemporary Art, New England Aquarium and Museum of Science, as well as a number of other Boston area museums. We also have BC2Boston, offering outings to fun events like apple picking or beer tasting and discounted tickets to Red Sox and Bruins games. Also, be sure to show your college ID everywhere. There are so many places that offer student discounts; it never hurts to ask.
(Main image via Tumblr)