It's the most wonderful time of the year…HALLOWEEN! This is easily one of the most beloved and celebrated holidays in college. The festivities usually last for about a week, which may mean multiple costumes, or one amazing costume that will trump all others. Check out our top 10 Halloween costumes for 2011 and surprise your friends with a costume they haven't seen yet.
1.) Wilfred
He's probably the most cared for, yet inappropriate dog-like character in today's pop culture. Wilfred is the man and he is man's best friend. Be ready to get rude and crude when wearing this
Halloween costume
because you're allowed to act like a dog when you're dressed as one.
2.)The Beastie Boys
Grab two of your best friends and throw it back to 1986. Get ready to fight for your right when strutting around your campus with this outrageous trio costume. Watch the video to learn the lyrics and the moves:
3.) NickiMinaj
This costume is the perfect excuse to go out and buy a crazy wig.
Get colorful with this costume idea
but be ready with some lyrics to spit on request. Someone dressed as an artist who doesn't know any of his or her lyrics will impress no one. The key: watch the "Super Bass" video at least 50 times before you head out.
4.)Angry Birds
This may not be what Alfred Hitchcock had in mind, but take it as a modern day approach. Gather up your friends and get a whole gaggle of angry birds together. Try to convince a friend to go as one of the pigs and then during the middle of the party bombard the hell out of him. They will never see it coming!
5.) Captain America
Do you want to be The Man for Halloween? Of course you do! Then be THE captain of America. It's the most patriotic costume one could wear besides the U.S. flag itself.
6.) Vampire
The world has gone vampire crazy lately in shows, movies and books. Either dress as a handsome, sexy, scary or loving vampire this Halloween. If you are ambitious, try to encompass all four looks.
7. ) Lady Gaga
Want to look absolutely outrageous and awesome? Then go Gaga this Halloween! Remember, dressing as a pop sensation doesn't mean you can sing as well as that performer. Keep the karaoke to a minimum for everyone's sake.
8.) Zombie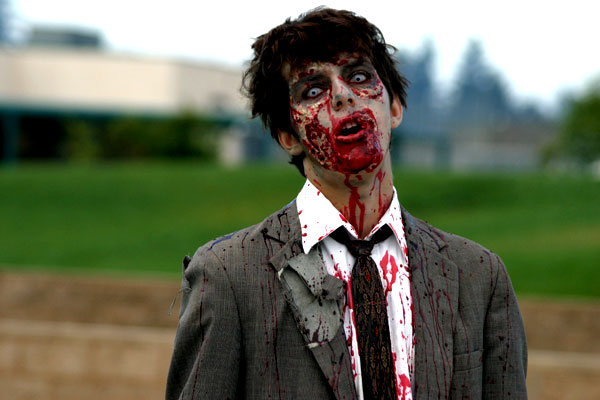 The Walking Dead just started up its second season last week and it continues to prove that zombies are still as popular as ever. Hopefully zombies will take over the whole vampire craze, but until then we can only keep hoping. Slap on some serious makeup, douse yourself in fake blood and you're good to go. The sloppier the better! Just try not to turn into a "zombie" by the end of the night. Slow and steady wins the race.
9.) Steve Jobs
This may be too soon, but it would be in good taste. Steve Jobs was one of the most inspiring inventors of our time. If you do decide to be The Incredible Stevie, try not to be "that guy" when you are out and about on Halloween. The goal is to look like a genius, not a clown. Rest in peace Mr. Jobs. You will be missed.
10. ) Cupcake
Cupcakes seem to be all the rage nowadays. Why? Probably because they are one of the most delicious foods on the planet. If you are looking for someone to take a bite out of you this Halloween, go with a giant cupcake costume. Get delicious!
Photo: Loup-Vert at flickr.com