We are still a week away from the hallmark holiday of love, yet the miserable, profanity-filled Facebook anti-Valentine's Day statuses have already made some surprise appearances on my newsfeed. Dinner conversations have already morphed purely into venting sessions for my single friends, and my roommates have been watching even more episodes of "Say Yes to the Dress" than usual. As a single girl myself, I will admit that it's easy to let the impending doom of watching romantic gestures directed at everyone but yourself get you down. But instead of wasting your time and energy on ranting about how crappy Valentine's Day is, there are actually plenty of fun things you can do to enjoy the holiday:
1.) Friend Dates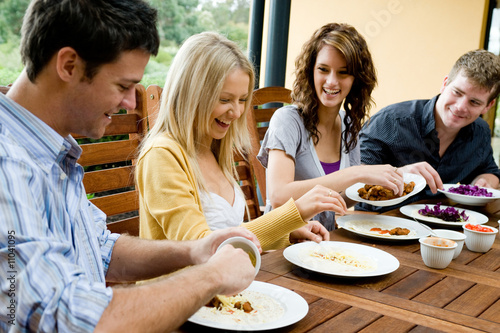 Instead of punishing yourself for not having a boyfriend by eating a few celery sticks and a handful of Special K, go out with a group of your friends to a nice dinner. You can even pull the romance card and pay for each other's meals to make it feel a bit more special. Why spend a perfectly good night seething over the V-Day text he sent you (hello… Valentine's Day equals roses) when you could be bonding over chicken parmesan, cheesecake and gossip with your best friends?
2.) Ice cream and Movie Night
If you find that staying in and moping is the most productive way to spend Valentine's Day, don't do it alone. It may sound cliché, but I've heard from reliable sources (read: forlorn friends post-breakup) that the ice cream and movie night is a prime way to set free all of those dismal love-related emotions. Call your best friend, buy a couple pints of Ben & Jerry's (the two most important men in a single girl's life) and pop a sappy romantic comedy into the DVD player. Lights, camera, catharsis. By the time the credits start rolling, you'll feel much happier… and a couple pounds heavier.
3.) Get Real
It might feel like the end of the world with all those lovey-dovey commercials on television, handholding in the street and pink-red color combinations blinding you at every turn. But in reality, Valentine's Day is exactly like any other day. Just because it has become an overblown, overhyped, and overly anticipated day of the year thanks to Hallmark and its exaggerated methods of advertisement, that doesn't mean you necessarily have to buy into it.  After all, Saint Valentine was really just some Roman guy from the third century who was executed on February 14th. Not so romantic now, huh?

Photo: at http://www.theepochtimes.com/