If you're familiar with entertainment trends, you know that web-exclusive shows are all the rage this year. They range from thrillers such as Hemlock Groves to the popular comedy, Orange Is the New Black. Add to the mix of web shows a little blunt humor and a camera crew, and we are presented with Candidly Nicole.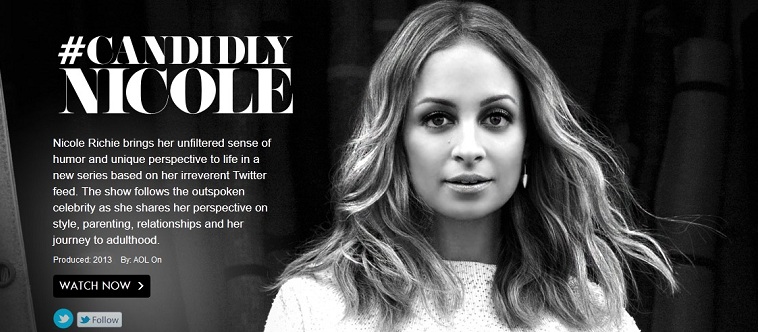 Inspired by her Twitter and Instagram feed, Candidly Nicole is an AOL original webseries that follows the incredibly funny, unfiltered, and outspoken entrepreneur, Nicole Richie, through daily activities. Trust me when I tell you that Candidly Nicole is quite possibly the most enjoyable five minutes of my week. Yes, you read that right. Five minutes. Each Candidly Nicole episode is a maximum of five minutes, but that is enough time to give you both abs and tears− from laughing of course.
On the show, Richie does everything from getting her tramp stamp removed, dressing up like a drag queen, playing basketball with a six-foot-six tall NBA player (she's five-foot) and participating in a children's beauty pageant at the age of thirty-one. Let me just say, she definitely gave Honey Boo Boo and RuPaul a run for their money. Ah, these shenanigans are reminiscent of the Nicole we all know and loved on The Simple Life, except without the roughing it in rural America part. How glad I am to have her back.   
Earlier when I mentioned that Nicole Richie was unfiltered, I truly meant that. Marist College student, Gabriella Tramantana, told me that Richie's raw, effortless humor and witty one-liners such as, "Reach up like you're grabbing dollar bills from a stripper's underwear" and "You're not getting any younger. I mean, you're pretty, but you were prettier last year" makes her feel like she is "hanging out with a best friend." Did I forget to mention her killer style on the show? So not only can you get a good, five minute laugh, but also great fashion inspiration. Who doesn't love a two-for-one?
Now, I must warn you all. Candidly Nicole will cause binge-watching. For those of you who haven't been afflicted with this untreatable ailment, "binge-watching" is the act of watching a television show straight through a season or entire series, and yes, this will happen once you hit play. It will prevent you from studying for your 8am exam, partying with the frats on campus and leaving your dorm for pretty much anything. If you are okay with staying in your pajamas all day with a Pumpkin Spice Latte, then binge-watch away with none other than Candidly Nicole.