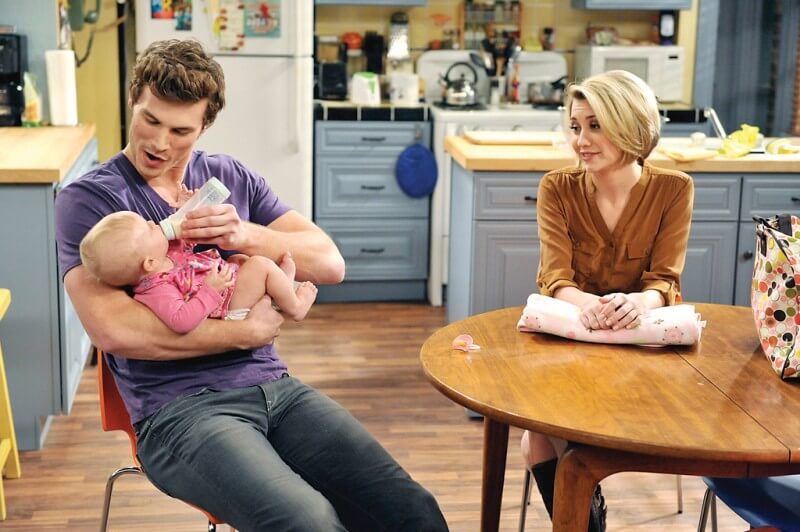 While summer TV shows usually bring their share of steam and gimmicks to draw in viewers spending the hot months at home, ABCFamily is staying true to its name with its new sitcom Baby Daddy. Sure, it's about family, but with an unconventional twist: young bartender Ben, his brother Danny and his friend add baby Emma to their brood after she is left outside their apartment.
Derek Theler, who plays Danny, is a hockey star that finds his sensitive side while caring for Emma.
He may not be the cutest member of the cast — that honor goes to the adorably blonde baby girl — but he may be the funniest.
Theler took time off his diaper-wrapping, baby-burping schedule to chat with College Magazine.
Theler grew up in Fort Collins, Colorado with a younger brother and an older sister. His close relationship with his brother influences his role on the show. And though his real mother isn't quite as comedically kooky as Danny and Ben's, Theler said the characters' bond is familiar territory.
"They grew up together," Theler says of Danny and Ben. "When the baby is left on the doorstep, the whole family really has to come together and help Ben, and Danny really has to step up and help. And that's what he does," he explains.
The cast and crew also form a family. Theler called working with the actors "a dream" and explained how others help him manage his type 1 diabetes while filming. "They help me keep track of things and anything I need," he says, "they're always there."
As comfortable as he looks on camera, Theler didn't set out to be a celebrity while hitting the books at Colorado State.
Theler went pre-med, aspiring for a career in sports medicine or physical therapy.
But after a trip to Los Angeles, Thaler fell in love with acting. With his parents' support, Theler threw himself into the craft. What he called "a big risk" paid off; he has since appeared on "Cougar Town," "The Hills" and "90210."
And despite his hunky heartthrob status, Theler insists he wasn't a
party
animal at school.
"I definitely had some good long hours at the library," he said. "I took it seriously. College is a lot of money and you don't want to waste it. Doesn't mean I didn't have any fun, because I did, but I definitely took it seriously."
For now, Theler is happy to work and play hard on set. He said he hopes people give Baby Daddy— a show "really different than anything else on ABCFamily" — a real shot. Heed his advice and catch Baby Daddy Wednesdays at 8:30/7:30 c.