Remember the time textbooks cost more than the down payment on a new apartment? In an era where the "board" fees often cost more than the "room" itself, it's no wonder that student debt is at an all-time high.
Since we're all looking for ways to save money, renting and reselling textbooks is extremely appealing. Most college bookstores are overpriced to buy/rent from and will give you literally pennies to the dollar of what you originally spent when you try to sell back your book.
The logical next step is to turn to online bookstores, primarily Amazon, which has led the online bookstore race for years. With thousands of options to choose from—hardcover, softcover, rentals, purchases, eBooks, third-party vendors—Amazon knows that students want options, and it delivers.
However, there are other options for buying and renting textbooks online. Chegg is a website with the sole purpose of buying, renting and selling textbooks, and it delivers them all straight to your door. There is a free UPS return label, and all students have to do is return their book by the due date. Chegg also buys used textbooks, for Chegg credit or gift cards. The interface isn't as user-friendly as Amazon, but they're certainly taking a look at what makes their competitor tick, and working to improve the site each semester.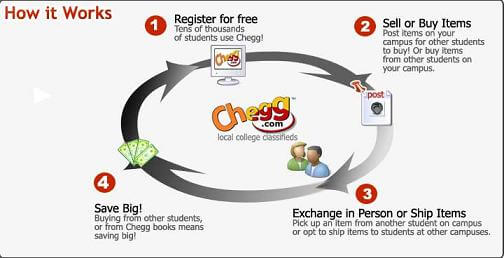 More recently, Overstock.com ventured into the book selling business, gathering attention with a promotion offering to match Amazon's prices on its entire book inventory, and then lower that price by an additional 10 percent. Overstock applied the program to 360,000 titles for two weeks in July.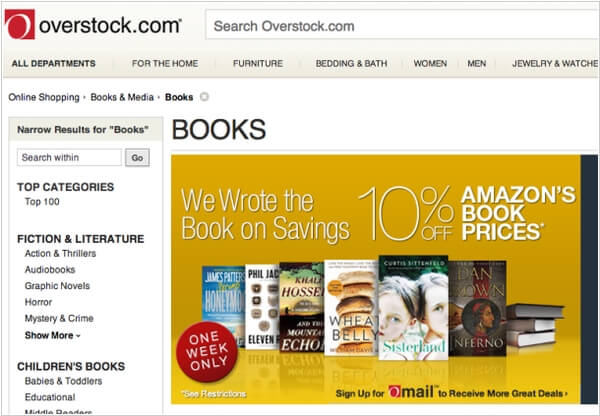 Of course, Amazon retaliated by lowering its own prices, and a race-to-the-bottom price war began, with huge discounts on major titles, including textbooks. This price war was largely thanks to the two e-tailers' computers, which automatically check for and beat competitor's prices. Overstock kept up their game until midnight on August eighth, when they quietly ended the promotion. Although the promotion was only a marketing tool, and in the end Overstock couldn't sustain the price-matching war it began, the scenario put Overstock on the map as an online book retailer.
Meanwhile, Amazon continues it's reign as the online textbook king. It's website boasts savings of up to 40 percent on new textbooks, 90 percent on used, 70 percent on rentals and 80 percent on eTextbooks. They offer free two-day shipping with Amazon Prime for six months and then a discounted price for Prime after the six-month trial for all students through their Amazon Student program. In addition, they claim to offer 70 percent back when buying used textbooks, and are currently offering $10 credits for each friend someone refers to the Amazon Student program. 
With all of these spectacular deals, it's no wonder that Amazon is the frontrunner in online textbook sales. While certainly not alone in the business, they have a firm hold on a majority of the online textbook market, and that makes sense. Between the promotions, the legitimacy of the Amazon name, and the Internet generation buying their textbooks, they've hit the student jackpot. Students currently in college grew up with Amazon as a household name, so it's natural that they look there to find the lowest prices to buy their books. Plus, who can say, "no" to free shipping?
While not the only option for buying textbooks (and both Chegg and Overstock have shown that they're here to stay), Amazon has made the textbook buying process easier, cheaper and faster for students. Add in the fact that they have an almost unlimited selection of titles, and it becomes clear that Amazon's the best bet for now.