Who has time for homework? From endless opportunities to crack open a beer dressed in the mandatory State Patty's Day green to the chance to battle pediatric cancer as part of the largest student-run philanthropy in the world, there's no reason to be in your dorm room. For a university in the middle of nowhere, Penn State students and alumni have a way of coming together. Whether it's game day or the party of the year, streets gridlock with traffic and sidewalks echo with chants of "We Are."
1. State Patty's Day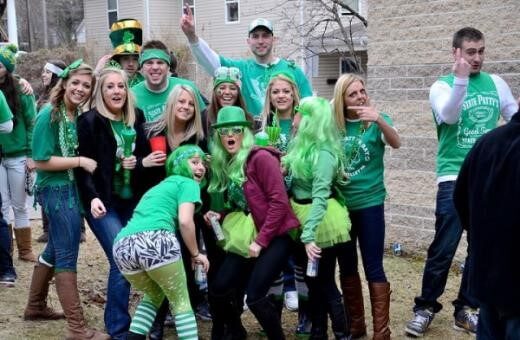 Like you needed another excuse to day-long. State Patty's Day is a student-created drinking holiday, started in 2007 when Saint Patrick's Day fell during spring break. Despite the efforts of school administration and the local borough to close bars and create harsher penalties for underage drinking, the event continues to occur every spring. Though every year has its share of vandalism and public intoxication arrests, it also draws tourism and generates a great deal of revenue for the local businesses that remain open.
2. Arts' Fest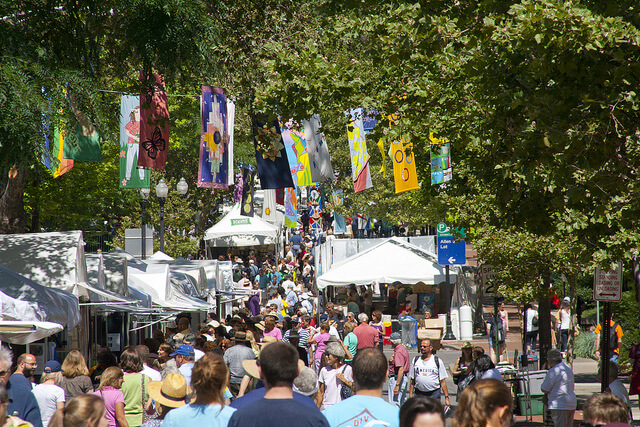 Every July, more than 100,000 people occupy the streets of Penn State, music hangs in the air and the sidewalks are lined with white tents. For four days, Italian street art finds its way onto the pavement, live performances occur nightly, a sand sculpture is created in a local park, readers meet their favorite authors through a Bookfest, the air is filled with the sweet aroma of food vendors and countless pieces of art go home with satisfied visitors. Even those who don't like art have found their way to the event for the past 48 years to take part in the excitement of the festival.
3. Mifflin Streak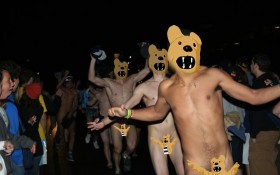 If you happen to be on Mifflin Road the Sunday before spring finals week, you'll be met with an unexpected sight. Since 1977, many students have celebrated the end of the year with a streak between two highly populated residence areas. Whether its participating or catching someone they known in the act, the streak tops the
bucket list of many graduating seniors
. With the tradition surrounding the event, police arrests are few and far between.
4. Homecoming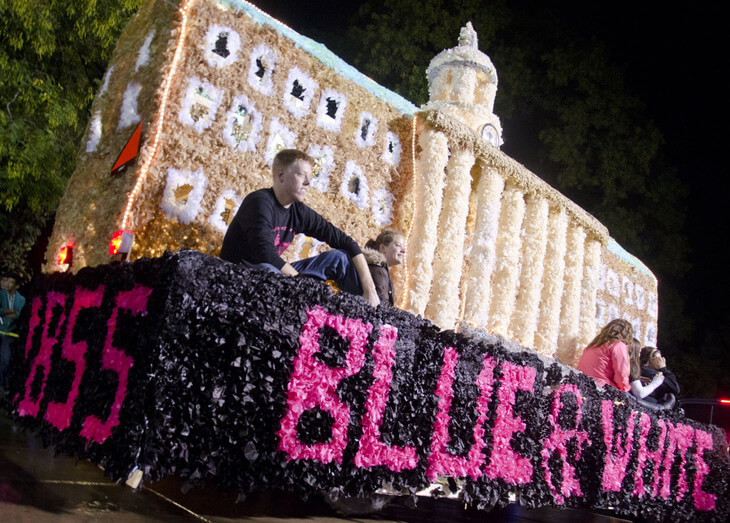 As expected in a school of more than 40,000 undergrads and more than 100,000 living alumni, Penn State's homecoming certainly doesn't lack pomp and pageantry. Alumni and friends of the university flood campus in a sea of blue and white for a week of celebration. Campus comes alive with talent shows, carnivals, dance competitions and FREE FOOD. The event culminates in a parade with float competition and the ever-important homecoming football game.
5. Whiteout
In a school known for its student section, every home game guarantees a stadium full of cheering fans. While every game is a sight to see, nothing compares to the annual Whiteout. Penn State typically schedules the theme for games against rival schools in the Big Ten, the oldest collegiate athletic conference in the United State. The entire student section and the majority of the general audience cloak themselves in white t-shirts and body paint. For nearly ten years, the whiteout has been a staple of the football season, leading the stadium to be dubbed the "White House" during the occasion.
6. Relay For Life

Every year, Penn State students participate in
Relay For Life
, the American Cancer Society's 24-hour walk-a-thon. Students and non-students alike march the baseball diamond at Medlar Field, earning a bead for every completed mile. Various activities occur to entertain participants and earn additional donations throughout the night. Playing "What Does the Fox Say" on repeat until $200 is raised quickly opens wallets. Relay's Penn State event has raised hundreds of thousands of dollars toward the fight against cancer.
7. Blue and White Game
Known to many as the homecoming of the Spring semester, students and alumni descend on Beaver Stadium for the annual Blue and White football game. In this free scrimmage, the team plays against itself. Though this event won't be a nail-biter for sports enthusiasts, it draws a crowd year after year. On top of providing a chance to check out the team out of season, it gives attendees the excuse to reunite with friends for a tailgate in the parking lot. Rain or shine, fans have continued to show up for more than 60 years. Last year's game saw more than 70,000 attendees.
8. Movin' On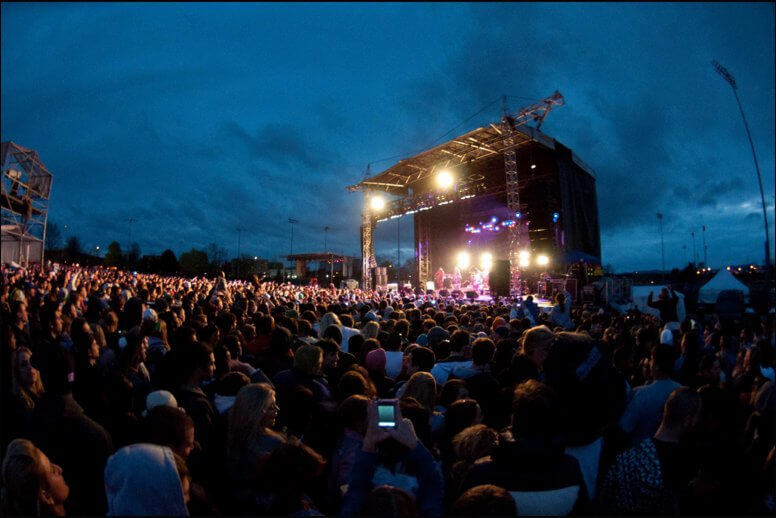 Every spring, students say goodbye to the semester with a free music festival. Occurring regularly since 1975, Movin' On is one of the largest student-run musical festivals in the country. Multiple popular artists perform to masses of students and members of the local community. Notable performers to that have taken the stage in the past include Fall Out Boy, Reel Big Fish and Ludacris. The event also includes other activities such as last year's human hamster ball and, of course, free stuff.
9. THON
Penn State students fundraise and plan throughout the year for The Penn State IFC/Panhellenic Dance Marathon (THON), the largest student-run philanthropy in the world. The year-long fundraiser culminates in a 48-hour no-sleep no-sit dance marathon in Feburary. Since 1977, $114 million has been raised to aid children battling pediatric cancer and continue the search for a cure. Additional events range from a 5K and a kid's carnival to multiple canister solicitation trips. Various programs like "Adopt-a-Family" allow a fundraising group to interact with a designated child and their family, giving students have direct contact with the children they are helping. Students build lasting relationships with the families that continue long after graduation. Most students treasure their involvement in THON and list the experience among their favorite moments in their time at Penn State.
10. The Unexpected
Some of the best Penn State events are those that weren't on the calendar six months in advance. Whether it's a
house party
that gets blown out of proportion or students heading to free food en-masse, there's no shortage of spontaneous activities. In celebration of the end of a recent NCAA bowl-ban and sanctions on football scholarships, students took to the streets. A "happy riot" of peaceful students wound its way from campus' iconic administration building Old Main to Beaver Stadium to the streets of downtown State College. At Penn State you never know what will happen when you leave your dorm.