With only a few weeks left in the semester, everyone is starting to plan their summer getaways and vacations. If you're running on a budget, spending a week on a tropical island may not fit into your summer schedule, but no need to worry! College summer break is a time to

be spontaneous and try new things

— especially those you keep putting on the "do later" list (sounds like all of the DIY's on Pinterest, am I right?)
Here are five fun things that should be on your summer bucket list- and an added bonus, they will fit in your broke college student budget.

Hit up the local marina and try some water sports! Water sports are a great way to soak in the sun and cool off while having a blast. Grab some friends and rent a boat for an afternoon. Try your hand at wakeboarding, watertubing or waterskiing. For some added excitement, sign up to parasail!
If you're looking to have a thrilling day with your friends, or want to add some adventure to a date, check out a trapeze school! You may think that trapeze artists are just awesome acts at the circus, but it's actually an activity anyone can do. It's an entertaining way to get your

adrenaline rushing

while relaxing and having a good time.
Everyone knows someone who got onstage, took the mic and started rocking out at a local karaoke bar. But, why not jump up on stage yourself? Though a lot of people have stage fright or claim that they're "not drunk enough" to belt out their best reenactment to "Don't Stop Believin'," what do you have to lose? Get out there! Forgot what other people have to say and just do it.
Compile a list with your friends (with as many items as you want) of things or challenges to capture pictures of. Break into teams and the team who comes back with the most items on their list checked off wins.The items can be as crazy or bizarra as you want. To make the scavenger hunt even more entertaining, explore a new town or new city. Added challenge:

Cut yourself off from social media during the scavenger hunt.
Becoming more and more popular are color runs, a 5k race where everyone- and yes, everyone- can participate. There is a white dress code, and at each kilometer checkpoint (it's more about fun and enjoying the day than it is about speed) you'll be doused with a different color. Check out the official color run here: http://thecolorrun.com/locations(there are plenty of knock-offs these days, as well). If there aren't any color runs in a city close to you, throw a powder paint party in your backyard. Everyone comes dressed in white and leaves decked out in tons of hues. To make the party even more fun, separate your friends into teams.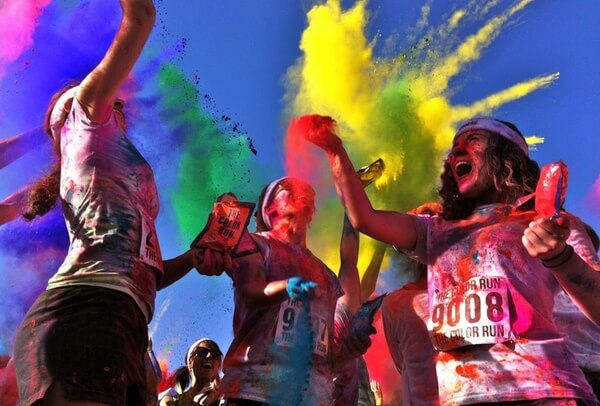 thumbnail image:

http://runningthroughpregnancy.com/fun-runs-the-color-run/