Your older cousins told you all about the best part of college—going to class in your pajamas. After showing up to the first day of classes in green and pink flannel pants, you quickly realized that isn't always the case (much to your dismay). In fact, you discovered, many different fashions can be witnessed on any campus. You're likely to bump into these ten style stereotypes by the time the first day of class comes to a close.
1. The Conformist
(Source)
Every girl falls into this category at least once a week. The classic and easygoing Conformist outfit appears at the first sign of a chill in the air: North Face jacket, Ugg boots and leggings. Giggly groups of two or three don these outfits, probably with freshly brewed Starbucks in hand. Only the shirt under their North Face sets one apart from the other.
2. The Repeater
(Source)
Don't these people have anything else in their closet? They've worn the same t-shirt and jeans for the past two weeks; you can tell by the smell. That one jacket or pair of pants goes with everything and they'll wear it until the seams rip. I'm even guilty of being a Repeater; at least I wash my things afterwards.
3. The Bro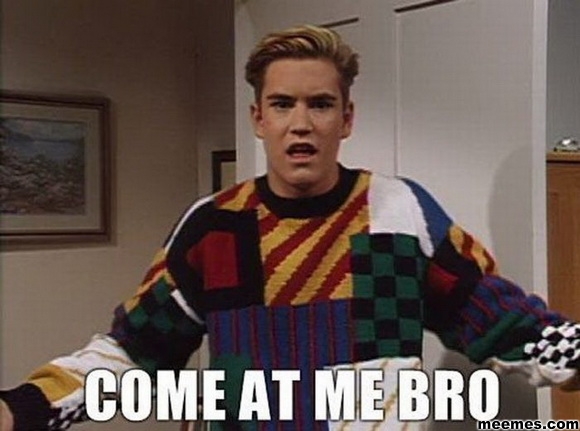 (Source)
Straight out of the frat houses and into class they come. Their classy, button down Polos pair with ironed khakis and boat shoes. Ray-Bans tie the whole look together, along with that lifeless book bag hanging on their back—most likely containing one notebook and no pencil.
4. The Weather-Confused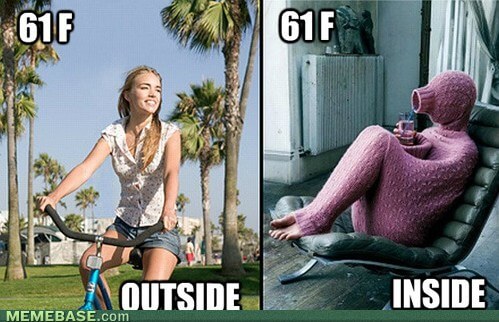 (Source)
These people just can't get their seasons straight. The Weather-Confused look matches that of a drenched cat on a stormy day; way to forget a jacket in the pouring rain. When it's 90 degrees out in the beginning of the year, they wear nothing but long pants and hooded sweatshirts. When it's snowing they go for the cargo shorts and sandals look. Give them time; they'll get the whole changing season thing down by the end of the year–hopefully.
5. The Fashionista

(Source)
While you may strategically think your outfit through for a class presentation, the Fashionistas carefully plan out each outfit for the whole week – from head to toe. These students' closets and drawers contain nothing less than Alexander McQueen and they can't seem to go without five-pound necklaces and earrings to accessorize their looks. They also wouldn't be caught dead in the same shawl they wore last month; that'd be tragic.
6. The Victim
(Source)
Call the campus fashion police because someone clearly hasn't read collegefashion.net. Whether they wear outdated, hand-me-down shirts from Aeropostale, hold their breath to stay in their skinny jeans or simply misunderstand the idea that bright blue and green do not go together, these people never fail to make you say, "What the hell were they thinking?"
7. The Thrifter
(Source)
Usually seen wearing oddball prints, oversized shirts and anything velvet, this is one of the more wallet-friendly styles in college. A $5 vest and bow tie paired with $7 corduroy pants and faded loafers? You betcha. People portray them as old souls because of their particularly grown-up fashion sense. From Salvation Army to Goodwill and consignment shops, the Thrifter is anything but basic.
8. The Pajama Partier
(Source)
They pressed the snooze button too many times, didn't have enough time to get ready and decided to wear what they slept in the night before. Wearing styles ranging from short bottoms to flannel pants and all the old lady cat shirts in between, it wouldn't be surprising to find them slipping into deep sleeps in class.
9. The Dressed to Impress
(Source)
Maybe they just got out of an important meeting, but every time you go to class, there's always one person who is dressed in suit pants, a shirt and tie—or a blazer, skirt and blouse. A large tote bag, courtesy of a local H&M, or a snazzy briefcase indicates that these people may have plans other than class for the day. You just may be sitting by the next powerhouse on Wall Street.
10. The Poster Child
(Source)
The spirit squad, school store and university branding would mean nothing without them. They do not own plain white tees but, instead, white shirts with your university's mascot embroidered on the left side. Every article of clothing they own dons your school's name; from their book bags to their shoelaces, one will no doubt be deemed "most spirited" in the annual.
(Main image source)