Quidditch has spread like dragon pox across college campuses since Middlebury College established the inaugural team for muggles in 2005. Though Middlebury's team is no longer the biggest name in the game, their initial effort nine years ago has turned quidditch into far more than a nerdy pastime—the International Quidditch Association organizes World Cups that attract teams from all over the globe. Still, the United States arguably remains the biggest hotbed for great quidditch clubs thanks to the efforts of these ten competitive and spirited university quidditch teams.
10. Ball State University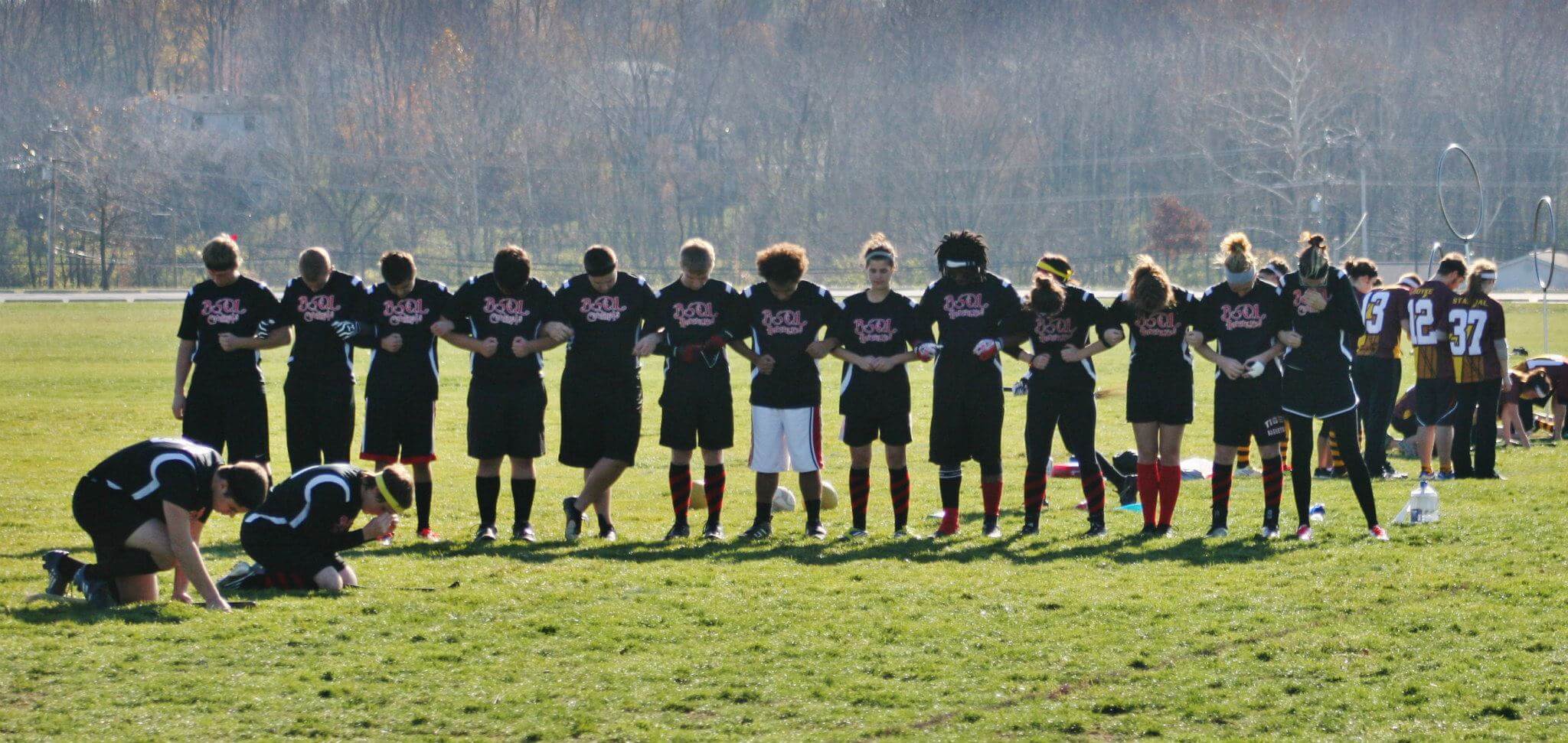 (Photo courtesy of Eighth Man)
As the International Quidditch Association's reigning No. 1 team, the Ball State Horcruxes keep quidditch focused on the community. Founded in 2009, they double as a chapter of the Harry Potter Alliance, which campaigns against global warming, poverty and genocide. They traveled to World Cup VII and will be hosting a tournament in October.
9. Boston University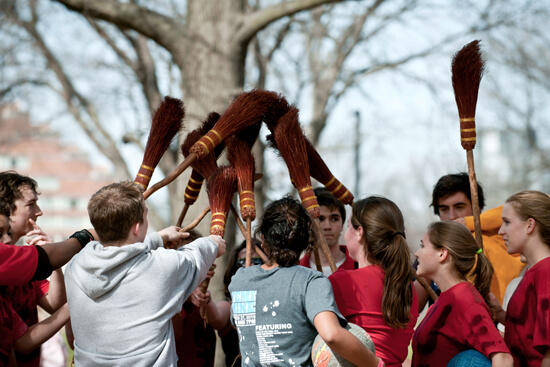 (Photo by Melody Komyerov)
Boston University Quidditch attracts 100 players to Sunday practices. Though it is working toward becoming a club sport, its tournament team is the four-time reigning champion of the Northeast Regionals, and the IQA ranks them in their global top five. It also has a robust, six-team house league whose members play with the same team throughout their time at BU. "We've worked hard to make [Boston University Quidditch] a legitimately athletic team over the past couple years," secretary Lulu Xu said.
8. Texas A&M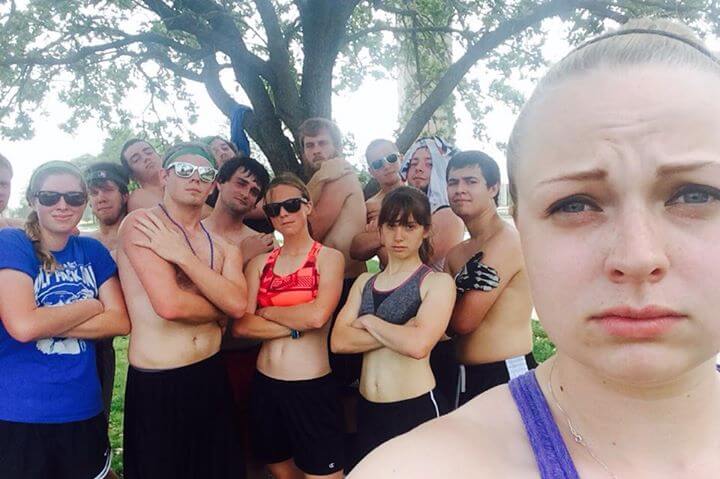 (Photo courtesy of Texas A&M Quidditch)
Texas A&M students go hard. Not only did their team reach this year's World Cup final four, but their secondary team also qualified for the World Cup consolation round. Chaser Drew Wasikowski captained Team USA 2014, and Becca DuPont played as a chaser. Though they're fierce, they're not dirty—Texas A&M is the most recent recipient of the IQA's sportsmanship award. President Rosemary Ross said her favorite tradition is when the whole team takes off their jerseys for a picture every time they win a game. "We're known for it in the quidditch community," Ross said. Though both traveling teams set themselves apart through athleticism, less intense players can still take advantage of the four-team house league, where they compete for a school-wide cup.
7. The Ohio State University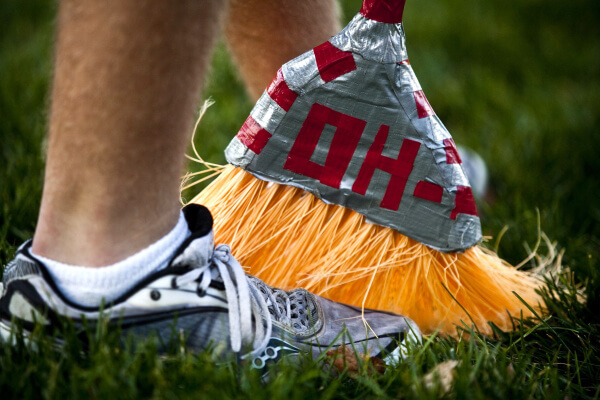 (Photo courtesy of Stadium Scholarship Program)
At the Ohio State University Quidditch Team tryouts, players are sorted into two squads based on skill, and those on the developmental team, The Mighty Bucks, can graduate to the main squad during the year. The main squad made the elite eight of World Cup VII after going 23-7 in official games at six tournaments. Beater Julie Fritz was an alternate for Team USA 2014. The club hosts a Yule Ball fundraiser in addition to regular Magical Movie Nights. Before each game, team members perform the classic Buckeye Bounce used at football games.
6. University of Miami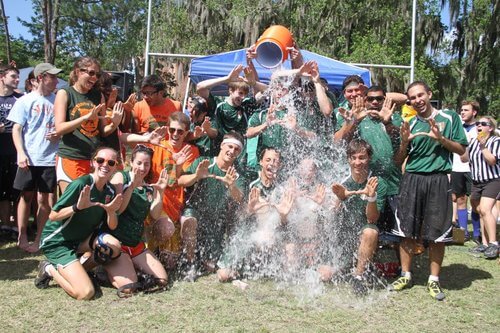 (Photo courtesy of My Quidditch Life)
At the University of Miami, the team keeps busy with one tournament per month, and the practice shows: They've been the South Region Champions for four consecutive years. Before games, the team locks arms and chants the intro to "Thunderstruck" by AC/DC, a tradition born from the mispronunciation of beater Shannon Moorhead's nickname, "Murderfist." She gained the nickname by accidentally breaking someone's ankle. "In my 10 years of sports I have never been on a team that has actually felt like a family until this team," said Moorhead, who played in the 2014 Global Games.

(Photo courtesy of Sarah Woolsey)
UMD Quidditch hosts two tournaments each year: the Turtle Cup in the fall and the Shell Shocking Spectacular in the spring. The team has won the IQA's "Better than World Cup" award for the best annual tournament three years running. Sarah Woolsey, former president and director of the first four tournaments, directed World Cup VII this year and is the U.S. Quidditch Events Director. At the start of each match, players "turtle" (see photo) in honor of Testudo, the school's diamondback terrapin mascot. Maryland's intensity influences its team traditions: At Annapolis restaurant Chick and Ruth's, team members regularly attempt the 6-pound milkshake challenge. If you finish, the team pays for your shake—but current president Erin Mallory said there's usually a lot of puking instead.
4. University of Texas at Austin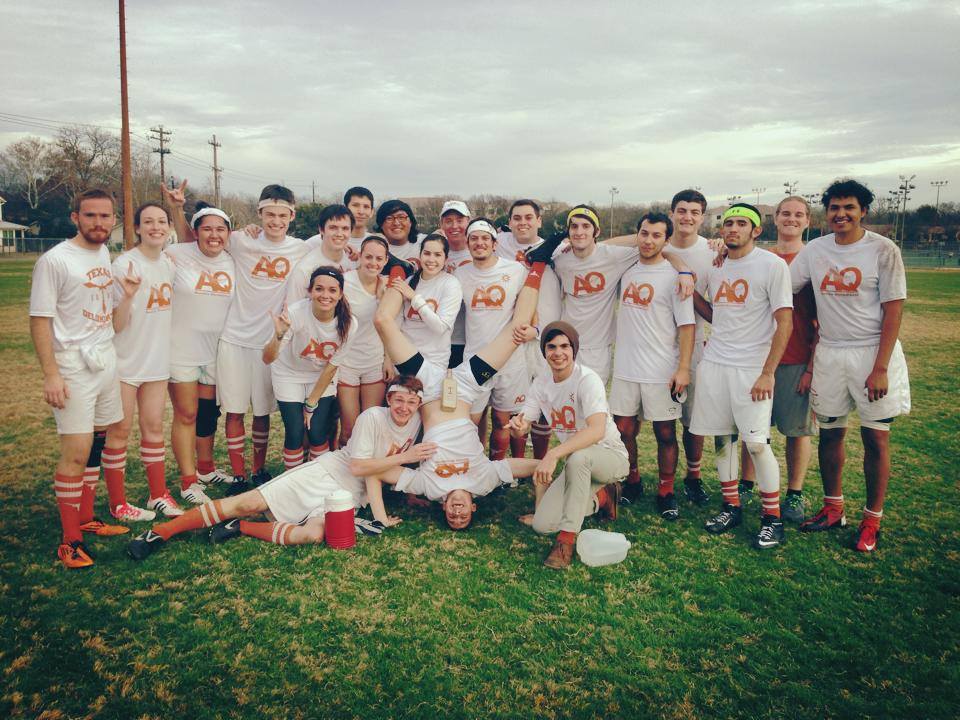 Although Middlebury College, the founder of university quidditch, reigned supreme in the first five World Cups, UT-Austin has taken over. Founded in 2009, Texas Quidditch won World Cups VI and VII, and their secondary team, Austin Quidditch, is also a national contender. Chasers Kenny Chilton and Audrey Wright played for Team USA 2014. For more casual quidditch enthusiasts, UT-Austin has an intramural league with four house teams: Slytherin, Hufflepuff, Gryffindor and Ravenclaw.
3. University of California, Los Angeles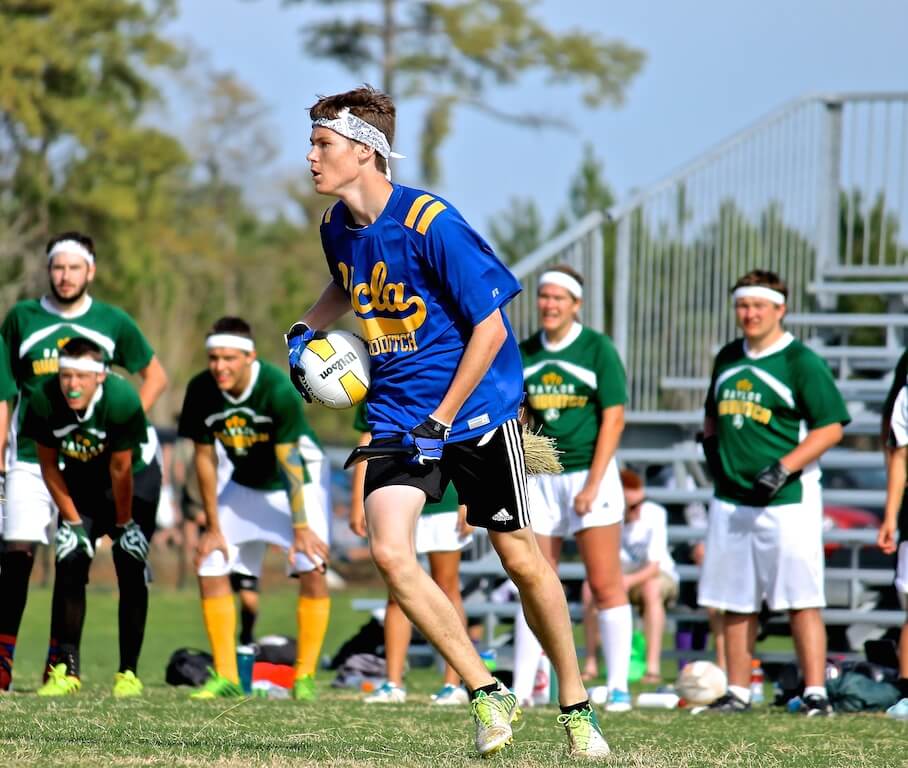 (Photo courtesy of Badal Chandra)
UCLA Quidditch was nominated for the IQA's Xander Manshel Award, which honors the team that captures the true spirit of Quidditch, and was named UCLA's Club Sport of the Year for 2013-2014. The team holds quarterly retreats, Humans vs. Zombies tournaments and quidditch games at Relay for Life. Practices are open to everyone; in fact, playing UCLA Quidditch was featured as part of the "Bruin Bucket List." The team has even played during a Harry Potter-themed women's basketball halftime show.
2. Texas State University – San Marcos
(Photo courtesy of Texas State University)
Members of Texas State Quidditch join the team by filling out an online "sorting quiz" that places them on one of four house teams. Results are announced during an official sorting meeting. "The sorting ceremony was hands-down my favorite part of Texas State's quidditch program. For a minute, I was 11 again," senior Michael Comer said. Each February, the team holds the Diamond Cup regional quidditch tournament and a separate dodgeball tournament called the Triwizard Tournament. The team exercised its philanthropic arm last spring through a service trip, while also remaining fierce in competition, finishing in the top four at World Cup VII and sending chaser Eric Reyes to Team USA 2014.
1. Emerson College

(Photo courtesy of Emerson Quidditch)
Emerson is a hothouse of Harry Potter fans. Sophomore Dan Goldberg says the quidditch team is one of the largest clubs on campus. Emerson has a six-team intramural league (with teams like the Boylston Berserkers and the South End Slothbears) that holds games and practices on the Boston Common throughout the year, culminating in the school-wide annual Griffith Cup. "In years past, people have come to watch games that have taken place in the Commons. Largely the audience is Quidditch players from the Boston area or very confused/amused tourists," Goldberg said. But quidditch isn't a mere idle pastime for Emerson students—their competitive team, which has existed for five years, competes in several in- and out-of-state tournaments each semester and finished in the final four at this year's World Cup VII. According to David Fox, a senior traveling team captain, they're "the last of the tiny liberal arts colleges to really remain relevant."
Check out our 2012 college quidditch ranking to see how U.S. quidditch has changed.
For more college rankings check out:

The 10 Most Hipster Campuses 2014

Top 10 Colleges for Aspiring Writers