Apparently, some schools think college kids can't handle the responsibility of picking out a well-rounded schedule or WHATEVER. I'm still waiting for an explanation as to why taking two drawing classes, two film-watching classes and modern dance is a bad idea. Anyway, to help (allegedly) us cradled college students actually get a fulfilling and educational experience, some universities make it a point to have a core curriculum that asks us, essentially, to re-learn what we've already learned. Fear not. You can make it out okay.
1. DO SOME RESEARCH BEFORE YOU REGISTER, PART 1
So, you're a sophomore who just got an awesome registration time and you know you need to fulfill your math core. You're looking at the open classes, you've got nothing but options, and you see that a professor named Lars Dudemeister teaches a noon class. His name's Dudemeister and that's awesome. Easy choice. Only, hey, Professor Lars Dudemeister, Ph. D likes to integrate quantum physics into his basic calculus lessons. And he's a giant asshole. What's the lesson here? Ask around about teachers, see if your college has teacher evaluation sites, or even meet prospective professors to see if you like them.
2. DO SOME RESEARCH BEFORE YOU REGISTER, PART 2
Not only can you be seduced by an Exotically-Named-Professor, but you can fall prey to the Cool-Sounding-Class. English core class on Disney Princesses? Hell yes. The subtext to the class is feministic modernistic criticisms in an animated prism? "I've made a huge mistake." If you have a crazy schedule and you're looking for the core class that seems both interesting and light, find out a little bit more about the ones that seem totally cool. Ask around, look at course catalogues. You may be surprised.
3. TALK TO ALL OF THE FRIENDS YOU CLAIM TO HAVE
Believe it or not, you're not the only one dealing with a slate of inescapable core classes. Your friends take them too, so maybe spend a few minutes with them and have an informative conversation about your upcoming scheduling dilemmas. Norah Wallace, a senior at Bates College, says, "Taking the extra ten minutes to figure out what classes my roommates were taking made the core experience so much easier to weather." Deal with the core curriculum with some companions and you'll double your odds at getting out unscathed.
4. LEARN TO DOODLE REALLY WELL
Let's say you, an English major, aren't exactly vibing with professor what's-his-face's lecture on epidemiology in your science core. You try to write out all the crucial aspects of the day's class, but instead of words, your pen produces crude drawings of shapes and patterns and stick figures.  While infinitely more satisfying than learning about something you claim to not care about, your doodling could use a little work. Doug Prusoff, a recent grad of Lafayette College, says, "I learned more about drawing moustaches on things than the War of 1812." Maybe the doodles get so good, you can drop out of college forever and become an incredibly successful artist. What? It could happen.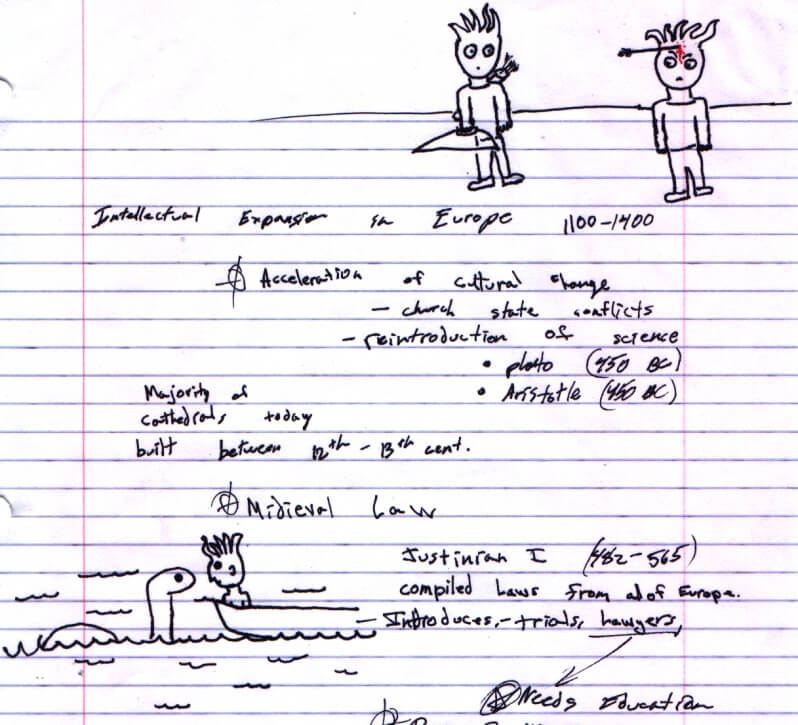 5. MASTER THE ART OF SLEEPING WITH YOUR EYES OPEN
Core classes are more like lullabies than engaging educational experiences. But one does not simply walk into Mordor fall asleep in these classes and survive the long haul.  Here is where the artful act of sleeping with your eyes open comes into play. Though, actually, if you can fall asleep with your eyes open, you may have nocturnal logophthamos and you should probably get that checked out. There areways, however, to rest up a bit with your eyes open, like meditating or daydreaming. Just try not to get caught so you won't have to face the embarrassing wrath of a pissed off professor.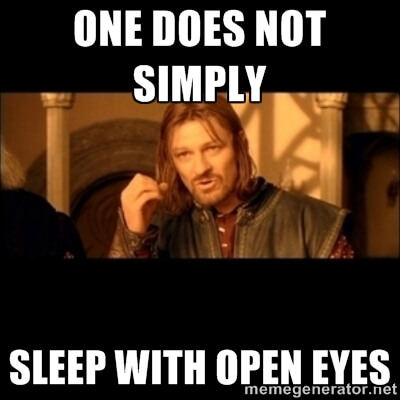 6. START TO ENJOY CROSSWORD PUZZLES AND SUDOKU MORE
Maybe you're not so into your bio core and you want to learn more about useless trivia words that have a lot of vowels. If that's the case, compile yourself some NY Times crossword puzzles and subtly fill in your boxes while your professor drones on and on about DNA. You're not much of a words person? If numbers float your boat, start getting your Sudoku on and ignore the lesson entirely. There are so many distracting games out there so make your pick and don't be obvious about it. Like this: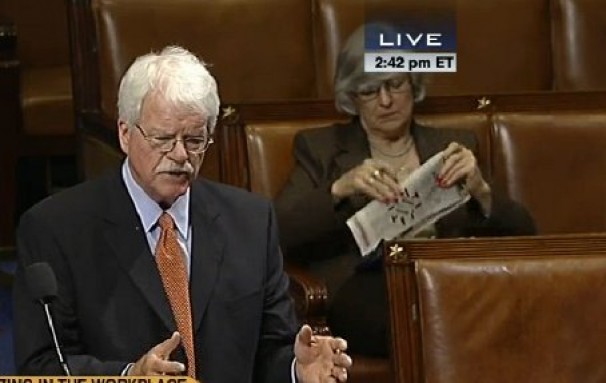 7. MAKE AN ACTUAL EFFORT TO LEARN SOMETHING NEW
There's also this one strange strategy where you actually try to learn something. Core classes do contain a lot of high school re-teachings, but it's a guarantee there are some interesting nuggets of knowledge floating around. Or you can just make sure that the core classes you're taking are dealing with parts of academia you've never even touched.  Philosophy, for example. College is super expensive, so you may as well try to learn something even when it seems like you don't need to. And as it turns out, learning isn't the worst thing ever.