Finding a Halloween costume is one of the toughest tasks of the fall season. If you're stumped but know you want to go all out this year, don't fear the slutty costume. Just do it right. These six costumes sum up the past year in a way that will have everyone around you drooling.
Catwoman in The Dark Knight Rises:
Though clichéd cat costumes should be avoided, Catwoman is an exception to the rule. This bada** feline has the power to get into Batman's heart and knows how to manipulate people with her charm. And don't forget the leather. Who doesn't want to dress up in a skin-tight body suit? The Dark Knight Rises is currently the second-highest-grossing film of 2012 and marks the end of a Batman era.
Big Bird:
Political costumes can be scandalous and clever if done correctly. While dressing up as a skimpily clothed Obama or Romney seems strange, wearing a risqué Big Bird costume will have you turning heads. Controversy surrounding Romney's plan to cut public broadcasting hit Americans hard, especially when they learned that Big Bird would suffer unemployment. So slap some yellow feathers across your body, wear a pair of orange heels, and pick up a big beak to strap across your nose. No matter what your political affiliation is, dressing up like a scantily clad Big Bird will be sure to grab you some attention.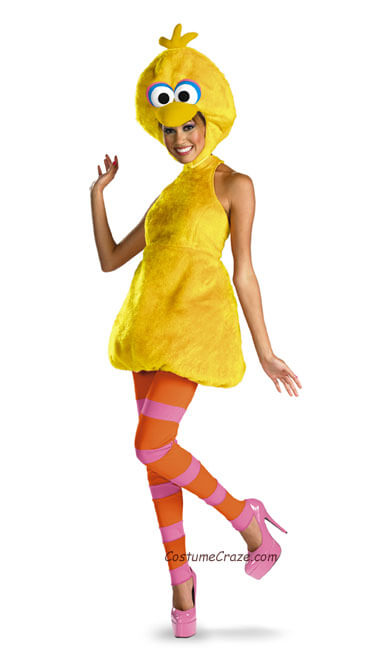 Girl with the Dragon Tattoo:
This movie not only put Rooney Mara on the map, but also made girls want to switch up their style. Combat boots became cool and rebels became people to emulate. Not only will this costume look sleek and sinister, but it'll also be fun to shop for. Mix and match tight-fitting black pieces for your clothing, attach a few fake piercings, and lace up a pair of black combat boots to achieve a perfect Mara-kissed look. Skin-tight black outfits are always sexy, but to make the costume even sluttier wear tight black shorts with fishnets underneath and a black bandeau. Those tough rebel boys won't be able to resist.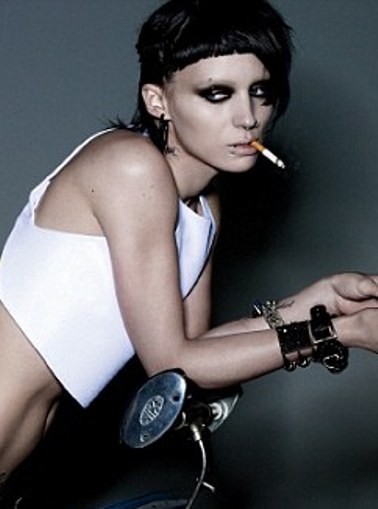 Bad A** Zombie:
The country was shaken up in the past year after a bizarre series of attacks. Dubbed the Zombie Apocalypse, several incidents throughout the U.S. involved people whose demeanors bared striking resemblances to those of the undead. The apocalypse ended and now we could use a little humor to stay calm about the events. Dressing up as a bloody, frightening, scandalous zombie is the best way to scare all those who dare go out on All Hallows' Eve. To achieve this ghoulish look, wrap yourself in tattered clothing, step into a pair of sexy black boots, and add a little fake blood to your face. Just remember, you're a zombie, not a hooker so definitely go for the scare factor with your makeup.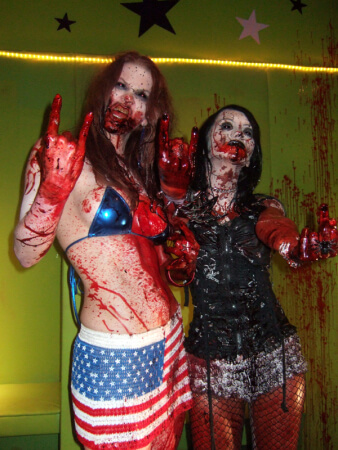 Black Widow in The Avengers:
As the third-highest-grossing film of all time, The Avengers has a cast that's known worldwide. Scarlett Johansson mesmerizes viewers in any film, but her performance (and outfit) in The Avengers left people wanting more. People returning to the film to watch Scarlett probably contributed to the film having the biggest opening weekend in North America. Black Widow, dressed in almost head-to-toe leather, comes equipped with fake weapons and short crimson hair. Attach a wig and buy a tight black body suit to be the next Black Widow.
Amanda Bynes:
 I'll be the first to admit that I love Amanda Bynes as an actress. Going through my teenage years watching shows like What I Like About You and movies like She's the Man made Amanda a regular guest in my house. And who can forget The Amanda Show? Amanda received criticism for her recent string of questionable behavior, keeping her in the spotlight, but she's still our beloved child star. So what should you be for Halloween this year? Amanda, please! This one is for those girls who are watching their bank accounts. Go into your closet and find a mini skirt and low-cut top accompanied with heels and fishnets. As the final touches, make sure everyone knows your Amanda by wearing a blonde wig and stumbling around as though you're drunk. And don't forget to repeat "Manda, Manda, Manda, Manda, Manda, Manda Show" until everyone around you gets annoyed.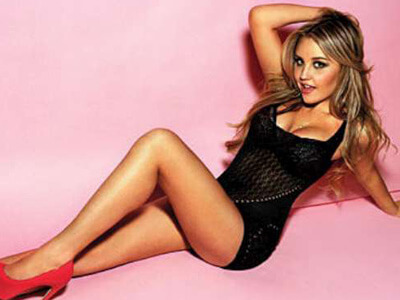 Photo taken from blog.costumecrazy.com, the improper.com, goodbyehorses.wordpress.com, jarrid.net and the businessinsider.com