Few things can embody the density and diversity of a city like San Francisco. The California coastal city serves as a cultural hub—blending a rich music scene, the most delicious and innovative food money can buy and an endless abundance of creativity. Outside Lands Music and Arts Festival has managed to capture the soul of San Francisco and breathe it into three days undulating with music and saturated with food, beer, wine, art, fashion and fun. Nearly 200,000 festivalgoers filled the sprawling meadows of San Francisco's historical Golden Gate Park this past weekend for the 7th annual festival. Here are 18 of the craziest things that happened.
1. Creative signage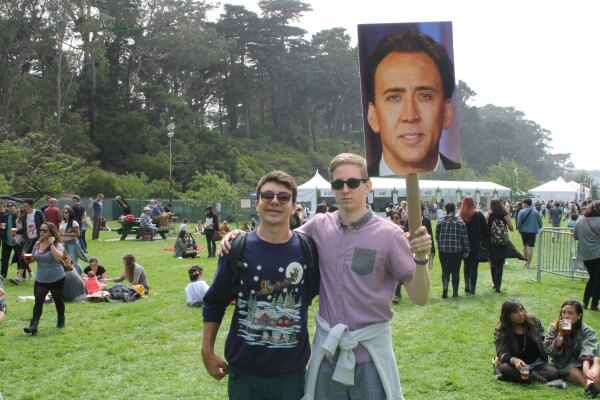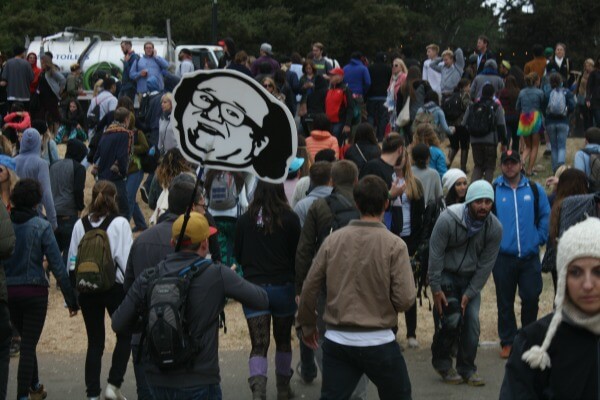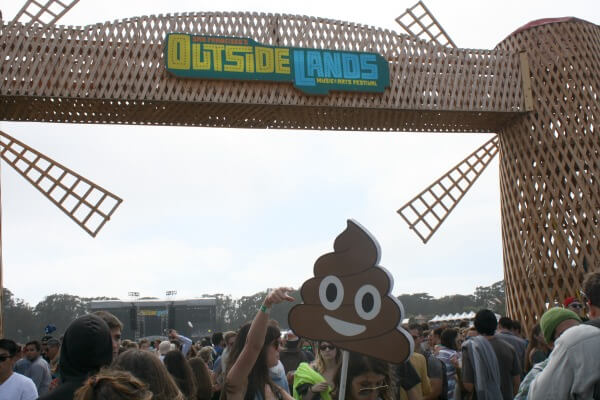 In a crowd of hundreds of thousands of people, festivalgoers often got separated from their friends. The solution? Innovative, homemade signs. Fans thrust these signs high in the air when walking through the festival or bounced them vigorously up and down during rowdy performances. "Just look for the giant picture of Nicholas Cage" or "Follow the poop emoji on a stick" were some of the weekend's more memorable directives.
2. Grouplove covered Beyonce's "Drunk In Love"
3. Kanye West left festivalgoers both confused and satisfied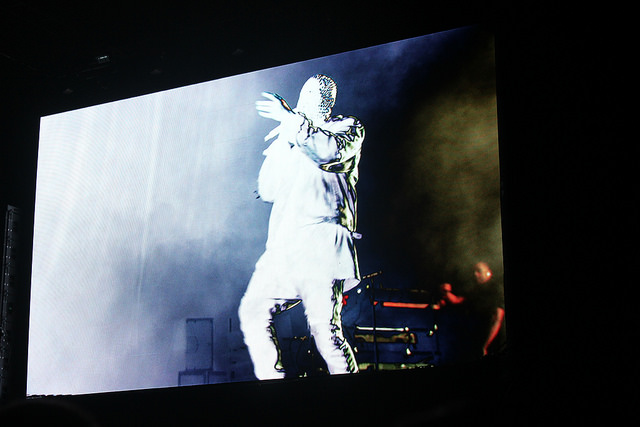 Kanye's silhouette appeared in front of an ominous, glowing red screen for Friday's final set. Several songs in, he delivered a powerful mini-speech calling out the media for writing negative things about him. West said they're "looking for something negative instead of embracing the moment. Embracing the time, era and season that they're living in…called Yeezy season… You see… if you're a fan of me, you're really just a fan of yourself." This sent the audience into a roaring frenzy of adoration. He then launched into a compelling rendition of "Clique". Thanks, Yeezus, for leaving us bewildered and slightly inspired.
4.The Killers absolutely killed it
The Killers headlined on Sunday and delivered a show basked in multi-colored lasers and the dim glow of nostalgia. They ended the night and the festival with their 2006 hit "When You Were Young." It caused the mostly Millennial crowd to break into an enthusiastic dance party because it reminded us of when we were young(er), and The Killers will always be classic.
5. The Flaming Lips left everyone wondering if someone had slipped some LSD in their Heineken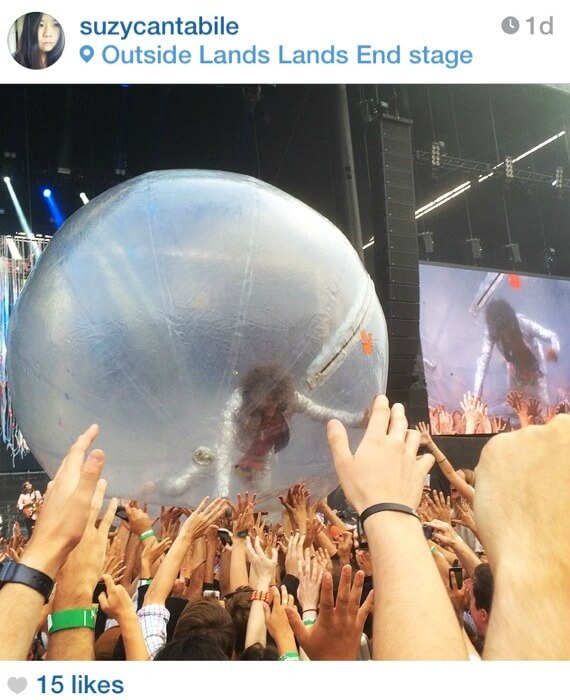 (Photo via Instagram)
Experimental rock band The Flaming Lips' onstage outfit included a wig-and-cape-clad drummer and frontman Wayne Coyne donning a tinsel-esque silver fringe kimono. An inflatable rainbow, a smiling sun and several colorful mushrooms served as the band's backup dancers, leaving the crowd feeling like they were caught between an acid trip and a children's show. After performing "Yoshimi Battles the Pink Robots Pt. 1", Coyne climbed into a giant inflatable ball and rolled across the fingertips of the crowd. They ended their set with an especially psychedelic cover of "Lucy in the Sky with Diamonds".
6. Macklemore proved his support for LGBT rights…again
Rapper Macklemore helped a woman propose to her girlfriend onstage before his infectious gay rights anthem "Same Love" which left a dry eye harder to find in the crowd than Waldo.
7. People went to desperate measures to see Flume…and we mean desperate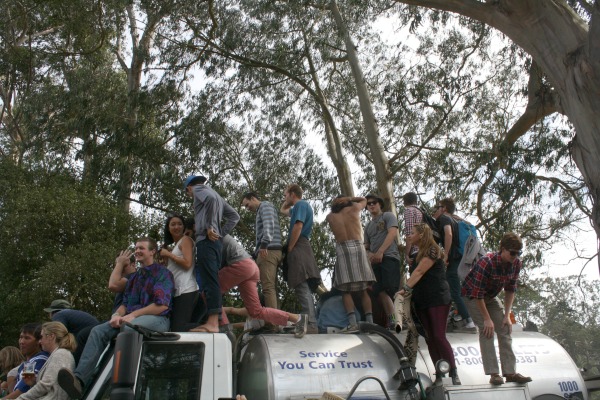 The crowd that Australian DJ Flume conjured was not just "a sea of people"—it was the Pacific Ocean. People perched in trees to get a glimpse of the 22-year-old artist bumping favorites like "Sleepless" and "Insane". A few adventurous fans even climbed the sewage truck to get better views and more room to dance.
8. Tycho's set was an audio-visual masterpiece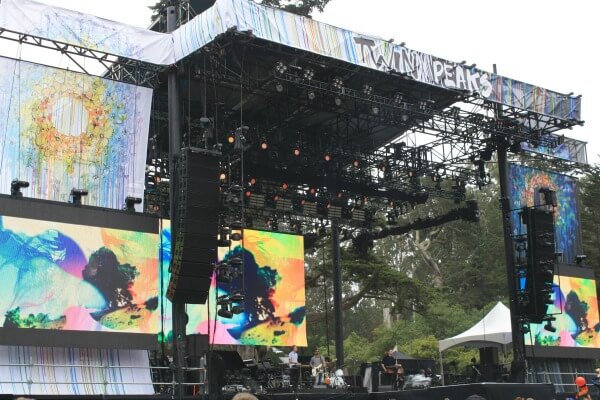 San Francisco DJ-cum-graphic-designer Scott Hansen performed with a live band on Saturday afternoon, but Hansen produces all of his music—and his cover art and live visuals—himself. The ebb and flow of the colorful, abstract visuals synchronized perfectly with Tycho's ambient tracks.
9. OSL simultaneously featured art and words of wisdom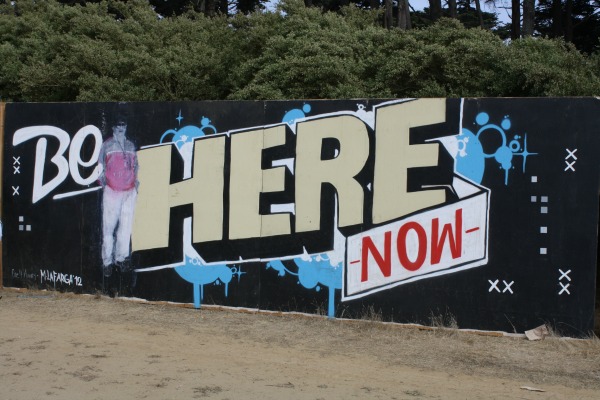 All three days of the festival offered live spray-painting sessions by various artists. Spray paint masterpieces of festival's past bordered the venue, which garnered many a photo opp among attendees. A piece from several years ago encouraged festivalgoers to "be here now". Attendees watched as artists sprayed seemingly aimless strokes of paint on plywood, only to come back hours later to a finished work of art.
10. A trio of sisters who define feminist rock manifested the definition of girl power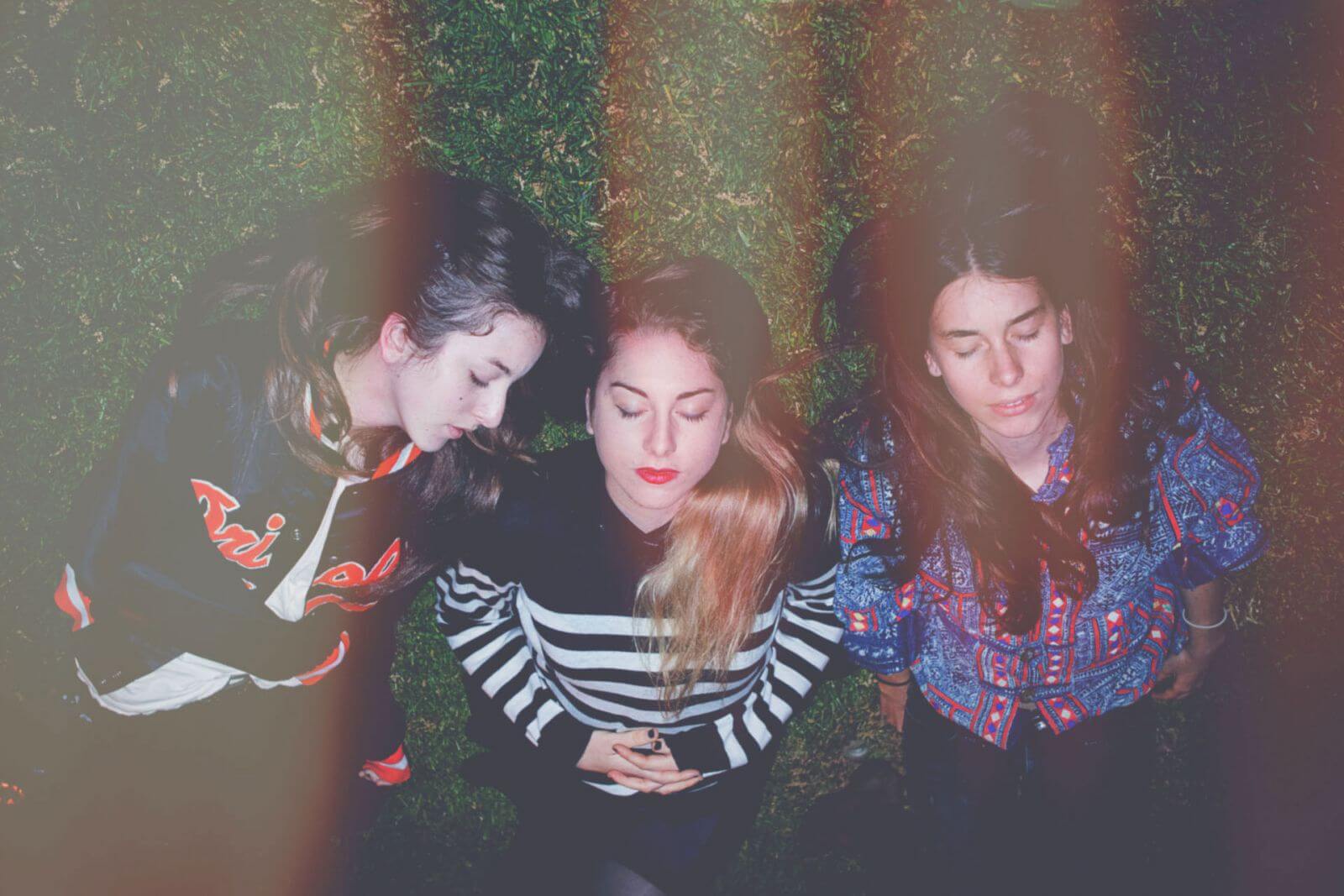 Though Haim is a phenomenon (that much talent and bad-assness in one family isn't normal), they gave off a down-to-earth, accessible vibe that transformed an expansive festival stage into an intimate performance. Lead singer Danielle Haim even encouraged the audience to "shake their booties."
11. Thousands of people got caught with fake tickets
San Francisco police detained 35 scalpers and security voided hundreds of fake tickets over the three-day festival. In many cases, that didn't stop people from getting into the fest. Police cited hoards of people jumping over fences and rushing through the gates, many of whom were successful in slipping through the strict security.
12. The audience brought out their wild side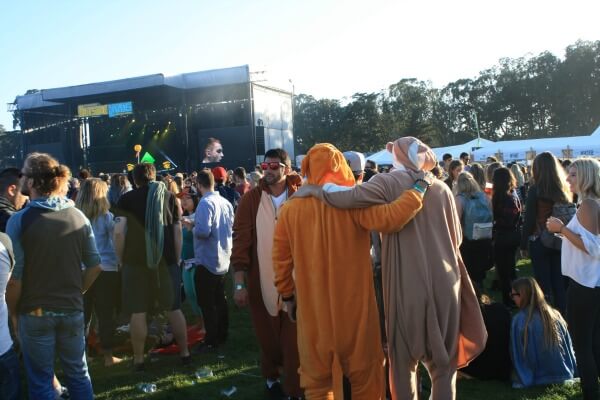 While the festival was held among the trees and meadows of Golden Gate Park, the only wildlife we witnessed was a gaggle of grown men dressed in animal suits.
13. Festivalgoers had the unique opportunity to get a tipsy trim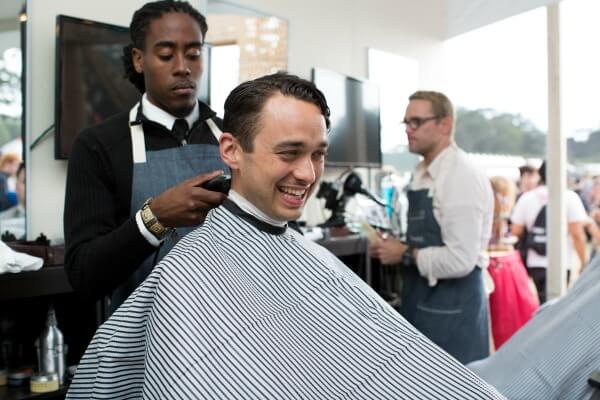 (Photo courtesy of Malisa Meresman)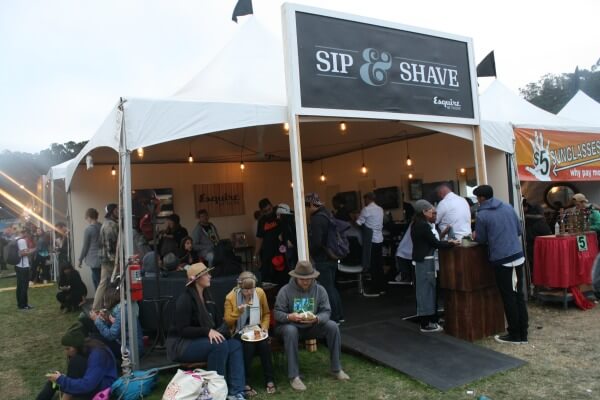 Outside Lands witnessed the debut of Esquire's "Sip and Shave" tent, which offered complimentary shaves and specialty cocktails overlooking the main stage. This was not the only multitasking tent at the festival; it was adjacent to a phone-charging tent where you could simultaneously make bracelets and get your face painted.
14.

The simultaneous headlining performances caused the audience to make heart-wrenching decisions about who to see
Tiesto vs. The Killers, Kanye vs. Arctic Monkeys and Macklemore pitted against Tom Petty begged the ultimate contemporary vs. classic question. Guests scrambled from one side of the park to the other to try and catch the best of both worlds.
15. Halloween came early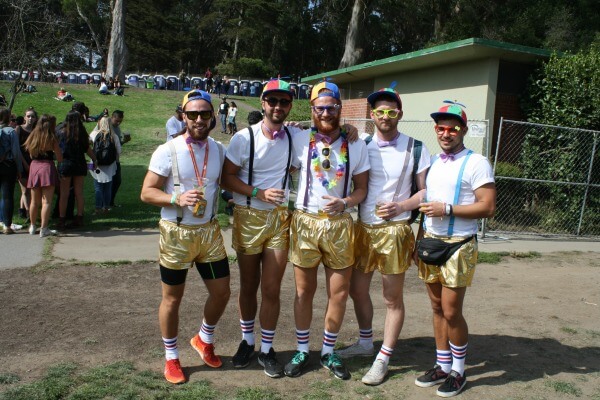 The weekend was full of crazy costumes. We saw it all—capes, masks, body suits. People managed to dust off their Halloween costumes and recycle them in new, crazy ways to rock out to their favorite bands.
16. Strange food pairings put festival attendees' health and bank accounts at risk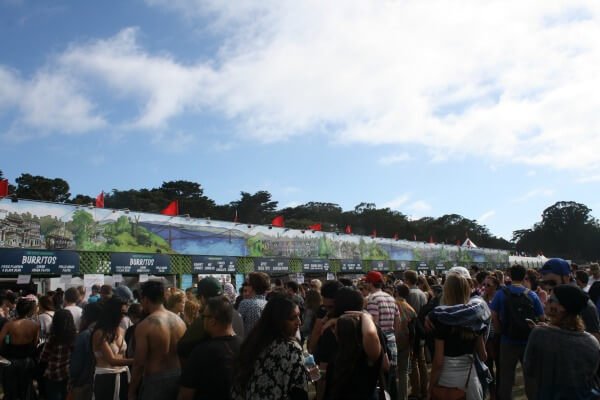 The future of food is following that of cars; it's all about hybrids. Spaghetti sandwiches, donut burgers and suhirritos were just a few of the unlikely food hybrids at the festival. Dozens of Bay Area restaurants such as mac and cheese specialists Homeroom and Nombe (home of the ramen burger) set up camp to feed the throngs of hungry, hungry hipsters.
17. The chilly San Francisco weather didn't stop people from dressing to the nines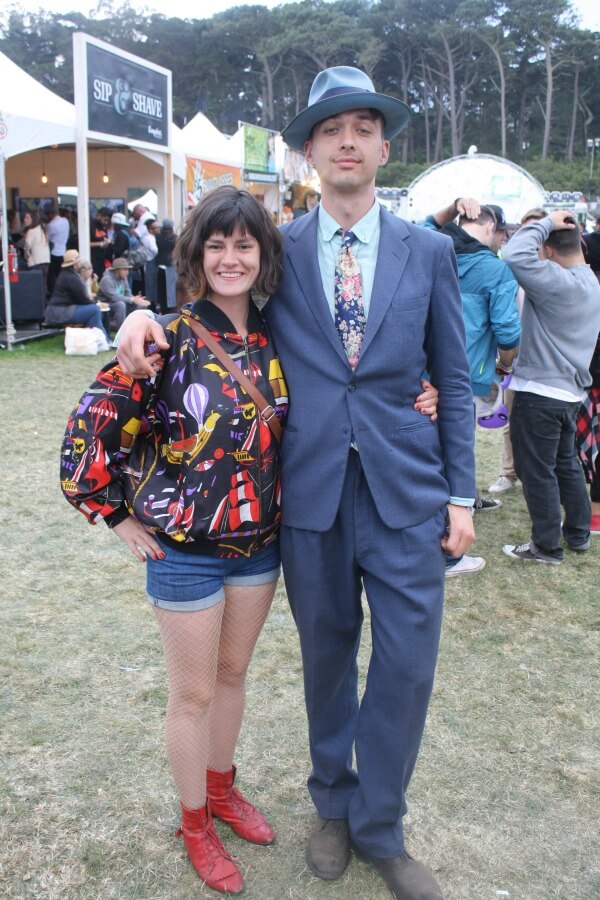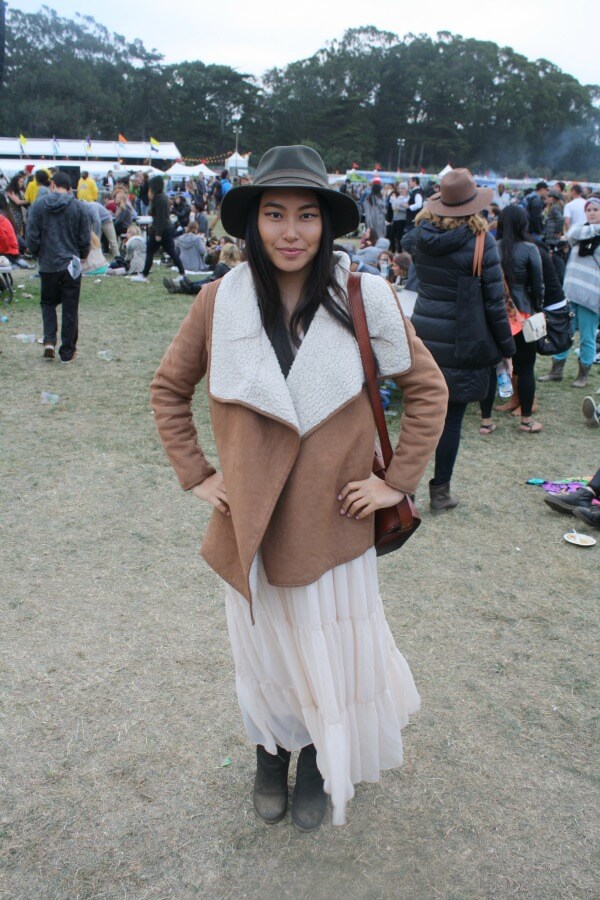 Golden Gate Park became a grass-carpeted runway of Converse, ankle boots, kimonos and capes. From suits and fedoras to maxi skirts and rompers, Outside Lands was filled with fashion-forward festivalgoers.
18.
The trees lit up at night to transform Golden Gate Park into a summer wonderland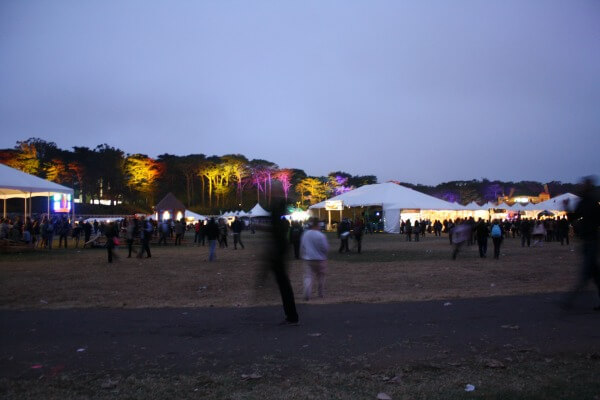 As the sun sank below the trees, they reflected purple, yellow and pink hues. Lanterns and strings of lights also hung from branches, turning Golden Gate Park into a snow globe of lush pine trees and grass instead of snowflakes.