You're a freshman, you have no friends and it seems like everyone in Greek life is having all the fun. So Rush is a no brainer, right? Honestly, not always. It can be the most wonderful experience of your life, or the most uncomfortable. It's all in the approach, because no matter what, if you don't know what you're doing, it's going to be tough. Luckily for you, we've got some know-how.
1. Be the Best "You" You Can Be
The best impression you will make on anyone happens when you're being your best "you." As Mallory Murdock, Phi Mu, UCF transfer student, emphatically shared, "Be yourself!" It's not going to benefit you if you're putting on a facade and straining yourself to act a certain way. It's corny, but possibly the best advice I have.
2. Keep an Open Mind
Whether you're skeptical about greek life, or you're bouncing off the walls with excitement, don't set your heart on just one organization before meeting them all. Michelle Lajoie, Alpha Theta Rho, St. Joseph's College, says, "Go in with an open mind and no preconceived notions about a particular group. They may pleasantly surprise you."
3. Do What's Right for You
It doesn't matter if you're older brother is an alum of a fraternity, or if a friend wants you to really focus on their organization during recruitment — you have to do what's right for you. Mike Garcia, Theta Chi, Florida Southern College, said, "Be open minded and think for yourself. Nobody should influence your decision."
4. Dress the Part
I'm not talking a ball gown or tux, here. Think of it as a relaxed version of "dress to impress." From experience, wear what makes you feel confident and expresses your personality. Dana Bubolo, Vice President of Membership of Tri Delta, Adelphi University, shared some tips: "Dress nice and wear an accessory that stands out at every round, a bright scarf, for example." What's the best accessory, you ask? Without question, a sincere smile.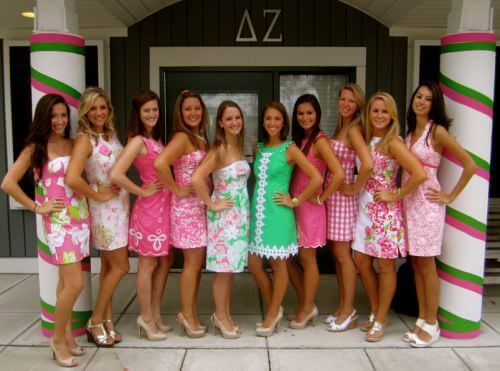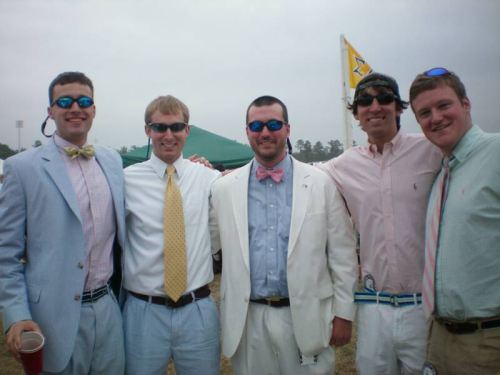 5. Treat it like an Interview
Going through the rounds hungover and with bags under your eyes is not going to make the best impression. Get plenty of sleep the night before each round, and prepare a short elevator speech (about 30 seconds to one minute) about your likes, hobbies, major, goals, etc.
6. Shake the stress away
It's okay to be nervous. Meeting new people can be daunting, but here's a secret coming from VP Bubolo: "The sisters of the organization are just as nervous as PNMs [Potential New Members]. No question is stupid." As a sister, I know how totally right she is.
7. Ask Questions
As Bubolo shared above, there's no such thing as a stupid question. Recruitment is the time to get to know all of the organizations, make informed decisions about them and most importantly, pick their brains. They will actually appreciate all of the questions and enthusiasm– it let's them know you're interested.
8. Have Fun
Recruitment may seem like a long process (which, yes, depending on your school, it can be a long few days), but try to stay upbeat, positive and of course, have fun. Remind yourself you're meeting people who could end up being life-long friends.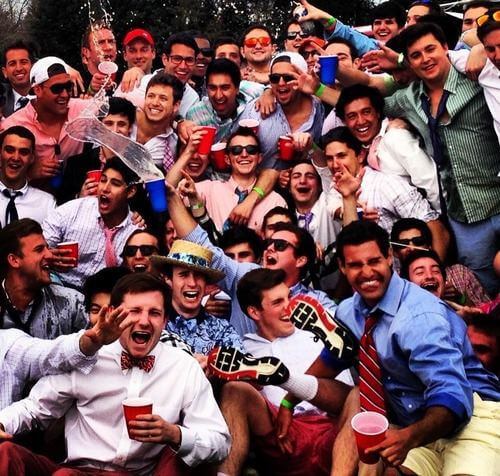 9. Be Nice
It's obvious, but don't be offensive or talk crap about other organizations during the rounds. You might think it'll "get you in" with an organization you're falling in love with, but students in greek life always have friends in other organizations. Don't bring drama with you.
On the flip side, if you're already in an organization, remember to keep up strong inter-greek relations. Kristin Kardas, Director of Greek Life at Ohio University, says, "When it comes to recruitment, I want active members to remember that it is 365 days a year issue. You should always be recruiting everyone that you meet. Perhaps you are not asking them to be members of your organization, but you should be recruiting them to think positively of fraternities and sororities. Remember that we value several things, and although we all have different words for them, they are centered around scholarship, leadership, service and brotherhood/sisterhood."
10. Focus on What's Really Important
Yeah, accessories are cool, and oh-em-gee you might've fallen in love with paddle designs and dorm decorations on etsy already. But joining greek life is so much more than rocking a new jacket with your orgs' letters. Alexandra DeSourdy, Gamma Phi Beta, USF, said, "Don't focus on superficial or material things, really focus on the vibe that you get, because that's who you're going to spending your collegiate time with and your alumna years with."
Kardas says, "In terms of students interested in recruitment, you need to remember that we as fraternities and sororities are founded as values-based organizations with rich histories and traditions, the best of which being that we are a lifetime membership organization. You don't just join and it's something you do for a little while in college – you are generating a nationwide network of support and friends. You one day will be able to share this awesome gift that is fraternity and sorority with others. I don't say that I 'was' a Tri Delta. I AM a Tri Delta."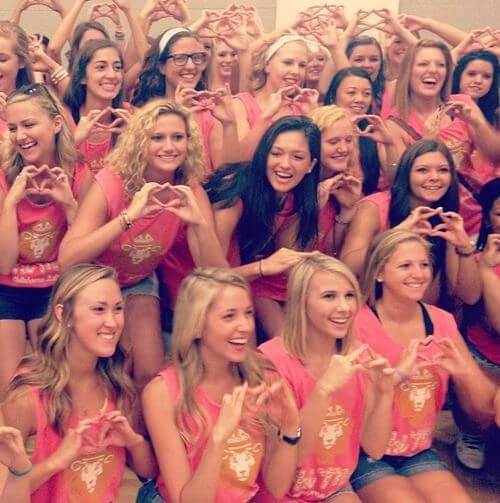 11. Bid or no bid, Cherish the experience
Some end up dropping before recruitment ends (which is totally fine, you could always sign up for recruitment another semester), and some receive bids and have minor heart attacks. In either case, embrace it. All of it. Rush is one of the most unique college experiences out there.  
12. Bring Water
Seriously. Thank me later.