People know Baltimore for many things: the Orioles, the Ravens, Edgar Allen Poe's house—the list goes on. Charm City stands as one of the best cities for food. Football season has yet to start and you don't know where to go. We got the restaurants that will make your mouth water. Just don't swim in the harbor.
Check out 12 of the best restaurants in the Baltimore area.
1. Grab Breakfast at Blue Moon Café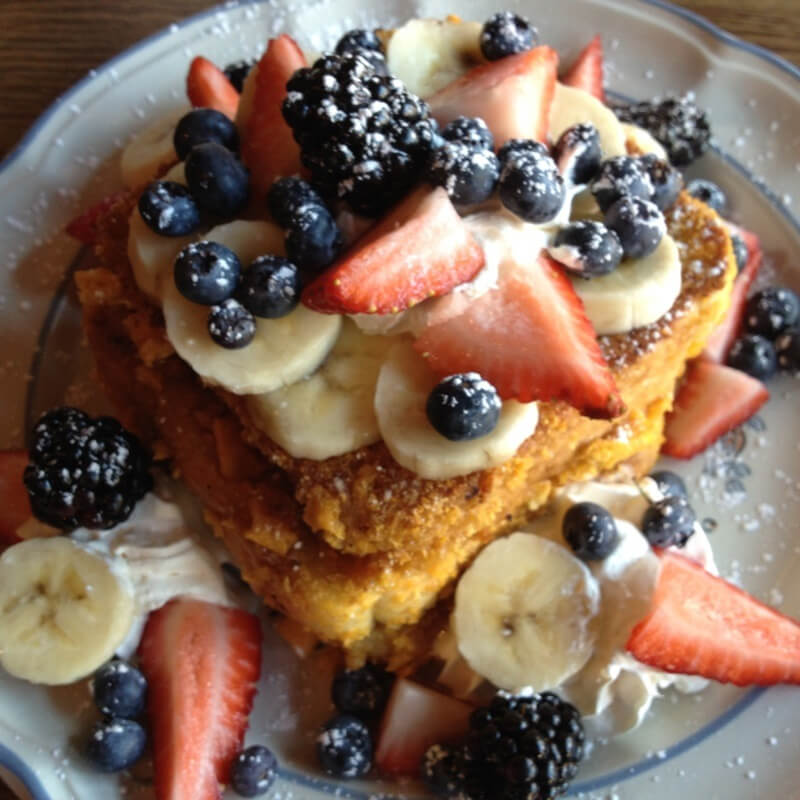 Featured on Guy Fieri's Diner's Drive Ins and Dives, the Blue Moon Café offers a wide variety of breakfast and brunch items that locals praise highly. From Captain Crunch French toast to their signature "Sweet Baby Jesus" (hash browns, eggs, tomatoes, and crab piled on top of each other) Blue Moon satisfies all your hangout or hangover needs. "The ambiance was interesting… the artwork was intriguing. I enjoyed going there and would like to go back," said Ohio University senior Gillian Gonder. Located in Fells Point, this bad ass breakfast joint rocks an artsy rock and roll vibe that you can't find anywhere else.
2. Grab a Bite at Red Star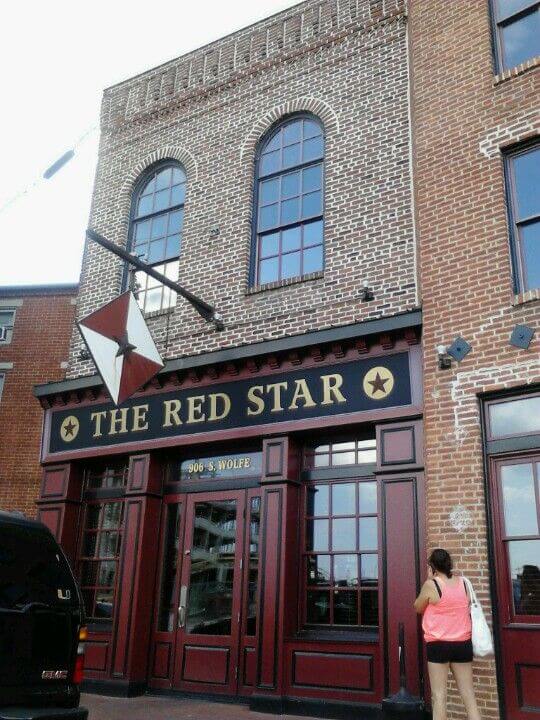 A popular spot for Johns Hopkins students, the Red Star bar and grill thrives only a block away from the campus. Legend has it that the Red Star got its name from the weary sailors of old. They docked in Fells Point and follow red nautical stars painted in a trail all over town until they arrived at the bar. Enjoy their wide selection of sea food options and grab a drink.
3. Play Pinball at DogWatch Tavern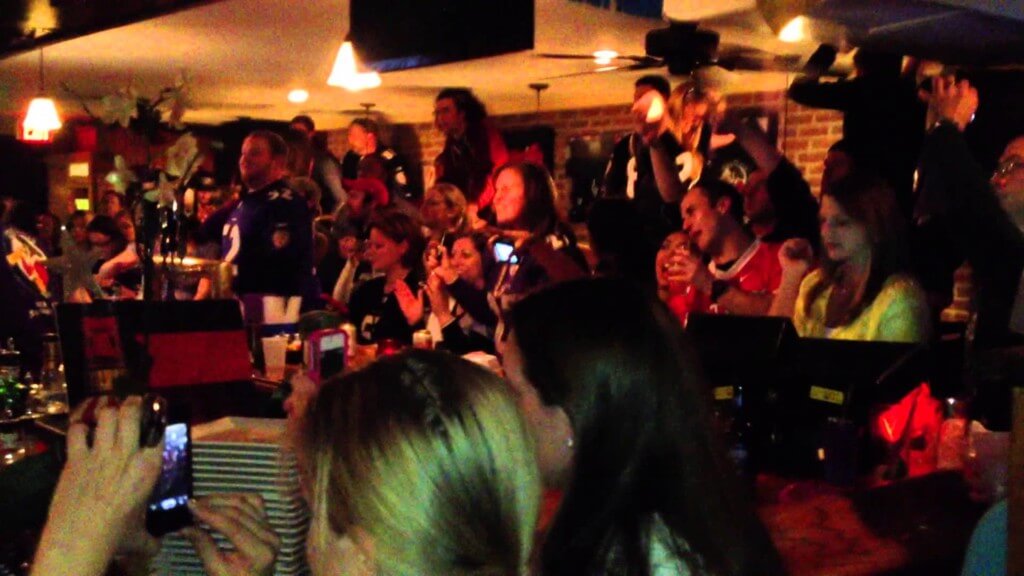 Just down the block from Bertha's resides the Dogwatch Tavern, a  laid-back pub equipped with pool tables and pinball machines. DogWatch makes all their food from scratch and incorporates local ingredients. If you need to relax, play a bit of Skee-ball and kick back with a late-night snack while watching sports on their host of televisions. You'll immediately feel at home here.
4. Get fishy at Ra Sushi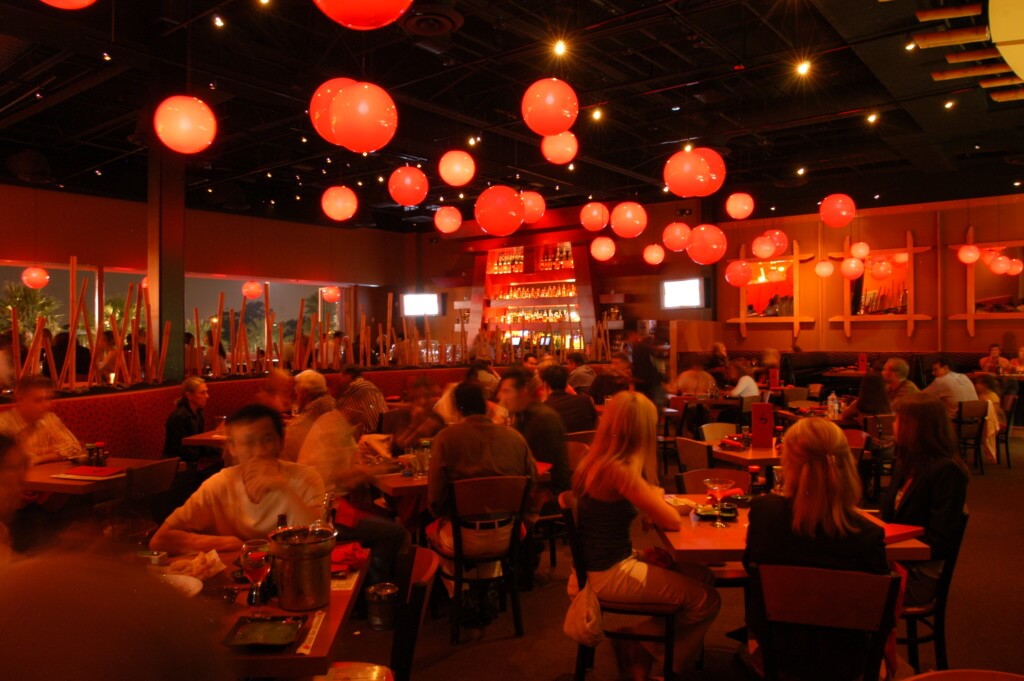 We all love sushi, no doubt. And what goes well with Sushi? Pitchers of alcohol, of course. You can find both at Ra Sushi, located in Fells Point. "My friends and I went to RA during their happy hour and got some great discounts on sushi. The sushi was so delicious and high quality. The restaurant itself has a great dimly lit atmosphere and if you check online to see their less busy hours, you can avoid a long wait," said Widener University senior Kayla Nelson. With its signature rolls and specialty drinks, you'd be hard pressed to find a better Japanese fusion joint. Ask for any of their "ra"chin' mules pitchers, particularly the Japanese mules, brimming with Absolut vodka and Ty Ku sake. Make sure to share with your friends.
5. Watch the Match at Sláinte's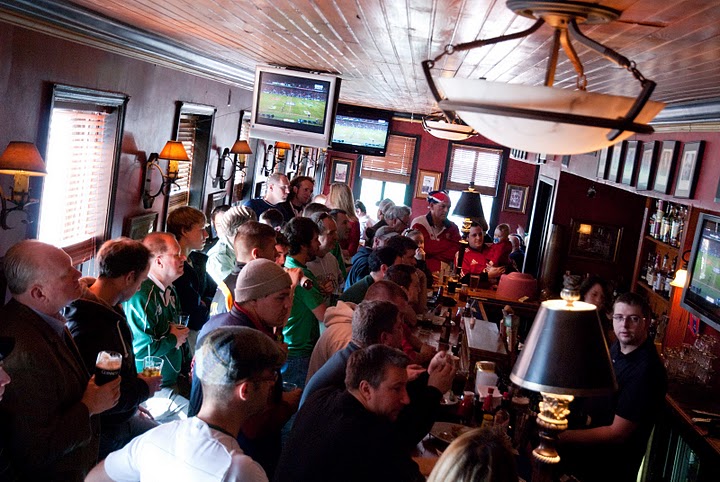 Do you enjoy soccer like a regular hooligan? Then Sláinte Irish pub and restaurant is the spot for you. In the midst of the world cup, Sláinte remains the go to place for your soccer Jones, but it doesn't stop there. Live music, weekly trivia nights and sport themed events all pair excellently with their gourmet dishes. It seems Guy Fieri can't stay away from Baltimore, as Diners, Drive Ins and Dives features Sláinte, making it the third restaurant christened by Guy on this list.
6. Start Your Night at Bond Street Social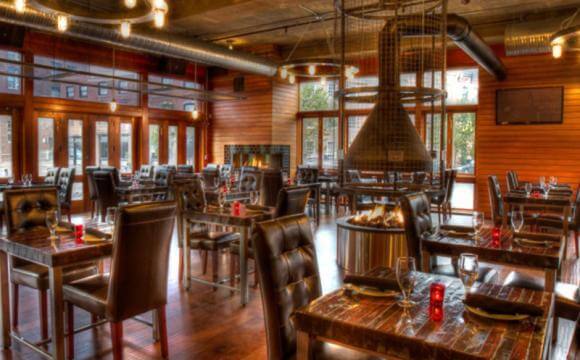 Centralized around socializing, Bond Street Social lives up to its name. Its food and drink items provided come fittingly in shareable portions, akin to a tapas joint. The apps make up the majority of the menu, though you could get a flatbread or some sliders as well. Don't forget to order their $50 social drinks, and don't be deterred by the price. Just remember to share! So start you night off right at Bond Street Social, and then begin your drunken traipse into the inner harbor.
7. Enjoy Spanish Cuisine at Tio Pepe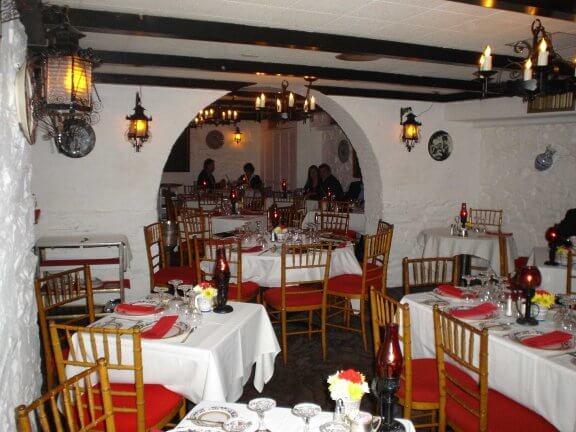 Craving a bit of Spain in a Baltimore environment? Hailed as the number one place in Baltimore that offers authentic Spanish and Mediterranean food, Restaurant Tio Pepe sports a wide selection of exotic cuisine. If you got big bucks to spend, I'd recommend the paella a la Valenciana, a dish loaded with lobster, shrimp, veal, clams, and mussels prepared for two. This posh spot stays open till 10 p.m. and attracts patrons lusting for wine and sangria. Embellished with a cozy underground flair, Tio Pepe is the perfect place for a date night or family gathering.
8. Explore Power Plant Live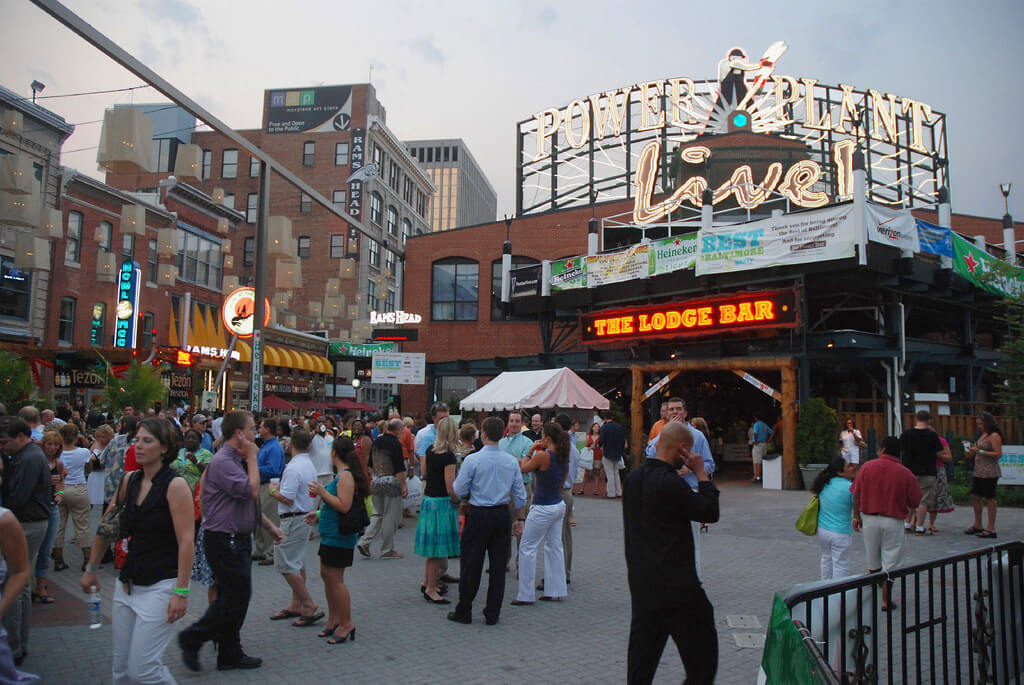 Welcome to the hub of all night life in Charm City. Soundstage's bigger neighbor, Power Plant Live dominates the hub of inner harbor activity amidst Camden Yards, Pier Six Pavilion and other major attractions. A collection of bars, restaurants and stages, Power Plant live offers more than your standard concert.. You can see big artists like Børns, the Floozies, or the Glitch Mob at Rams Head Live stage and then sit down for a post-show drink and tater tot snack at Luckie's Liquors. With so many options, you'll have a hard time choosing where to eat here.
9. Indulge in Mexican food at Nacho Mama's, Canton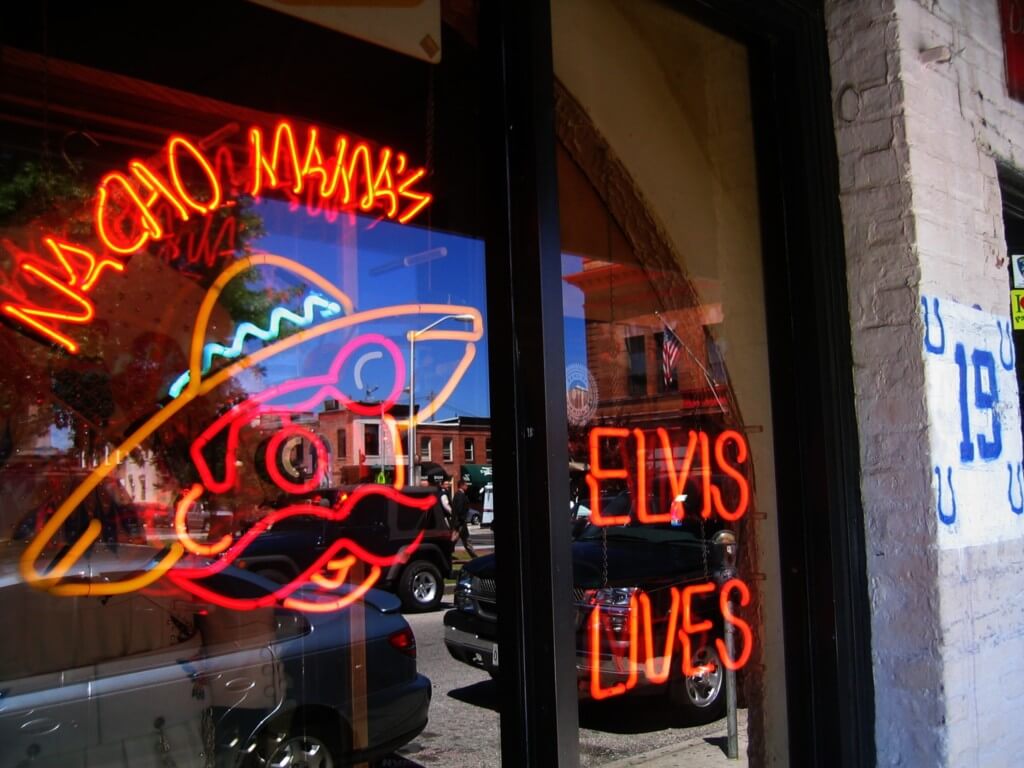 If you don't like seafood, come down to Nacho Mama's Mexican eatery. Though an Irishman started it in a Polish neighborhood, the Mexican flavors taste authentic and incredible. "The servers [are] extremely nice and made the experience pleasurable. I had nachos and my friends had fried octopus… The nachos were good, it was plenty of food for the price. I would definitely go back more for the drinks than I would for the food," said Baltimore native Stephanie Osorio.  Originally, the restaurant operated as a pizza and wing stop, but the owner encouraged the carryout customers to B.Y.O.B to the picnic tables adjacent to the restaurant, a space that he eventually refurbished as Nacho Mama's. In addition to tacos and fajitas, Nacho Mama's also offers good old fashion meatloaf and Cajun inspired dishes.
10. Miss Shirley's Café, Inner Harbor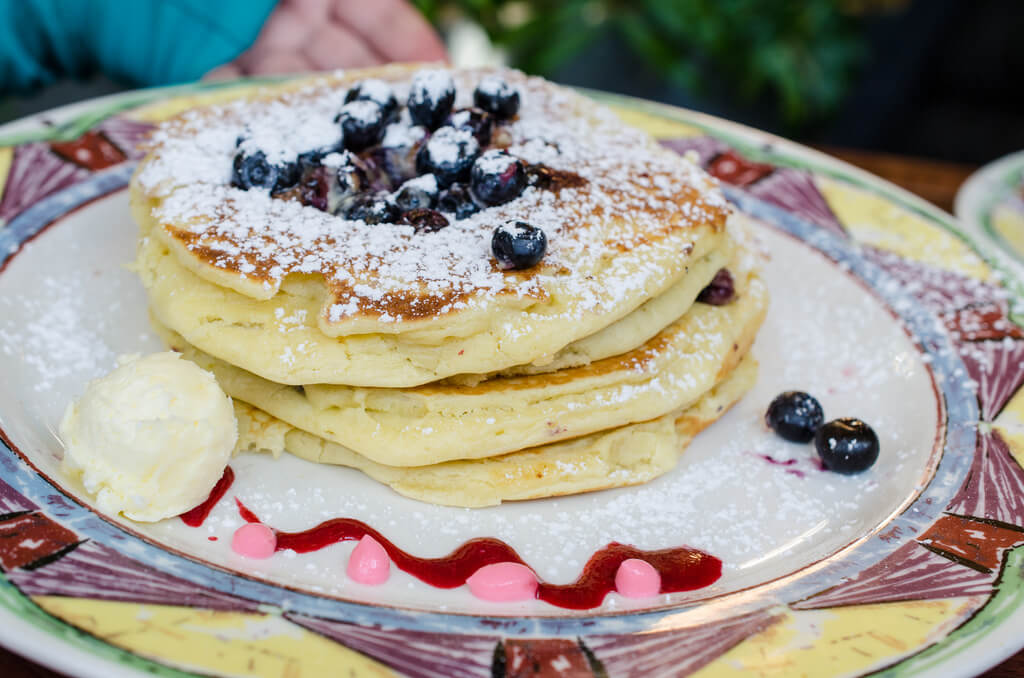 Right down the street and nestled comfortably in the Inner Harbor rests Miss Shirley's Café, the southern twist on Baltimore's breakfast and lunch foods. Like the aforementioned Blue Moon Café, Guy Fieri's Diners, Drive Ins and Dives features Miss Shirley's for their award winning, family friendly menus items, including coconut cream stuffed French toast and fried green tomatoes. Also, like Blue Moon, as a breakfast joint they close at 3 PM, so make sure you get your fix before they close for the afternoon. "I tried the cinnamon French toast and it was tasty, but I was jealous of every other plate at my table, and the food that passed me on its way to other table," said University of Maryland senior Liam Mercer.
11. Eat Mussels at Bertha's Restaurant and Bar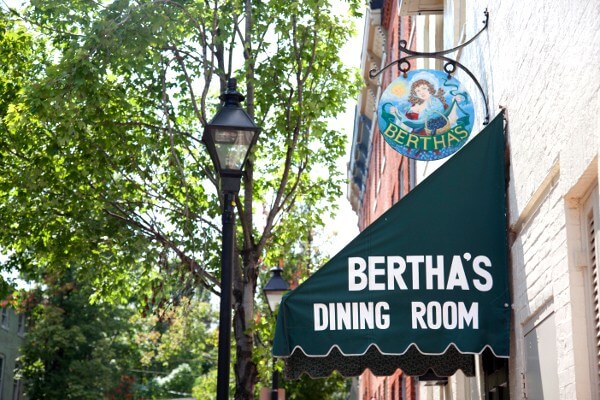 Bertha's restaurant and bar has droves of history within its walls. It all began when a couple George Washington University instructors decided to breathe life into a decrepit efface located in Fells Point. Named for a stained glass window hung over the bar depicting Bertha E. Bartholomew (whose identity remains unknown), the new owners spurred a new wave of growth and revitalization in the area. If you crave history and good seafood, check this place out.
12. Channel your inner Italian guido at Chiapparelli's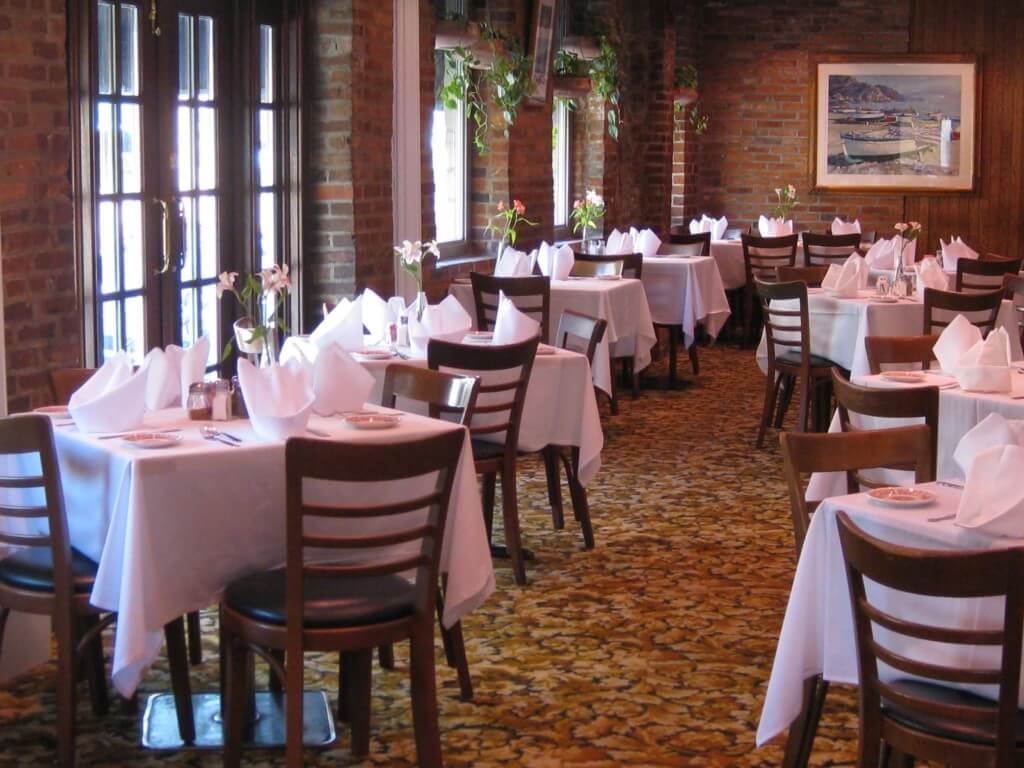 Looking for an Italian option? Located in the heart of Little Italy lies Chiapperelli's, which draws locals and tourists alike in with their family friendly environment and authentic Italian cuisine. Passed down from generation to generation, the restaurant is beloved by all. They sport the largest and best Caesar salad in addition to a myriad of heavy pasta and tangy seafood dishes. "My family and I have been going to Chiapparelli's for years! It's always our go to place for a quick, yummy bite. The staff are super nice and know their menu… I've had the arancine which is to die fo.  I've also had the Spaghetti Toscanini and Penne con Vodka, both are delicious. And the cannoli's are perfection! Chip's is absolutely the place to go in Little Italy," said Frostburg State University student Brook Wetzelberger.