I am all too familiar with rushing to campus last minute to write a paper due the same day without a single word written for it yet. And then of course when you need it most, every study spot you go to ends up either too full, too loud or too quiet. Time ticks by as you run from building to building to cram in your paper before the due date passes and you feel hopeless. Trust me, I found myself in that situation before and am sure I will again in the future. I've attended NYU for long enough to recognize a few places that always end up working out in the end.
So, I complied those places into a list, bringing you my top 10 study spaces at NYU for when you need to crank out that overdue assignment before it's too late.
1. Kimmel Center's Student Lounges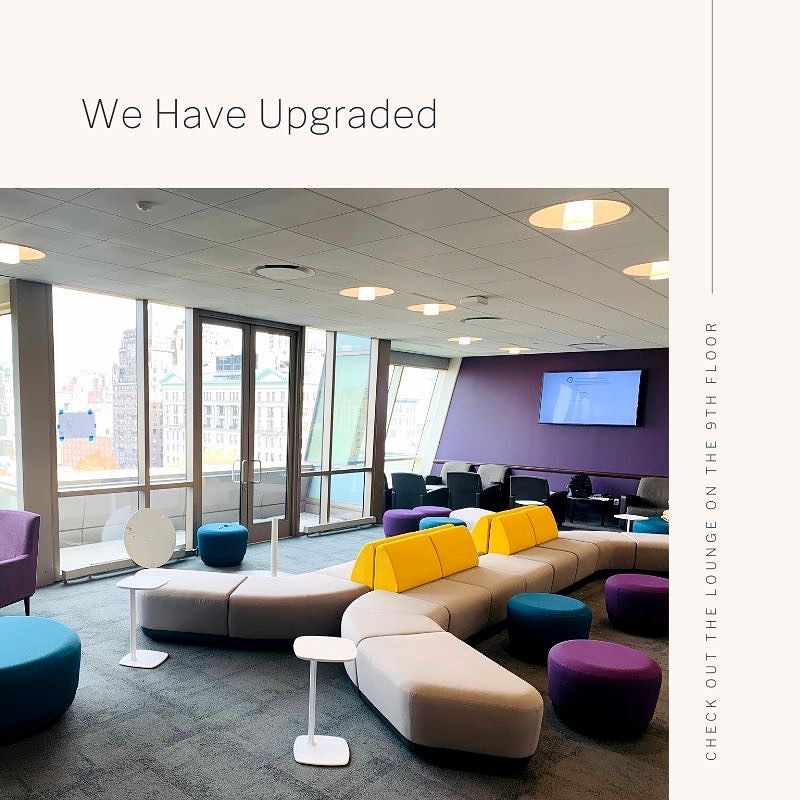 The large Helen & Martin Kimmel Center of Student Life, sitting right in front of Washington Square, provides tons of study spaces throughout. You can find some of my favorites on the seventh, eighth and ninth floor student lounges. They offer ample space for a quiet study that gives one of the best views of the park. The space has a wide variety of tables and seats to choose from as well. Head to the fifth floor of the Kimmel Center for a nice center lounge that guarantees a great view.
"If you're just like me and are comfortable with background noise while you study and do work, I prefer staying at the center lounge on the 5th floor where there are plenty of seats and ports to charge my things," New York University senior Olivia Tong said.
It can get full at times, so try to arrive early if possible. Plus, the building closes at 10 p.m., so maybe try something else if you prefer late-night studying. Each floor requires varying noise levels, so check through the floors to find the right space for you. The Kimmel Center boasts a vast number of spaces in one building, so you can explore each one and see what works best for you. Personally, I love the small LGBTQ+ lounge on the sixth floor; please stay mindful that the space is reserved for NYU's LBGTQ+ student body.
2. Lipton Hall Commuter Den
Lipton Hall has a great lounge space just down the stairs from the dining hall. It is a commuter lounge that can double as a great study space as well. I love a little noise while I study and the room usually consists of a mix of students eating, hanging out or studying. I can always find a seat in the lounge, even during finals. A bonus: the lounge contains many outlets, so no need to worry about your laptop dying in the middle of writing your paper. All in all, the lounge makes a great spot to get a little work done or to even just take a break in between classes.
3. Meyer Hall of Physics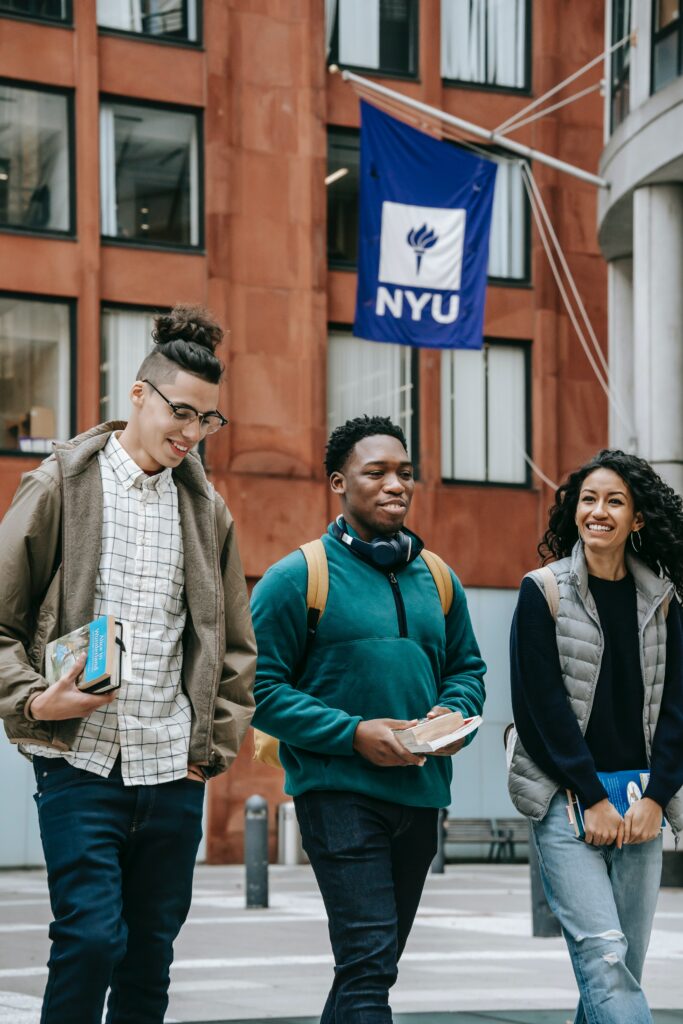 I took one class in Meyer Hall my freshman year and fell in love with it. You can find the physics department right on Broadway across the McDonald's, a bonus for me. The building contains lots of empty classrooms to use at your disposal. This option works best for people who need pin-drop silence because it remains quiet throughout most of the day. Since most people either stay in the classrooms or labs, fewer people roam around to cause any unwanted background noise.
"I like the NYU Physics Department because it's fairly isolated [with] three floors all connected. When you study there you feel motivated, especially as a STEM student due to all the labs and offices around. My favorite aspect of the study space however is the chalkboards that are in the middle of each floor," New York University sophomore Nastia Polina said.
The space proves quite large, so finding a place to study usually does not require too much effort. Another great perk: the physics department's spaces give an amazing view of Broadway. Some of the classrooms border the street, providing you with a silent study space and a lively view in case you get bored. On the flip side, you can go to the other side of the building for a less distracting atmosphere. I usually go there in-between classes.
4. Boris and Horton (a Puppy Café)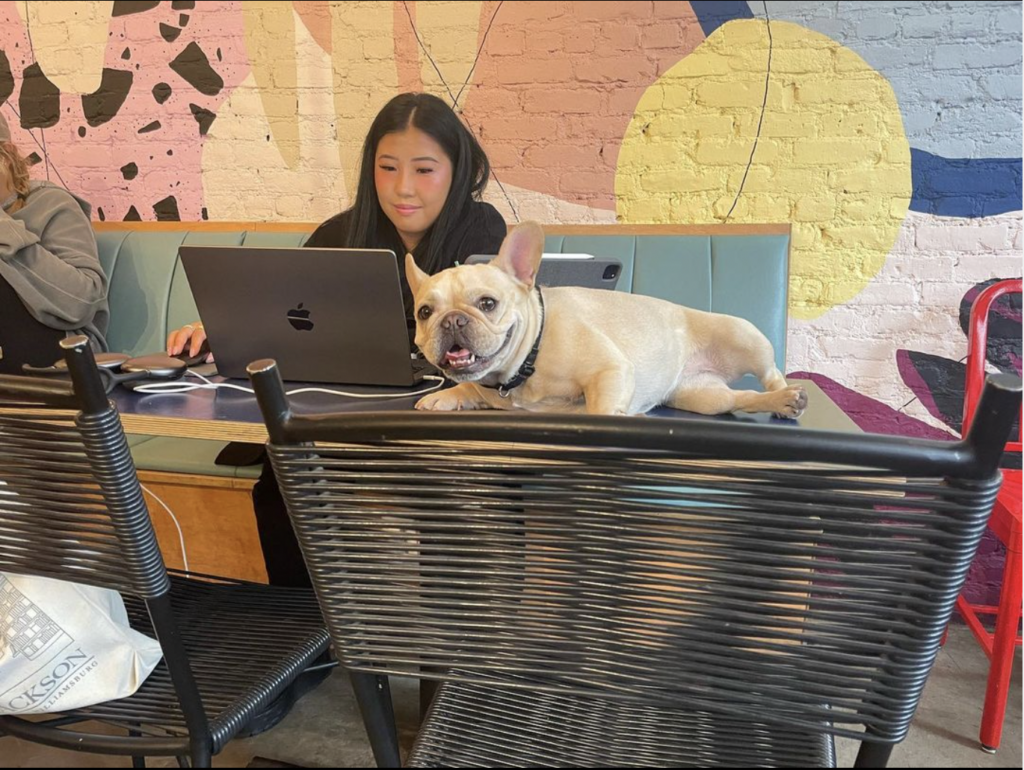 When I need to study, I get a one-track mind looking for the easiest place I can find and start studying at. Every once in a while, I get into a mood to try something different, and a puppy café provides exactly that. Located at 12th street and Avenue A, the relatively small space offers the perfect place for any dog lover to study at. This place seems like a dream come true for me, though I cannot get much work done around all the adorable dogs. If you don't get easily distracted this can work out as a great place for you. Much to my surprise, they have great tables and seats where I actually got some work done while having the best time doing it.
"I love going to study there because the background noise is just constant enough that I'm able to easily tune it out with headphones, but also whenever I take a break I get to just play with puppies," New York University junior Anya Piaz said.
Spend an hour grinding out some work and then take a five minute break to play with some dogs before you get back on your grind. The café also serves great coffee and sandwiches to keep you fueled through your study sesh. If you tend to like cats more, you could take a 20-minute walk from Washington Square Park to Koneko, a Japanese cat café. The space provides great drinks and a quieter atmosphere to suit more relaxed studying needs. Either way, even if this place does not end up as a great study space for you, it can still allow a great break from your finals stress and give you that last boost to get you through the season.
5. Union Square Barnes & Nobel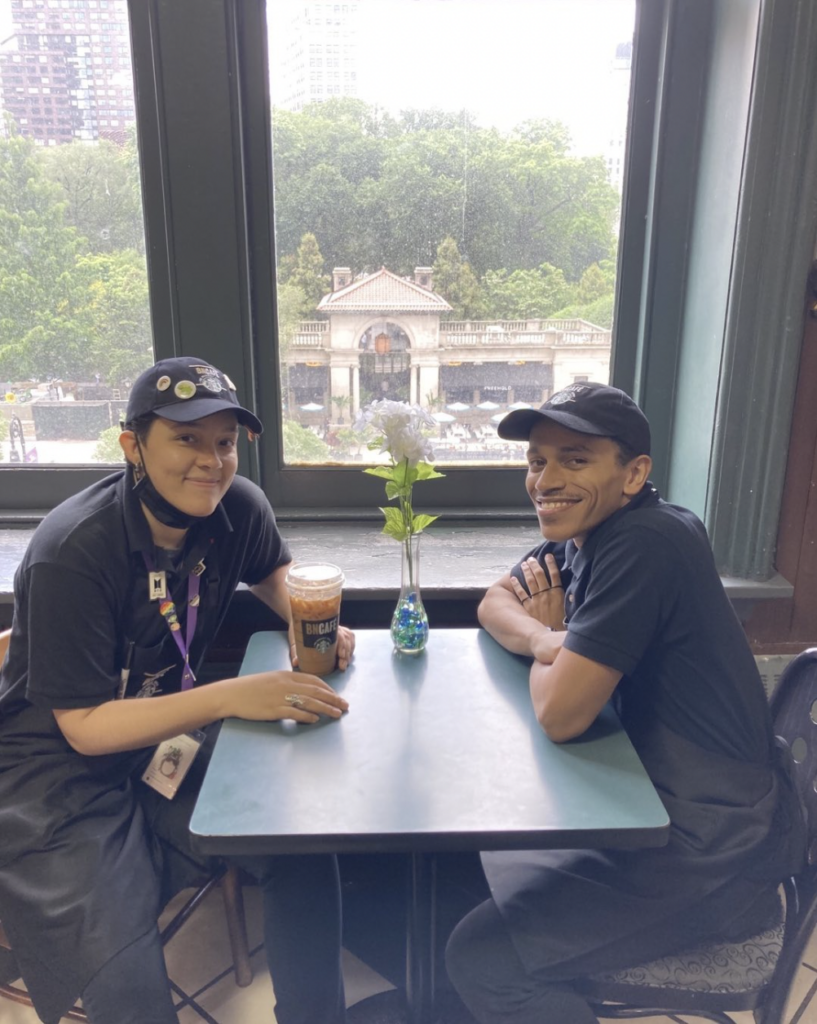 One thing about me: I love a good bookstore. Barnes & Noble in Union Square provides four floors of what seems like an endless supply of books on anything and everything. I grew up going to this bookstore, so it does hold a special place in my heart. The one in Union Square includes a large seating area linked to a Starbucks to keep my caffeine buzz nice and steady. It gives you a change of pace compared to the student-filled spaces around NYU which can feel refreshing. If you like to bounce around and switch up your study space, this one place can add a great option to your rotation.
"It's a bit harder to find a space there, especially during peak hours, but when I do just the thought of studying in a bookstore makes me feel [like an] adult. On top of that, it's also fun to people watch there and read a couple of books," New York University junior Lens Dibble said.
Although, the café includes a few caveats to keep in mind. The space can get really full at times, but I never mind since it becomes an excuse for me to browse books instead. Since the space can get pretty packed, it does not provide a quiet study spot for anyone wanting one. Along with this, they lack outlets around much of café. So, come with all your devices charged or be prepared to get rather traditional with your studying practices. If you don't like Barnes & Noble, the city includes tons of great bookstores to support in the Lower East Side as well.
6. Mercer Playground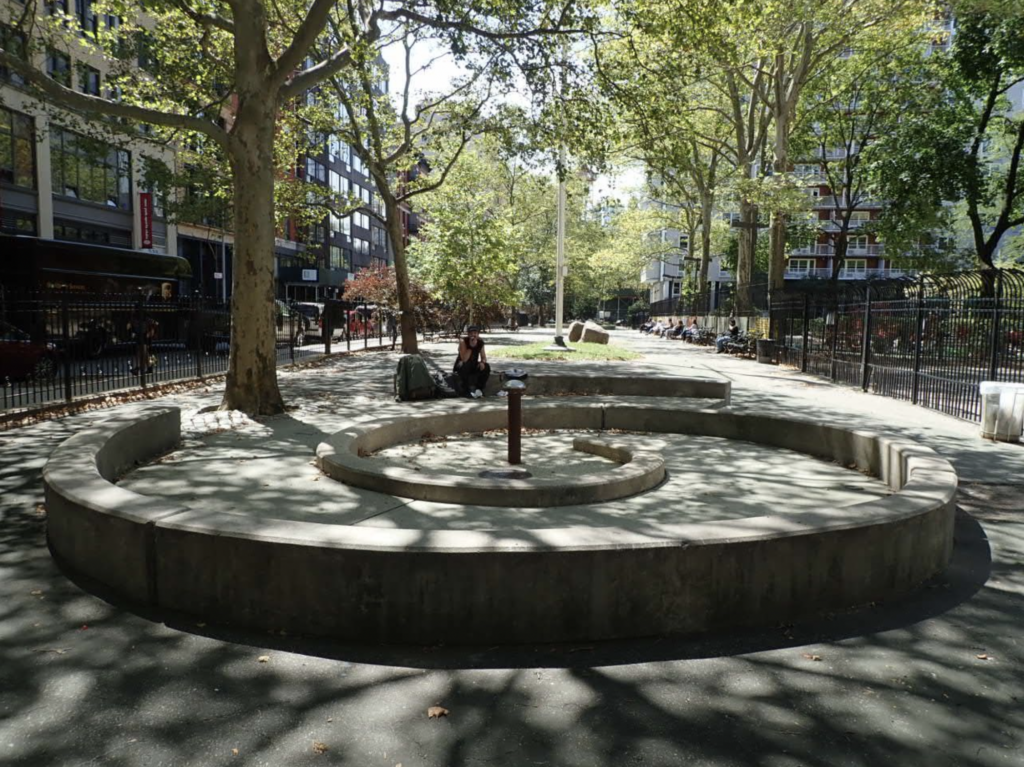 Around NYU, a few little outdoor seating areas surround Bobst and the Stern building that you can take advantage of during nice weather. My favorite of those around is the Mercer Playground right behind Bobst. The park gives very different vibes from Washington Square Park, bringing in a different group of people which can act as a nice change of pace. I go here whenever I need to feel refreshed after a long sprint of doing work and I need a recharge to help push me through. Sometimes in winter I brought a heavy coat with me and sat closer to Bobst, so I still got Wi-Fi.
"When it's nice weather (and as someone with Vitamin D deficiency), sitting at Mercer Playground that's behind the NYU library is a wonderful experience. The trees are beautiful in the spring and it's a much less crowded space as compared to Washington Square Park," New York University senior Olivia Tong said.
Outdoor spaces near NYU buildings provide the luxury of a relatively strong Wi-Fi connection in a sunny place to get some fresh air while catching up on some work. One place between Bobst and Stern provides a few sets that I never see full to get some quick studying done. Especially with keeping a mask on all day during classes, it feels nice to sit in a less-crowded outdoor space to unwind while rushing to study. At the end of the day, outdoor spaces depend on the season and weather, so use them while you can. I know I stay outside every day I can!
7. Second Floor Lounge in the Silver Center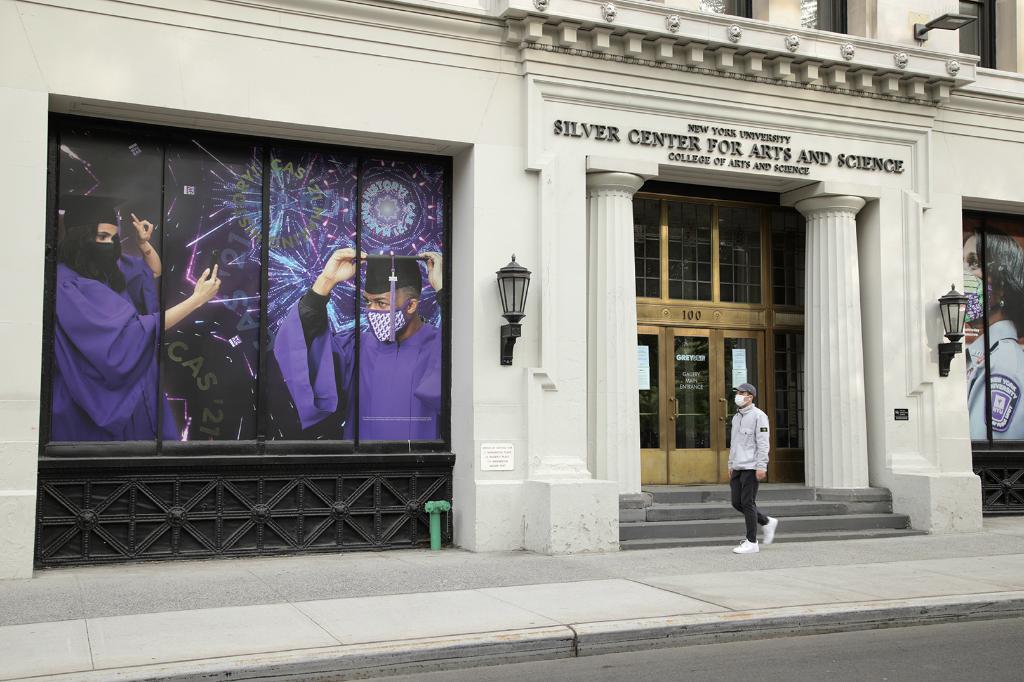 The lounge in the Silver Center offers a small nook on the second floor of the building; I never have a problem finding a seat. The room includes tons of outlets, table space and comfy chairs providing a great place to wind down or study for long periods of time; I took naps in them more than once. To get some real work done, the space also has a section with elevated chairs lined up along windows to keep you up and focused. The lounge sits right across from a great lecture hall that I sneak into occasionally to get some private studying in.
8. Third Floor Stern Lounge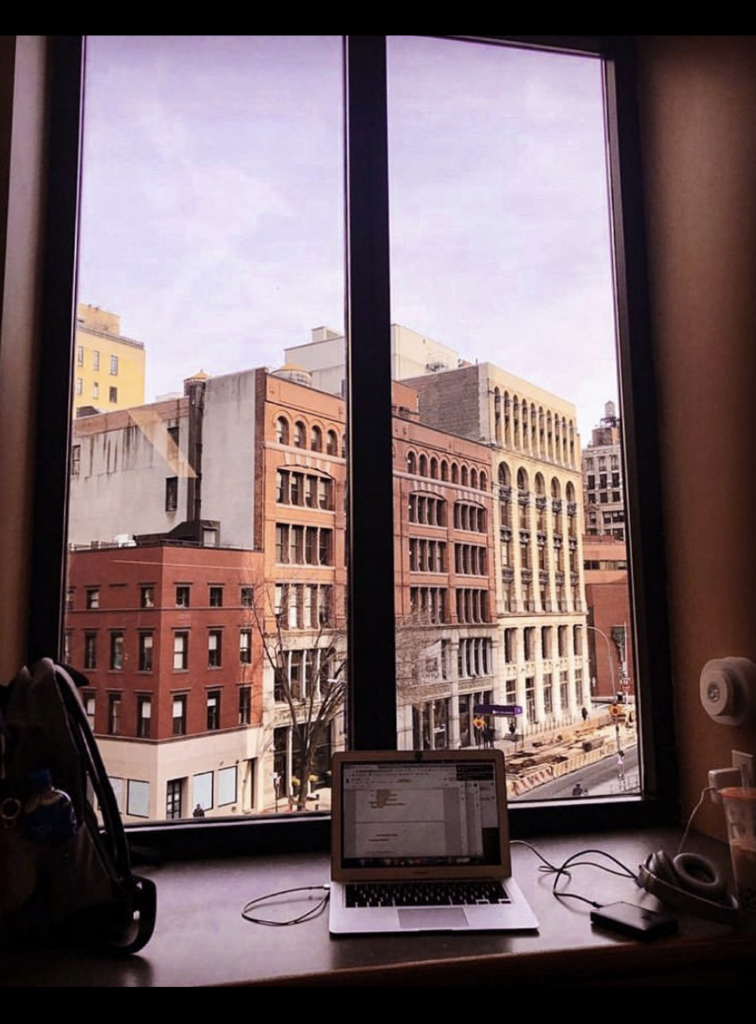 The third-floor dome lounge in the Stern building packs tons of seats lined along the windows of the dome where you can see a nice view of Gould Plaza and Fourth Street. The space also contains bigger tables and plush chairs. For such a small space, it offers a variety of different seats to choose from. The tables make for a great last-minute group project space when all the ones in Bobst get reserved. The lounge sits in a more remote part of the building, making it easier to find a seat no matter what time you go.
"The lounge has large windows and individual workspaces which still allows you to have a more quiet space to do work, but is also way less depressing than Bobst," New York University junior Sarrah Livson said.
Alternatively, if you go to Stern, all the empty classrooms remain at your disposal. You and your friends can take advantage of the whiteboards and large desks for whatever you may need. I just like the feeling of controlling a full classroom. I can not only stay focused in those classrooms but also take a break sometimes and doodle on the whiteboards. In order to access the classrooms, you must attend the business school; a regular NYU ID will not work (so drag your Stern bestie with you).
9. Bobst North Reading Rooms
Though silent study spaces don't work for me, the Bobst North Reading Rooms on the fourth, sixth, eighth and 10th floors of the library offer great silent study rooms. So, if you get easily distracted, you can find desks facing the wall on either side of each floor with your name on it. I promise I can never hear a thing in these rooms, other than myself breathing. Plus, if you like looking over some nice scenery while you work, the large windows give a spectacular view of Washington Square Park. The best part of the Bobst: the hours. Technically the library stays open until 1 a.m., but I stay there way later and no one says anything.
"I like studying in the East wing on the sixth floor of Bobst Library. It's a place I'm familiar with. The studious atmosphere forces me to work and not get distracted. Plus, I can always invite friends or classmates to Bobst and have fun studying," said New York University junior Mercedes Garcia-Kenny
If you want to buckle down and get some real studying in, the lower level of Bobst provides a great place to focus. Some of the lower levels include individual rooms meant for group study that you can utilize as well. I did one too many late nights in the lower level while watching "Squid Game" and now the space gives me the creeps, but to each their own. Similar to the Kimmel Center, the building provides many places to choose from so you will definitely find somewhere to study. Do note that everyone at NYU ends up going to Bobst first when looking for a place to study, so most of the building (especially the louder lounges spaces) tends to fill fast.
10. NYU Law Courtyard
The NYU Law Courtyard gives a place to study on a warmer day without all the noise. Washington Square Park can get so congested and distracting, especially on warm, sunny days, so head over to the law courtyard to get some work done. The law courtyard provides another great space to enjoy the nice weather while studying around law students eating a quick bite or catching up on some last-minute work. My roommate used to bring a group of friends to study for hours and they loved it. You can definitely find a seat here, even on nice days.
At the end of the day, the city can overwhelm you quickly; sometimes too many options make it that much harder to find a place when you need it. Use this list of places to ease your mind when trying to find a place to get some work done. I know even just looking at a list can help me calm down enough to figure out where I am going. Even if none of these places end up suiting you, I hope you find your go-to spots (and don't shy away from telling me some of them). Good luck, you've got this semester in the bag!