When you feel #foreveralone, remember that the little box in your pocket has a built-in friend. Siri may not know too much about making a conversation, but she has her moments. Although you can ask her fairly anything, her best and most hilarious answers come about from the simplest requests. Put your books down and homework to the side.
Check out these 10 funny things to ask Siri when you need a break from college work.
1. When You Need Some Dirty Talk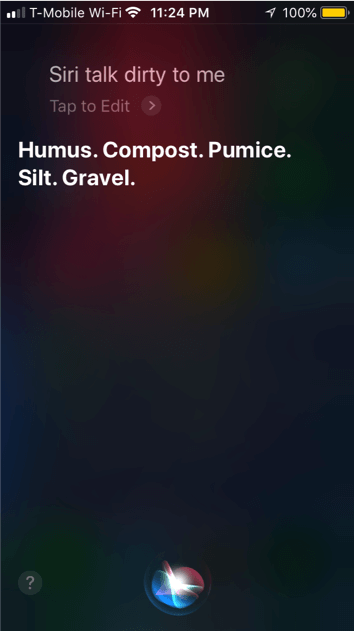 Siri often takes the meaning of your words literally, responding in ways you would never think of. Her answers will make you laugh, while encouraging you to think outside the box and reflect about simple matters that you don't often look deeply into. Why do we even call dirty talk, dirty talk? Leave that up to Siri to show you what the real dirty talk is—literally. "It's quite intelligent," New York University sophomore Jiayi Zhou said. "I usually talk to her when I'm bored not for practical purposes."
2. When You Need a Dad Joke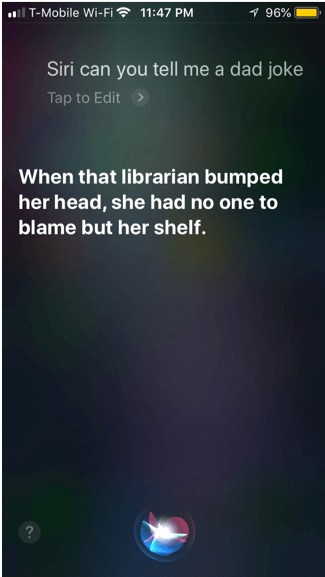 After a boring class, I'm sure you could use a good laugh. You might want one to hear one of those really bad jokes your dad always used to make. Being away from home sometimes puts a hold on that, but not. Luckily for you, Siri can do the job and even better—but don't tell dad that. "It's almost talking to an actual person," New York University sophomore Sarah Patt said. "It's a little bit scary that the programmers were able to do that."
3. When You Need Advice to Conquer Your Crush
The rule that first impressions matter can make talking to your crush a really hard task. If you don't have any idea on how to break the ice, let Siri give you a selection of her favorite pick-up lines to use. Whether you find yourself texting them for the first time at your dorm or talking to them at a frat party, you can count on Siri to get the job done. With Siri's creative messages, expect to see your crush smiling from ear-to-ear.
4. When You Need an Emotional Boost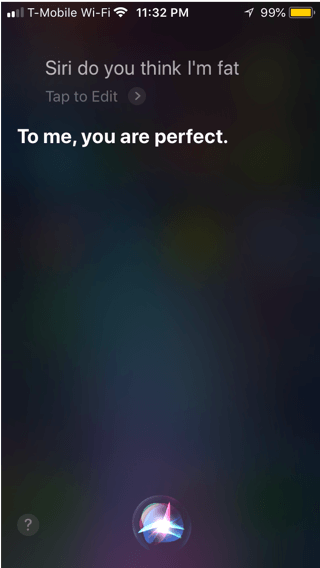 Unfortunately, we all have those gloomy days. This may include days when we receive a negative comment from a classmate or feel intimidated by others' bodies at the gym. Sometimes we need that extra encouragement to brighten our day. On those days just remember that you have Siri who will gladly remind you that self-love is essential and that you don't have to keep up with anyone else's standards to classify as perfect. Don't look at it as a programmer's lie but a truth that we should internalize.
5. When You Need Motivation to Do Homework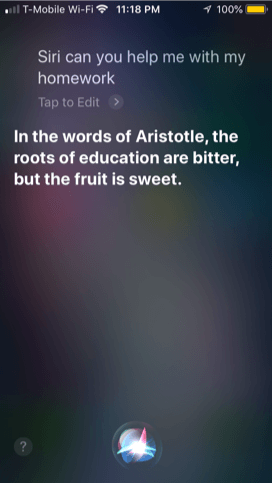 From calculus homework to a research paper analysis, we've all had a piece of homework that seems impossible to do. Siri will say the right words to show you the bright side of going through the college struggle. Although some courses will seem irrelevant and some courses material will seem incomprehensible, Siri will remind you that every aspect of our education was thoroughly thought and designed for our best. Instead of avoiding doing that five-to-eight-page essay, hit up Siri and gain the motivation you need to complete it.
6. When You Need Nutritional Advice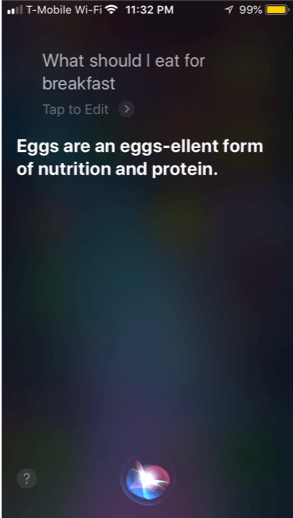 Following a healthy diet seems like one of the hardest tasks in college, especially because students lack the time to cook or to even get a proper meal. When you feel like cheating on your health goals, ask Siri what she thinks about it. She will always mention widely-accepted healthy options, making you realize that the possibilities are endless. From grilled chicken to quinoa salad, Siri will help you make the right healthy dinner choice. Ask her about those quick healthy and delicious recipes. She'll even show you the most searched ones.
7. When You Miss Your Childhood Golden Years
When homesickness strikes, it helps to see or listen to something that has a special meaning in your heart. That special song your mom used to sing to you back in the day? Siri can sing it to you too. Although Siri doesn't have a melodious voice, her reading of the song lyrics may evoke nice memories from the past and will calm you in your most stressful moments.
8. When You Need Some Love
Getting out of your bed for an 8:30 a.m. calculus class becomes easier when you receive a nice compliment. Get motivated and start your day with a nice compliment from Siri. You usually won't find college students saying wholesome comments like Siri's responses every day—no one can amount to Siri's cheesiness. Cheesy or not, some extra love wouldn't hurt. "I play around with Siri after I set off my alarm, asking things like 'do you love me?' The answers are always funny," New York University sophomore Sylvie Chen said.
9. When You Want to Find Your Special Someone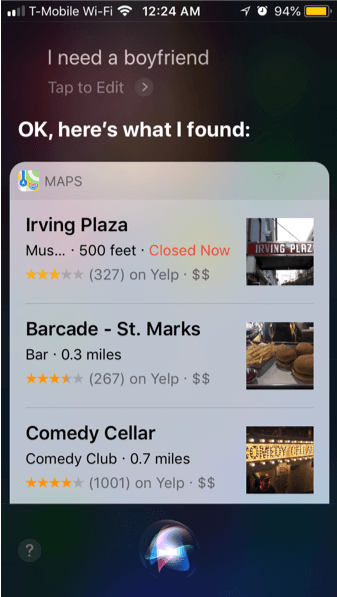 Meeting new people and having fun makes up a major part in the college experience but you won't know where to look, especially during your first semester in college. Let Siri work her magic by giving you a list of social spots around your area to find some awesome people. Based on the top ratings, Siri will give you a list that will help you find the right one. Of course, you get to decide to follow her advice or not, but the list serves as a reference point to help make your Saturday night out way better than the last.
10. But as Much as You Love Siri, You Can't Have Her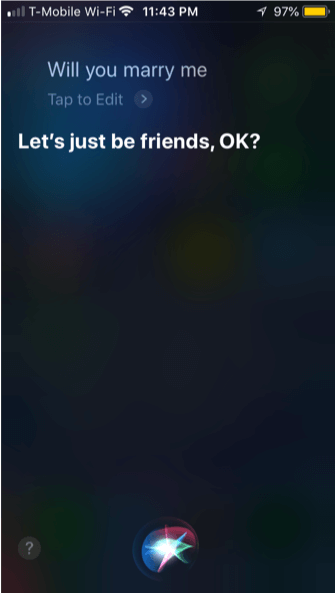 As you can see, Siri has a response for anything you can think of, from love advice to healthy eating. But she also has an built-in sense of humor that makes her an approachable being that can entertain you when nothing else seems to work. If you wouldn't use Siri that often or at all, now you see the infinite possibilities behind this personal assistant who's better than reading a Google search out loud, Siri talks to you on a personal level that seems beyond imagination. However, despite how much you love her and all her abilities, you can't marry her—so she says.