We all know the classic tale. Girl meets obnoxious prince, teaches him the value of Christmas and they fall in love. Business girl heads back to her small town where she meets an old flame, learns the value of Christmas and they fall in love. Baker girl saves a delusional knight from medieval times who accidentally travelled in time through modern day, they both learn the true value of Christmas, and you guessed it, they fall in love. Needless to say, these films may not seem new, but I think what makes Christmas so special comes down to that very traditional, classic feel. And these movies definitely carry that.
Personally, I don't think Christmas feels like Christmas at all without a good holiday romcom.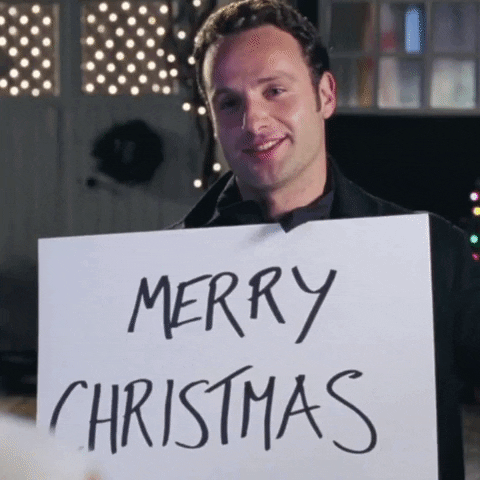 1. The Princess Switch
Fair warning; you will find a pattern of royalty here. I love everything to do with princes and princesses—no, I never grew out of that phase of my life. Why? As soon as I saw the title, and the fact that it starred none other than our own Gabriella Montez, I knew it would work just fine for me. Did I expect it to forever own a piece of my heart? Did I expect it to become a classic that I needed to watch every Christmas? Did I expect to cry tears of joy at the end? Yes, actually, I cry pretty easily. Whatever. The film rocks. I highly recommend.
2. The Knight Before Christmas
Let's keep this thing with Vanessa Hudgens going. I already loved The Princess Switch, so imagine my surprise when I find out that she stars in yet another Christmas film, The Knight Before Christmas. The story revolves around a medieval knight who, in his quest to earn his knighthood, stumbles upon a woman who sends him forward in time to modern day. There, he meets a teacher who helps him navigate this weird, busy world. Humor and romance ensue, and everyone gets caught up in the magic of Christmas. A truly cheesy, silly, fun, romantic movie for any Christmas lover.
3. Santa Baby
Santa Baby definitely seems like a unique one. A workaholic woman who maybe doesn't see the value of Christmas anymore. Okay. Sounds standard so far, right? Wrong. This businesswoman? None other than the daughter of Santa Claus. Yep, the big guy. The rosy-cheeked, jolly Count of Christmas himself. Now, this woman needs to come back to the North Pole to help save Christmas, but her business tactics don't go over great with the elves. See what I mean? Unique. Oh, don't forget the hot guy that works in the North Pole that she inevitably gets a relationship with. Essential stuff, that hot guy.
4. A Christmas Prince
Okay, I want to talk in length about this series. You know how most movies work great in the first film, then they decide to make a second and third, and you can tell the quality just dropped after the second? Well, this trilogy doesn't do that. At least, not for me. This series of Christmas movies, in my opinion, works well from beginning to end. A fictional reporter goes to a fictional country where she meets a fictional prince. A supposed flake, but actually, he only likes to care for people without the press watching. Girl falls in love, Prince Handsome falls in love and they unite on Christmas. Or Christmas Eve. I don't remember. Too busy crying tears of joy.
5. A Christmas Prince 2: The Royal Wedding
The sequel. I didn't expect anything good, to be honest. I didn't know what to expect, but either way, I felt pleasantly surprised. The movie carried the same corny, fun tone of the first and I absolutely loved it. It felt like everything I expected and wanted from a Christmas romcom. The character just feels so incredibly likeable. Everyone clearly cares about their work, Christmas and each other. I think the point of these movies, just like any story, comes down to their characters. Other stories might miss this point, but the Christmas Prince series, in my opinion, never does.
6. A Christmas Prince 3: The Royal Baby
Now we come to the final of the trilogy, and yeah, I love this film as much as the other two. The same set of characters come in. No one gets recast. No one turns suddenly nasty. If anything, we get characters redeeming themselves in this film, and I really love that too. I love it that you don't get villains suddenly get forgiven at the very end of the film, but instead you get them work for their forgiveness. I love the intelligent main character, the kind and understanding prince and the family element of the movie. Sounds like an exaggeration, I know, but I can't help it. I just love a good Christmas movie with good values about kindness and friendship, and this series definitely qualifies.
7. The Prince and Me: A Royal Honeymoon
I think we all know the Prince and Me series. I know we all think about that recast after the first film. Now, I want to focus now on the third film only because it takes place during Christmas. I enjoy this movie as a fun little something to put on during a dark winter day when I need some light and fluff. A cute film with an amusing villain's plot, this movie follows a prince and princess on their winter vacation. I recommend this film if you also need something to sit back and enjoy while you put your gingerbread house together.
8. A Castle for Christmas
I don't know if anyone here ever watched Psych. If not, you should get on that as soon as possible. If yes, then you probably know about that handsome French/English thief who always managed to impress the trickster, Shawn. Well, he gets his own movie now. Him, and Miley Stewart's mother from Hannah Montana. Yeah. Who knew we needed that combination? Still, I should give credit, it really works. A Castle for Christmas offers a fun experience about an author that travels to Scotland to buy a castle. A classic grump falls for sunshine trope, this film counts as a must for any romcom fan, with a nice touch of Christmas magic.
9. A Princess for Christmas
Any other Merlin fans out there? If you answered yes, you must watch this one. Starring Katie McGrath, or the beautiful and wicked Morgana to some of us, A Princess for Christmas feels like a great film for anyone who wants a fun, harmless flick to watch this Christmas. Think of the movie as a chocolate chip cookie. Good to enjoy with all the basic tropes. Miscommunication and an arrogant prince turned kind at the kind woman's words and actions. Stuffy dukes learning the value of Christmas. Who could ask for more?
10. Santa Girl
This film resembles Santa Baby in one way only. It stars the daughter of Santa Claus. However, the differences come in just about everything else. The main character wants to spend some time at a normal college in a normal town with normal people. Probably eager for some non-elf company for a change. Anyway, enter in cute guy that she gets to know and fall for, and you get your basic Christmas romcom. Silly, corny and absolutely a Christmas-standard.
There you go! Ten, super fun Christmas romcoms to watch this December as you prepare for the 25th. An honorable mention, if I may? Beauty and the Beast, an Enchanted Christmas. I really, really love that film, and I make a point of watching it every Christmas as well. Technically a romcom, if you take out the action scenes. But in regards to this list, I suggest making a schedule of which ones to watch first. I guarantee you will enjoy yourself however you begin.